Looking For Balls In All The Wrong Places
By: Rick Corcoran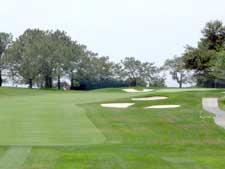 May 12th was media day at Torrey Pines, this year's site of the U.S. Open. So when opportunity knocked to play a course in near-tournament conditions that the planet's best golfers will play next month, I had to take a shot at it, bad back and all. Notice how I already built-in my excuse! In hindsight, the shot I should have taken would have been from a bottle of Petron tequila to go with the 43 Aleve coursing through my veins.

The day started with speeches from various USGA and local officials connected to bringing the Open to San Diego and getting the course in championship condition. USGA Championship Committee Chair, Jim Hyler, said, "Our philosophy is that we want the U.S. Open to the most rigorous test of golf for players at the highest level." Translated by most people outside the USGA: "We want to make the best players on earth re-think their profession for four days and, if we can get some of them cry in the process, even better!" The USGA says they don't care about making a winning score any certain number, but I have a feeling if the winning score is 10-under, 50 people from the USGA would be fired! My conclusion is the people who set the course up run parallel to how Dr. Frankenstein felt after taking years to get his 'monster' ready for show time! Insert sinister laugh here.
OK, on to the golf…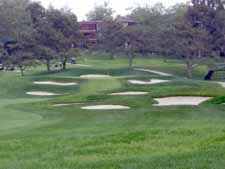 I've played Torrey Pines' South and North courses at least 250 times through the years after moving to San Diego in 1981 and have seen them in all sorts of conditions - from good, to bad, to the very ugly. It's a municipal course and, except for sitting right above the Pacific Ocean, it's mostly in muni-like condition most of the time when you play it. But play it we still do for the energy you get from being near the crashing waves and walking the same fairways as the pros.
I hadn't been on the South course since just before the Buick Invitational earlier this year, and it was in good condition leading up to that tournament. The course I saw and played on media day was jaw-droppingly excruciating and beautiful, all at the same time. The word "Wow" was used many different times by my playing partners, always after a shot doing something you had no idea it would or wouldn't do. But many other times it was used after seeing how well-conditioned the fairways and greens were. Other words were used too, but this is a PG-rated story.
The setup for the tournament will be the longest on record. Torrey South from the tippy-tips is 7,628 yards. Oh yeah, don't forget to throw in the sea-level part too. The USGA says on any given day it will be set up from 7,200-7,400 yards, with weather conditions being taken into account. Players whining after each round will have nothing to do with how it gets set up each day officials say.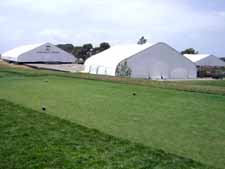 All of us media hacks went out and played it at around the 6,800-yard mark, give or take a few yards. The interesting thing to me upon getting on the first tee, besides the merchandise tents that could house 747s, is that the course seemed alive, like it had the power switched on that gave the fairways and greens a glow I've never seen before. It could have been the sheer terror of trying to tackle this behemoth that made my eyes open wider knowing what lies ahead. The feeling of watching a scary movie and knowing something bad was going to happen at any minute entered my thought process as I looked out the sea of green. But, thankfully, no lives were lost during our round.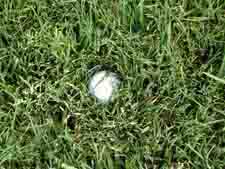 I've played the redesigned course by Rees Jones over 20 times and know the layout well. But what I didn't know is how you could turn regular grass into a golf ball-devouring horror machine. As in recent years, there will be three cuts of rough. This year it will be from 2¼ inches in the first cut up to 4 inches in the third and 'avoid at all costs' cut where small children could be lost easily. I found the tailfin from a '59 Cadillac in one patch of rough. The USGA says they are keeping the roughs a little lower this year and want to err on the side of caution with the first cut so players don't have to hack out of it like at Winged Foot and Oakmont. A kinder, gentler USGA? Well, they make up for it in the third cut golf fans so not to worry. Ironman would have trouble with some of the shots out of the long stuff on this track.
We all hit some decent shots and that actually landed on fairways, which soothed the eye and brought your blood pressure down 40 points after the ball found them. The shots that weren't so good and landed in the three-grass Kevorkian cocktail of rye, poa annua and Kikuya (should be called ka-KILL-ya) made your chest sink knowing what the next shot will be like. Most of the time it took three of us four or five minutes walking in a grid pattern of military precision to find a ball in the fluffy green abysses. A few times we found the ball, went to get a club and then took another two minutes to find it again. That's not funny! I wish you could count a back hoe as a 14th club because we all needed one at some point to get out of the massive venus flytrap the USGA calls the third cut. It really could have a life of its own and, luckily, nobody broke a wrist or had a compound fracture after trying to hit out of the thickest of the thick parts. Phil Mickelson shouldn't practice too much out of it this year, if you know what I mean.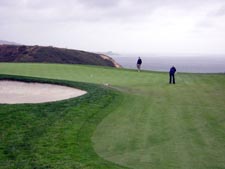 Once onto the greens, which are fairly good size with gentle but obvious undulations, the next surprise came up. Normally when playing the course you can putt with a driver and the ball will stop pretty quickly, but this isn't normal my friends. They said they were rolling to a 12 on the Stimpmeter when we played. A 12 at Torrey Pines?! That's like getting a '79 Pinto up to 90-mph! The USGA says they can get them up to a 13-plus for the Open. These greens won't have 20-foot breaks like we've seen in some past Opens or miss-hit four-footers that will roll 80 feet and off the green. But the humps and bumps that are there, along with some diabolical pin placements on smaller shelves, will bring a lot of teeth-mashing to our pros from Dover. The undulations will come alive.
"Thank you sir, may I please have another," came to mind from time to time as we whacked, hacked and yakked our way around the course on a very cloudy, cool and windy day. In the end, we all got a better appreciation for what the USGA can do to change a course from a nice little 'muni' by the ocean into the main act in Vegas and give the titans of the sport a "fair but stern test" of golf. It should be a good one, ladies and gentleman, and it's in prime time for the East Coasters this year, so the ratings should be good because the golf course and scenery will be great.
If you ever thought you could take a shot at playing professional golf, come play this baby and then walk (crawl?) back home with your tail between your legs to the nearest Family Fun Center and call it a day.
I'm banking on Frankenstein winning this battle and even-par being something most players will have dreamed of shooting come Sunday night.
Can't wait until show time, because it's almost here, and "It's alive!"