Mad About Maui
By: George Fuller
Celebrated author James A. Michener once referred to those of us irresistibly drawn to flecks of land in distant seas as "nesomaniacs," i.e., "mad about islands." I must admit to being so afflicted. Never do I feel more at peace in the world than when my hair is caressed by the tradewinds found thereupon and my body buffeted by warm and salty waters.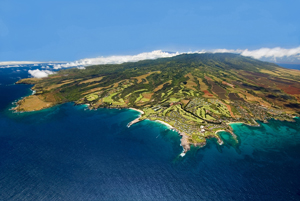 Aerial View of Kapalua Resort
Of course, it is also true that when all the comforts of home are readily available, when you can drink the water, speak the language and are protected by the laws of the good old USA, that island experience is so much better. Thus, with all of the above-described attributes in its portfolio, I am mad about Maui.

Who isn't? Maui combines the best of all the Hawaiian Islands. It's green and lush like Kauai; entertaining and full of fun like Oahu; big, with open spaces and sweeping vistas like the Big Island; and has tradition and spirit like Molokai.

Yet it has its own distinct history and sense of place, too: the old whaling village of Lahaina - formerly the capital of Hawaii; the majesty of Mount Haleakala, from the summit of which scores of bicycle riders glide downhill everyday after watching the blazing sunrise; the charm and isolation of Hana. And, like all of Hawaii, the Pacific Ocean is front and center. Visitors find it all before them: surfing, swimming, whale watching, snorkeling.

Maui is also home to the PGA Tour's season-opening event each January, the Hyundai Tournament of Champions at Kapalua, and offers two of Hawaii's best golf destinations: Kapalua and Wailea. Each of these resorts lures visitors with superb beaches, excellent dining, fun swimming pools and resort activities, and two of the top-ranked golf courses in Hawaii - Kapalua Plantation and Wailea Gold.
Kapalua Resort

Kapalua Plantation, set amidst the 23,000-acres of Kapalua Resort (www.kapalua.com), is a big, hilly layout with broad ocean views from every hole. On a windy day - which is pretty much every day in Hawaii - golfers will understand what director of golf operations Mike Jones means when he says, "Hawaii's courses are defenseless without wind."

This is perhaps most evident come tournament time, when the world's best players tee it up at the Hyundai, featuring an elite field of previous year's PGA Tour winners. This past January, Jonathan Byrd flew home with the $1.12 million first prize. Asked after the first round what he thought it was going to take to win at Kapalua, Byrd replied, "I have no idea. It depends on the weather."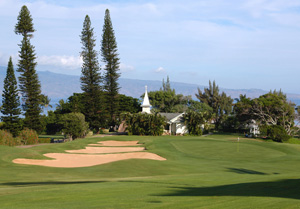 3rd Hole at Kapalua Bay Course
Architects Ben Crenshaw and Bill Coore did a masterful job designing the 7,411-yard/par-73 Plantation Course with the wind in mind. The fairways are wider than found on many Mainland courses and the green complexes larger. As it unfurls across former pineapple plantation fields in the foothills of the West Maui Mountains with broad views down to the coast and across the Pacific Ocean to the island of Lanai, golfers discover that most holes need to be played strategically, depending on conditions.

Hole 18, for example, is a 663-yard par-5 from the tournament tees, but as it plays downhill and most often downwind, the pros can go for this green in two. Hole 9, conversely, is only 521 yards, but when it plays against the prevailing wind to an elevated green, it becomes the hardest hole on the course.

Though the course record is 62, set by K.J. Choi in relatively windless conditions in 2003 at the Mercedes-Benz Championship and matched this year by Graeme McDowell in a low-wind final round, don't expect that when you visit.

While the Plantation is the premier course at Kapalua, the Bay Course - an older Arnold Palmer/Francis Duane design - is a fun, resort-style layout that boasts one of Hawaii's prettiest holes, No. 5. It is a par-3 with an ocean inlet between tee and green. Golfers can rest assured that it's better to be long than short, as a wide landing zone presents itself behind the green, whereas anything short requires scuba gear to retrieve.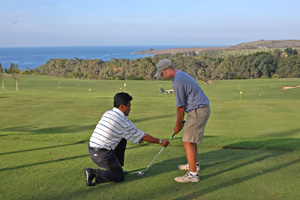 Kapalua Golf Academy
As of March 1, a new management contract will be in place with Troon Golf operating Kapalua's courses. "As expected with a Troon Golf facility," Jones says, "you'll see a focus on customer service. Troon is also well known for its stellar agronomy standards, and we plan to maintain the same high standards throughout the year as are now seen during tournament time."

The Kapalua Golf Academy, run by Jerry King, is well worth a visit for fine-tuning your game to Hawaii's wind.

Several dining experiences are well worth trying at Kapalua, as well, including Merriman's for unsurpassed Hawaii Regional Cuisine (farm-to-table produce, local meats and seafood expertly prepared); Sansei Seafood Restaurant for sushi; and - guaranteed to be one of your favorite stops for breakfast or lunch - Honolua Store, located in a charming, plantation-era building.

Accommodations at Kapalua include the Ritz-Carlton, Kapalua, which offers relaxed elegance, and the Kapalua Villas, perfect for families and longer stays as they come equipped with full kitchens and laundry facilities.
Wailea Resort

An hour away is Wailea Resort (http://www.grandwailea.com), a collection of hotels, golf courses and beaches known for sunny days and dreamy nights. Multiple accommodations choices are available at Wailea, including the Four Seasons Resort Maui, Grand Wailea Resort & Spa, Fairmont Kea Lani, Wailea Beach Marriott and Renaissance Wailea Beach. Popular for longer stays are condominium rentals through Destination Resorts Hawaii.

No matter where you stay in Wailea, access to the three golf courses is easy. The Wailea Gold course is the Robert Trent Jones Jr. design that hosted the Wendy's Champions Tour Skins Game for several years. One can hit away here and not lose too many golf balls, but accuracy is required for scoring. The ocean views are superb, the course is always in good shape and one can't beat Seawatch Restaurant for its wide-open ocean views as you're enjoying a Hawaiian-style fish sandwich after the round.

Measuring more than 7,000 for the best players, average golfers play it from the 6,653-yard blue or 6,152-yard white tees. Women play the course at around 5,400 yards. From the appropriate set of tees, the design is a test of your game, but never demoralizing. The Emerald Course and the older Blue Course are the other golf options here.
Other Options

Public courses on Maui well worth playing include the Dunes at Maui Lani (www.dunesatmauilani.com), Kahili (www.kahiligolf.com - formerly called Sandalwood) and Elleair (www.elleairmauigolfclub.com - formerly called Silversword). Of these choices, the Dunes at Maui Lani, a Robin Nelson design, is one of the locals' favorites. It plays among some dunes near Maui's main airport, with a variety of fun and memorable holes.

In Hawaii, there's a saying, "Maui no ka oi," meaning, "Maui is the best." That's a statement hard to argue, particularly for those of us mad about the islands.
Award-winning publisher, editor, writer and photographer George Fuller has been covering golf travel and lifestyle for more than 30 years. From 1992 to 1997 he was editor of LINKS-The Best of Golf, based in Hilton Head, S.C. In 2005, after having spent several years in the Pacific starting two magazines for Continental Micronesia Airlines and writing two books, Fuller launched GOLF LIVING Magazine for the Los Angeles Times, a "super-regional" magazine of travel, real estate and the lifestyle surrounding the game of golf. In 2009, he helped redesign and re-launch TEXAS GOLFER, a magazine with 25 years of history in the Lone Star State. Most recently, Fuller partnered with Troon Golf to launch TROON GOLF & TRAVEL, a monthly eMagazine with an annual print component. In addition, Fuller's newspapers and magazines credits include TIME, Wall Street Journal, San Francisco Chronicle, The Los Angeles Times, Robb Report, Coastal Living, Palm Springs Life, Estates West, GOLF Magazine, Golf Digest, Travel & Leisure Golf, LINKS, Successful Meetings, Honolulu and many others. He has reported for Reuters, United Press International (UPI), written for Copley News Service and is a regular on-line travel correspondent for Cybergolf. Based in Pacific Palisades, Calif., he can be contacted at gfuller@earthlink.net or 310/245-9550.