Mad Dogs & Englishmen Go Out in the Midday Sun
By: Tony Dear
Actually it was mid-afternoon, but the temperature was still in the low 80s as British golf writer Tony Dear joined his country's next golfing superstar, Paul Casey, for nine holes at Grayhawk Golf Club in Scottsdale, Ariz. Tony's article originally appeared in the August 2002 edition of Golf World and Golf World International. Since then, Casey has enjoyed moderate success on the PGA Tour. He finished 2002 with $61,501 in total winnings. Through November 1, Casey has two top-10 finishes and earned $363,450. His scoring average has gone from 71.7 last year to 72.5 in 2003.
The Players

Paul Casey
Scholarships: Golf scholarship to Arizona State University
Clubhead speed: Lightning
Reliable shot: Powerful draw
Contracts: Titleist, Upperdeck
Never wears: White shoes
Tony Dear
Scholarships: Cricket scholarship to Ardingly College
Clubhead speed: Lethargic
Reliable shot: Powerless slice
Contracts: A few contacts, but no contracts as such
"I loved the 'Young Ones.' My favorite episode was the one where Neil has a cold and Vyvian tries to get rid of it by performing acupuncture on him with nine inch nails. I was a big fan of 'Only Fools and Horses' too. Rodney cracked me up. Much better than 'Friends or Roseanne.' "
Paul Casey may have spent much of the last four years in Arizona and his accent may be all over the shop, but he's keen to stress he's still very much one of us Brits. He prefers our television, soccer to gridiron, cricket to baseball, Oasis to Limp Bizkit, and would rather spend the weekend in the Lake District than at the Grand Canyon. "What's that Sting song?" he asks.
" 'An Englishman in New York,' perhaps?" I respond.
"Yeah, well it's a bit like that only I'm in Scottsdale. I live here at the start of the season and will play a few events on the PGA Tour (he made just over $47,000 in his first five starts) but I'm really looking forward to coming over for the Benson and Hedges in May and playing a full schedule in Europe after that."
Casey clearly misses being at home. "I love getting fresh, crusty bread from my local corner shop in Weybridge and going out for a pint and a curry with my mates." He even misses the rain at times. "We don't get any here which is really weird. And I miss trees too, because there aren't any of those in the desert either."
Despite craving a decent loaf, proper beer in a proper-sized glass and a chicken vindaloo down at the Gaylord, the curry house which shares its name with his management company, Casey points out there's actually a lot he likes about living in the States. The money is pretty good for starters. His swanky Volkswagen Jetta sits in the driveway of his $300,000 house in a nice part of a nice town. He is dating a 22-year-old interior design graduate from Florida. And he can hit buckets of brand new Pro-V1s on Grayhawk's pristine practice range any time he likes.

"There are a few things I don't like about the place but, on the whole, I really enjoy the lifestyle here. The weather's great, the playing conditions are superb and I've got some good friends in America. I get on well with the other young players on Tour; Luke, David, Bryce and Charles. They're all good guys."

And he loves the food. "You have to try the double-double with onion from In And Out Burger, or the Three-by-Three. It's got three patties."

"You're not a health freak then?" I ask.

"Oh, one week I'll be dieting and exercising, the next I'll be eating cheeseburgers. I should really do more aerobic stuff."

Cars, houses and as many oversized burgers as $47,000 will buy adds up to a pretty cushy existence for this 24-year-old. But he neglects to mention the best bit; his ability to hit a golf ball as hard and straight as just about anyone in the world, including Tiger. He putts just fine and can chip as well as most, but you don't really notice it.

Make no mistake though, Casey is fast developing into one of the world's finest ball strikers. He leaves most of his playing partners for dead off the tee and, just like Tiger, does it all with a steel shaft. "I have a 44-inch, X-100 steel shaft in my driver to keep the ball on the fairway. Steel is much more consistent and I don't need graphite to help me hit it further."

No kidding. At the Tucson Open in February, his drives averaged 312.3 yards. And he was laying into it during our encounter too. At the third, a 320-yard drive was followed by a 140-yard pitching wedge into the heart of the green. At the par-5 fourth hole I hit my only sweet drive of the day – 250 yards down the middle. I was curious to know how much further he hit his – 72 paces give or take. But he had pulled his into the semi-rough which lost him a few yards, "and I didn't really get all of it."

From there he still faced a shot of 261 yards to the center of the green. While I was figuring out which part of the fairway he would lay up in he was knocking a 3-iron low and with a touch of draw on to the front edge of the putting surface: 250 odd yards, out of semi-rough, up a gentle slope to within 20 feet of the hole – with a 3-iron!!!

Casey attributes much of his prodigious distance to being naturally strong. He has a powerful, thick-set physique and shakes your hand hard enough to numb it. The consistent draw he has developed with the help of his coach, Peter Kostis, has earned him a few extra yards as well. "Last year I was hitting a fade or this horrible trap-cut sort of shot that squirted out weakly to the right." He still won the Scottish PGA Championship and over 760,000 Euros with this trap-cut, as he calls it, but felt he wasn't hitting the ball anywhere near as well as he could.

"I wasn't getting in a position where I could attack the ball last year, not even at Gleneagles. After working with Peter though, I now have the club moving on a much better plane. I can release the clubhead properly and hit virtually any shot I want. Peter has helped me a lot. I don't know how these magazines rank the top 100 teachers, but he should be up there with Leadbetter and Harmon."

Kostis' input will no doubt be crucial in Casey's development as a golfer. But much of his future success will come not as a result of his teacher's expertise but rather his own self-belief. He's good-humored and seems to have no more than a standard-sized ego for someone in his position. But he knows how good he is.

At the end of 2000, he was so confident he could succeed on Tour, he dropped out of the college golf team and sociology course he was attending in order to turn professional. He was just six months from earning his degree. He'd had a wonderful amateur career, highlighted by a near faultless display in the 1999 Walker Cup at Nairn, but it was no guarantee of success in the paid ranks. In a heartbeat he'd gone from being a big fish in a small pond to being just another small fry in a bottomless ocean with nothing to fall back on should he fail.

"A lot of people thought it was a stupid decision, but I felt I was ready. I'd wanted to turn pro at 16, so I actually did well to hold out until I was 23. And it's not as if I was going to be a sociologist or anything," he argues.

Casey's performances in Europe in 2001 vindicated his leap into the abyss. This year he's targeting three more tour trophies plus a place in the world's top 50. By the time he hangs up his clubs he wants to have won the Grand Slam. That's a massive challenge as only five people in history have ever achieved it: Sarazen, Hogan, Player, Nicklaus and Woods.

But Kostis has no doubt his pupil can join them. "Paul will ultimately be the star of the new generation of young golfers. He will be a mainstay of the European Ryder Cup team and a major championship winner. Winning all four is certainly within his capabilities."

Victory over me by eight shots is a small and totally insignificant step on the road to the complete set of Major titles. And Casey has yet to prove he has the determination, focus and guts to cope with the long haul. But if sheer, raw talent has anything to do with it, he could be looking for a new challenge sooner than even he imagines.

What You Van Learn from Paul Casey

Start From a Solid Base

Paul Casey looks so good at address – athletic yet perfectly relaxed and poised for action. His angles are clearly defined and there's no hint of tension anywhere in his body. His weight is nicely balanced over the balls of his feet and the knees are comfortably flexed. His spine is straight and his arms hang naturally. Also, he lifts his chin off his chest to encourage a full shoulder turn.

"Amateurs have got way too much tension in their body, arms, and wrists at address and that prevents them from ever making a smooth, powerful swing."

When he is striking the ball well in practice, Casey sometimes measures the distance between the ball and his feet at address. "Knowing exactly how far I should be standing from the ball helps me get back into the correct set-up position for every shot. After playing in the wind and rain at last year's Dunhill Links Championship at St. Andrews I noticed that, because of all the extra layers I had been wearing, I was standing four or five inches further from the ball than I normally would. But I was able to put that right quickly with the help of those measurements. It's a good way to develop consistency."

Path to Enlightenment

"My swing plane last year was preventing me from releasing the clubhead the way I wanted to. I was pulling the club back too far on the inside, fanning the face open a little and making a small loop at the top. Then I would sort of spin out of the shot at impact and come across the ball. As a result, I was hitting a nasty cut shot that usually finished short and right. Putting a wooden board in the ground just outside the ball, and moving the clubhead away as closely to it as possible helped me develop a better takeaway and create a better plane going back. I took some chunks out of the wood when I started using it, but my clubhead path gradually improved. Now I am in a much better position at the top and I have much more width in my swing. I can come into the back of the ball more powerfully, make a natural release and hit any shot I want."

Fake Turn Loses Distance

"I always wanted to hit the ball as far as possible – even as a kid. Being naturally strong helps but you need to hit the ball squarely and time it right. You have to synchronize the turn of your body with the movement of your arms. You don't want to create a fake turn by just swinging with your arms and using too much wrist action. You will never hit the ball consistently that way. Think turn and coil and load yourself up like when you pull back a rubber band and let it go. Amateurs slice a lot because they have this urge to get back to the ball too soon. The swing isn't in sync. If you complete the backswing then come down smoothly you'll stop slicing."

What's in Paul's Bag?

Driver: Titleist 975J Prototype: 44 inch shaft, 8.5 degrees loft, X-100 steel shaft
3-wood: Titleist 975F: 14.5 degrees loft, X-100 steel shaft
Irons: Titleist 990B - X-100 shafts
Wedges: 52, 56 and 60 degree Vokeys
Putter: Scotty Cameron Studio Stainless 303 with 5 degrees of loft
Ball: Titleist Pro-V1 (original) – "I'm just happier with the way it comes off the face and the way it reacts on the green than the other two."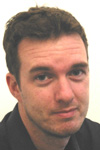 Tony Dear has been writing about golf for 11 years. A former assistant club pro from Sussex, England, Tony started out as a freelancer in 1992 before taking a staff writer's job at Fore!, a magazine based in Peterborough. As the magazine's chief instruction writer, it was Tony's job to compose instructional articles aimed at a youngish readership whose letters to the editor suggested they often got confused by technical jargon and theory. Tony bought his simple approach to teaching golf to the magazine, helping boost sales by 10,000 issues. As a result, he was nominated within the company and nationally for Young Writer of the Year awards.

From there, Tony moved 20 yards across the Emap UK office to join Today's Golfer. There, he was soon promoted to a senior editorial position, focusing on equipment, and became a significant part of a team that saw sales figures double within the magazine's first 12 months.

After three years at Emap UK, Tony was dragged kicking and screaming across the Atlantic by his American wife ('not really, I love it over here') and, after short spells in Phoenix and Denver, wound up in Seattle in May 2003. He recently moved to Bellingham in the far northwest corner of the far Northwest of the U.S. and became a father to a son on whom he has already staked £5 for the 2029 Open Championship. At present, he is freelancing for a number of print and online publications back in England including Today's Golfer, Golf World, Bogey, The Open Championship Magazine and Casino.com. He is also a contributing editor for Denver-based Colorado AvidGolfer. Recent features include a look at Colorado's self proclaimed 'links' courses, an interview with Suzy Whaley, with whom he played nine holes ('and got soundly thrashed') and a 64-page instruction supplement for Today's Golfer.

Tony has authored three books in the last five years and been nominated for several specialist and young writers awards. 'Although I've never actually won one,' he admits. He is a member of the Northwest Golf Media Association and the Golf Travel Writers Association based in London.