Major Bridge Project Completed at Celtic Manor
Celtic Manor Resort in Wales - host of golf's 2010 Ryder Cup - has announced the grand opening of the new $3 million Twenty Ten Bridge.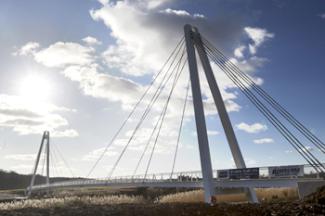 Twenty-Ten Bridge
The First Minister of Wales, Carwyn Jones, cut the ribbon on the 130-yard cable bridge over the River Usk with Sir Terry Matthews, Chairman of the Celtic Manor Resort, and Richard Hills, Europe's Ryder Cup Director. It completes $25 million in capital improvements at the resort prior to its hosting of the Ryder Cup, October 1-3.
The structure will aid transportation of players and spectators to the Ryder Cup practice ground. As with the construction of the Twenty Ten Course and its clubhouse, the new bridge was built by Welsh contractors, bringing further benefits to the local economy.
"We are proud to open this wonderful new bridge as the final major piece of construction for this year's Ryder Cup," said Matthews. "We have invested a lot of time and resources in creating not only the Twenty Ten Course, the first golf course in history to be purpose built for staging the Ryder Cup, but also the surrounding infrastructure."
The bridge was designed with close attention to the environmental and ecological sensitivities of the tidal River Usk. A six-and-one-half-yard exclusion zone on either side of the river bank protects otter holts and ensures the migrating patterns of salmon and shad fish are not affected.
"The Ryder Cup is a huge event for Wales and I congratulate Sir Terry Matthews and the team at the Celtic Manor Resort on completing the final piece of the infrastructure required on-site to host such a high-profile event, which will be a superb showcase for Wales," says First Minister Jones.
In addition to the Ryder Cup practice ground, the bridge also links to a huge TV compound that will house the broadcasters from around the world on the Caerleon side of the river. On the golf course side, a tented village of spectator attractions will occupy the existing Twenty Ten practice ground between the river and first tee.
Richard Hills, Europe's Ryder Cup Director, says: "The Celtic Manor Resort as host venue has continually demonstrated superb commitment, and we congratulate them for making this happen in such a timely fashion. Thank you to Sir Terry Matthews whose vision has led to the biennial contest being hosted in Wales for the first time."
For more information, visit www.celtic-manor.com.