Making a Difference South of the Border
By: Elisa Gaudet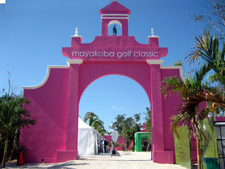 At a time when athletes such as suspended Atlanta Falcons quarterback Michael Vick is serving a 23-months prison sentence, Sean Taylor, Pro Bowl safety for the Washington Redskins, is shot and killed in his home, and Barry Bonds, baseball's home run king, is indicted for perjury and obstruction of justice and potentially faces prison instead of induction into the Hall of Fame, it is refreshing to hear about athletes who make a difference.
Many celebrities from the sports and entertainment worlds hold charity golf tournaments. However, it's nice when they go even farther, one might say the extra mile . . . like over 1,000 miles south of the U.S.-Mexican border. Fred Funk, winner of the 2007 Mayakoba Golf Classic, was in Cancun Mexico for a recent visit to assist in a new program called Golf PARa Todos (Golf FORE Everyone). This free community event is hosted by officials of the Mayakoba Golf Classic. Anyone who wants to learn about golf can participate in a clinic and family activities.
The monthly event is held on the driving range at the Camaléon Golf Course at Mayakoba Resort in Cancun, the same course where the Mayakoba Golf Classic, a PGA Tour event, is played each February. The Greg Norman-designed layout is part of a stunning complex called Mayakoba, which now boasts a Fairmont Hotel that resembles a "Venice of the Caribbean."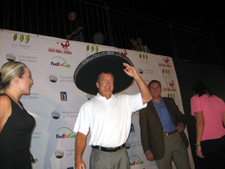 Funk is no stranger to winning in Mexico; he won the 1993 Mexican Open, a feat he shares with Ernesto Perez Acosta. Both were on hand at the Golf PARa Todos for the clinic. The extra mile taken by these two players is typical of Mayakoba and its parent company, OHL. As the players and caddies will attest, the Mayakoba Golf Classic has become a Caribbean paradise stop on their schedule thanks to the efforts of the tournament host.
Funk is no stranger to charity events either. He has held his own tournament in Ponta Vedra, Fla., to raise funds for young paralyzed teenager Jerry Townsend and his family, to help build them a home.
Acosta is also active in raising funds through golf for worthwhile causes. Now a teaching pro at Tijuana Country Club, Ernesto is also an accomplished player with an impressive resume. Besides being the first Mexican to win the Mexican Open - in both 1971 and '76, Acosta's career highlights include: a World Cup team member from 1975-1988 and champion in 1976; winner of the 1978 Rolex World Mixed Championships with Nancy Lopez; 1979 Mexican Masters Champion; 1980 Mexican PGA champion; President of the Mexican PGA from 1992-94; and the 2000 Mexican Seniors champion.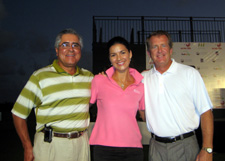 Though residing in separate countries, these two gentlemen cross cultures and boundaries to make a difference in areas that matter. Both share a love of golf and the gift of giving.
Don't be surprised if on your way from the airport in Cancun to this year's Mayakoba Golf Classic, located 40 minutes to the south, you see signs with Fred Funk in a sombrero indicating you're almost there. For all of those who have driven to Disney in Florida, seen the signs and stopped at "South of the Boarder" you know what I mean.
The 2008 Mayakoba Golf Classic will take place February 18-24. For more details, visit www.mayakobagolfclassic.com.     
Elisa Gaudet brings a wealth of entertainment and golf experience to Cybergolf. Elisa has spent the past several years in the golf industry in the U.S., Latin America and Spain. She worked for the PGA Tour and the Tour de las Americas before founding Executive Golf International, a golf marketing company that works with clients to develop strategies using golf as the medium. Often referred to as the Maria Bartiromo (a business analyst for CNBC) of golf, Elisa says: "Golf, as a marketing tool, has been around for years. It's amazing how many new ways companies can align their brand with the golf market to reach their target audience. Our goal is to create alliances and establish cross-border relations." Elisa also worked in the entertainment industry for over 10 years, including five in Los Angeles as a model and actress. She can be seen at many celebrity golf events and often gets the inside scoop from PGA Tour players. For more information about Elisa, visit her websites at www.onthelip.com or Executive Golf International www.execgolfintl.com.