Making of a Masterpiece . . . Well, Two
By: Tony Dear
When Minneapolis-based mining company Mosaic began thinking about what they could do with the tens of thousands of acres in central Florida they had mined for phosphate since the 1960s, one of the ideas mentioned was to build a new town from scratch.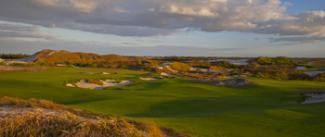 Streamsong Blue No. 18
(Photo © Larry Lambrecht
Rick Mack had what he thought was a better plan, however. The company's executive vice president and general counsel, and a keen golfer who preferred old-school designs over Florida's typical golfing fare, Mack wondered if a golf resort with 36 holes designed by Tom Doak and Bill Coore and Ben Crenshaw could work. He knew he had the site to do it, but he also knew the designers might take some convincing.

As Coore says, the last thing Florida needed was another golf course.

Fate, and a very persuasive Rich Mack, determined it would happen though, and golfers throughout America - the world even - should be very pleased it did. Doak and Coore may have built courses at the same location before (Bandon Dunes, and Barnbougle Dunes in Tasmania), but they never built them at the same location at the same time.

Who's to say if that will ever happen again?

Three months after Streamsong Resort opened, I asked Doak and Coore (at different times) to talk about the project - their initial reactions to the very idea of working in central Florida, how they thought it all played out, and how they feel about their courses now they're open for play. Here is that Q&A.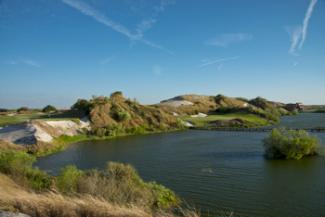 4-1-13-The 16th at Streamsong Red
(Photo © Larry Lambrecht)
Can you describe your initial reaction to Rich Mack's call asking you to build a course in Florida?

Tom Doak: Actually, a consultant hired by Mosaic called me to begin with.

Bill Coore: Central Florida wouldn't be my first-choice location. It didn't sound promising. But I was thinking I'm happy to listen, and happy to have this conversation, but I really don't think it's going to work. So many potentially good developments never get off the ground because the financing can't be found, but I knew that Mosaic were in a position to make Streamsong happen. They also asked if we would have any problems working alongside, or simultaneously, with another design company. We said we really wouldn't, but asked who they were thinking about. When they mentioned Tom I said unequivocally that there was no problem. We respect each other tremendously. We actually have different styles, but I knew we could work with Tom and his crew if that's what Mosaic chose.

What enticed you to go and see the site?

TD: I asked who else they were talking to, and the guy on the phone named several architects, but he said that the Mosaic people had asked specifically to talk to me and to Bill and Ben, which meant to me that they had a certain kind of course in mind.

BC: In a word: sand. When someone mentions "sand" and "dunes" in the same sentence it certainly gets your interest.

How surprised were you when you saw the site?

TD: If I didn't know where I was and someone had asked me which state I was in, Florida would have been about my 47th guess. We actually visited a few sites the first day, one that had already been reclaimed (where the lodge is being built today), a freshly-mined site (which would have taken a lot of patience to put back together), and lastly, the site we built on. I was amazed when I saw the scale of the dunes and the amount of vegetation which had re-colonized the site. Most of it looked like natural dunes, although there were a few features that were just too sharp to be natural.

BC: Well, like I say, my expectations as I approached the site were not good. But Mosaic had 16,000 acres out there and three potential sites for the golf course. The first looked like the Badlands. It was just too rugged. The second I called the "Old Lands." It was all mined out so there were some elevation changes, and a lot of vegetation had grown since they stopped mining it. It was quite interesting. It would have needed a lot of work but it was possible to build a course there. The third is what I called the "Sand Hills" site and where we eventually ended up building. There were dunes and lakes - a combination that I had never seen before.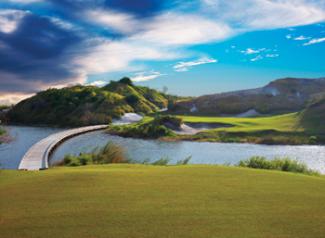 No. 7 at Streamsong Blue
(Photo © Larry Lambrecht)
Do you remember your first conversations about the project with Bill/Ben (Tom) and Ben (Bill)? What sort of things did you discuss?

TD: At that point, Mosaic was thinking of building the courses on two of the different sites we'd looked at, and Bill's first take was that the great site wasn't big enough for 36 holes. I thought it was, but I'd been given an older map which was made before some of the site had been reclaimed. When we got together in Florida, we discovered the error on the map, but we still agreed to work on trying to fit 36 holes on the current site. We were both very interested in the idea of having our crews work side by side on the project.

BC: I remember talking to Ben on the phone and saying you are not going to believe this place. It is truly amazing, not like anywhere we have designed courses before. I mean it had a bit of everything - Bandon Dunes, Sand Hills, Prairie Dunes, Friars Head. And yet it wasn't exactly like any of them. I told him it had so much potential and that the upside far outweighed the downside.

How long did it take to decide who was going to build which course? How did you decide?

TD: It took three-four months of going back and forth to sort out the routings of the two courses, which we really did together, without regard for which of us would build which course. Neither one of us wanted to decide because we didn't want the other guy to think he got the short straw, and really, we both liked nearly all of the holes, and our favorite holes were split between the two courses. Finally, Rich Mack asked Bill to make the choice, and Bill says he took the Red course because it needed more earth work and that would give his crew something to do for a longer time.

BC: A long time. We started talking with Tom on the phone and realized pretty quickly that we needed to collaborate. We said it would have been a train wreck had we not worked together. I did an 18-hole routing on the Sand Hills site, so did Tom. But I don't think either of us was terribly pleased with what we came up with. I just knew that 18 holes on that site left too much good golfing ground. It was so wasteful. I wasn't convinced there was space on that site for 36 though, because we would need to move south from the proposed clubhouse area and there was a large lake immediately south, and Mosaic were still mining a strip of land that is now the second hole.

We knew we would have to build the two courses on a diagonal - northwest to southeast, and that they would likely cross at some point. We had a meeting with Tom and his associate Bruce Hepner and laid out the courses on a map. I think we used red and blue pins, which is how the courses got their names.

I remember Rich asked if we should just flip a coin to decide who takes which course. I said I was fine with that, Ben too. But Tom said we should think about it. We went to and fro for a while. I asked our associate Jimbo Wright which course he thought we should take and he said, matter-of-factly, the one that requires more work. Well, that was good enough for me so I went to Rich and said if it's okay with you and with Tom we'll take the Red. Rich was surprised because he knew it would be take more work to build.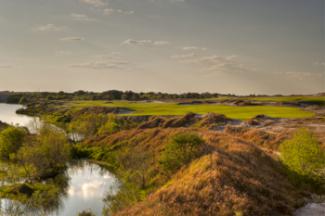 Red No. 7 at Streamsong
(Photo © Larry Lambrecht)
Did you decide between yourselves, or with Rich, how different the courses would be?

TD: Rich asked us more than once how we would make the courses different, but we didn't want to limit ourselves by deciding on obvious differences (like making the greens smaller on one course, or the bunkers in a different style). We just kept assuring him the courses would have a different character, like two sisters.

BC: Ben and I discussed having Melbourne Sandbelt-type bunkers, blowout bunkers, or Scottish revetted bunkers, but in the end we agreed we didn't need to steal from any other course, we should just build the best course this site was giving us. It didn't need to resemble anything else. As I said, it is a totally unique site.

Would you just as happily have built the Red/Blue?

TD: Yes. There were a couple of holes on the Red I wasn't sure what I would have done with. Mind you, there were a couple on the Blue as well.

BC: Yes. Tom was just as surprised as Rich that we wanted to take the Red. Actually, had we known the extent of the work that was needed to build the first six holes of the Red we might have picked the Blue. I remember shortly after deciding who was taking which course, Tom and the Renaissance guys came over to our area. They saw us looking at the lake wondering what we were going to do, and Tom says "We are not switching." He was joking, but at that point I think he was pretty happy about doing the Blue.

Which were the really obvious holes, and which took a bit of finding?

TD: Bill's first 18-hole routing that he showed me (before we started on a 36-hole plan) included the seventh, 15th, 16th, 17th and 18th on the Red course, and the third, fourth, fifth and sixth on the Blue course. As obvious as the seventh on the Blue course seems today, we didn't include it for a long time because getting to and from the green was such a detour. The second on the Red and the 13th on the Blue took the most amount of creative work and earthwork.

BC: There were a lot of obvious holes. We had to do virtually nothing on the seventh. The green site was just there. It reminded us of the 10th at Friar's Head. Much of the back nine just fell into place pretty easily. There were a lot of naturally interesting holes. But I actually didn't see the 16th (one of the most notable holes on the Red) straight away. Ben did. People just see things slightly differently.

Did the terrain present you with any difficulties?
TD: The only difficulty was working around the lake banks; the sand was relatively unstable because so much had been moved years ago, and we had to have a spotter watching us anytime we were anywhere close to the water, in case the ground gave way.

BC: If we had ended up building 18 holes on this particular site and 18 on another, the first six holes on the Red wouldn't exist. We had to fill in the lake on the first hole, and deal with the mine on No. 2. We used the quarried sand from No. 2 to build the dune to the right of the green. The Mosaic people were just fabulous. They helped us build that dune. We used 300,000 cubic yards of sand, but the phosphate they mined to get it more than paid for it.

How many associates did you have working with you?

TD: Bruce Hepner was my lead associate. Eric Iverson built the majority of the greens, with some help from Brian Slawnik, Brian Schneider and Mike McCartin. Mike did the majority of the bunker work.

BC: We had Keith Rhebb, Dave Axland, Jimbo Wright and Jeff Bradley.

Now it is finished and in play, how do you feel your course turned out?

TD: I'm really happy with it. I've heard some critics say it's "less strategic" than the Red course because it's so wide open, but actually, a lot of the good players I've talked to say they really have to play to the right spot in the fairway in order to get at certain hole locations. That was our goal.

BC: When they visit the course for the first time, people will wonder where these sand dunes are. It's not like approaching any course on the west coast of Ireland, or Friar's Head or Sand Hills, for instance. I liken it to Prairie Dunes actually. The first time I visited that course, I remember getting close and wondering where on Earth it could be because there certainly weren't any dunes that I could see. And then you actually arrive and discover one of the finest courses imaginable. I think Streamsong is similar. As you approach it, you're probably thinking it can't be very special.

But we're very proud of it, and have high hopes for it. It was a very daring venture for Mosaic, and it was an honor to work for them and for Rich Mack. Visitors will obviously compare it with other courses, but ultimately it's Streamsong. There's nothing like it.
For information about Streamsong, visit http://www.streamsongresort.com.
Tony Dear is an Englishman living in Bellingham, Wash. In the early 1990s he was a member of the Liverpool University golf team which played its home matches at Royal Liverpool GC. Easy access to Hoylake made it extremely difficult for him to focus on Politics, his chosen major. After leaving Liverpool, he worked as a golf instructor at a club just south of London where he also made a futile attempt at becoming a 'player.' He moved into writing when it became abundantly clear he had no business playing the game for a living. A one-time golf correspondent of the New York Sun, Tony is a member of the Golf Writers Association of America, the Pacific Northwest Golf Media Association and the Golf Travel Writers Association. He is a multi-award winning journalist, and edits his own website at www.bellinghamgolfer.com.