Manor CC Reopens Following Renovation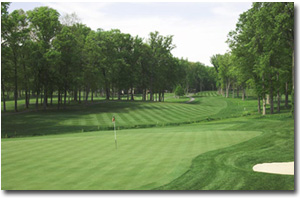 Manor Country Club reopened for member play last October following a major course renovation from Arthur Hills/Steve Forrest and Associates. Shortly thereafter, Drew Rogers Ė the Hills/Forrest partner who directed the project Ė received a voicemail message from Manor's immediate past president, Ken Woodring.

"I can't possibly describe to you the excitement here at the club since opening the course," Woodring told Rogers, after the beep. "Gorgeous. Awesome. Magnificent. One of the best courses anywhere in the Mid-Atlantic Ė these are some of the comments we're getting. It is so heartwarming to see the members embracing the course; even the naysayers now sincerely appreciate the efforts and results. I can honestly say that we have 800 members who are ecstatic with the golf course. Not one criticism. You have done an incredible job for us."

Seven months later, when Manor CC officially celebrated its newly refurbished course with a gala event on May 25, Rogers still kept Woodring's message on his answering machine.
"I may never erase it. If I'm having a bad day, I just listen to that and it brightens me right up," Rogers explained. "Manor was always a nice golf course - had been for 75 years. But it needed a major overhaul and we're as pleased with the finished product as the members are."
The renovation master plan Ė devised by Hills/Forrest in 2003, and implemented by contractor Landscapes Unlimited in 2004-05 Ė was nothing if not extensive:
* Overall course length was increased nearly 360 yards, from 6,390 to 6,749.
* Dozens of tees and putting surfaces were repositioned to accommodate this length and create new playing strategies.
* Every bunker on the course was rebuilt in a vintage, flat-bottomed, grass-faced style; a number of new bunkers were added to enhance the strategic tableau.
* Scores of trees were removed or trimmed back, creating wider playing corridors and allowing the sunlight/air movement necessary to nurture the layout's new bentgrass fairways and greens.
All 18 holes were affected by this work, but the 1st hole is a microcosm of the project: The architects at Hills/Forrest lengthened the par-4 from 364 yards to 408; they took a tight, bowling alley of a fairway and created, through judicious clearing, a generous corridor accented by strategic fairway bunkering; they created a dramatic new green site by moving it up and back onto a natural shelf, guarded front left by a gaping bunker. Thanks to an expert grow-in overseen by course superintendent Randall Pinckney, the turf is healthy and pristine.
"You really can see the difference right there on the first tee," said Arthur Hills, founder and principal of Hills/Forrest. "Most of the holes on the front nine were seriously hemmed in by the dense wooded framework; that's where most of the tree work occurred and it has made all the difference in the world."
Toledo, Ohio-based Arthur Hills/Steve Forrest & Associates is one of golf's most experienced course renovators, having refurbished more than 120 courses across the country including U.S. Open sites Oakland Hills, Inverness, Congressional and Oakmont. Its D.C.-area renovation portfolio includes Bethesda, Burning Tree, Chevy Chase, Woodmont, Belle Haven and the CC of Fairfax.
Course renovation often requires a sensitivity to the work of original architects, and that was the case at Manor. Sort of. The original 18 at Manor CC was laid out by Alexander Findlay and William Flynn worked with the club in the 1930s. However, while Flynnís plans remain, itís unclear how much of his plans were ever implemented.

"In the course of devising our master plan, I think we all came to realize that Flynn was not as influential at Manor as the members may have originally thought," Rogers said. "Many of his design ideas were simply never implemented - and if they were done, they were undone or lost over time. But because we have his plans, on several holes we were able to move forward in a way consistent with those plans."

The 13th is one example. When Rogers arrived on site, the fairway bunkering on this short, downhill-uphill par-4 was nothing like Flynn had detailed, "So we integrated his bunkering back into the hole. Itís bold, strategic and entirely visible from the tee - and the intricacies around the green now respond to his fairway bunkering strategies. Itís a clever little hole now that players will appreciate immediately."

Elsewhere at Manor, Hills/Forrest brought its own sensibilities and expertise to bear. At the closing hole, Rogers pushed the tees back against a property line - adding 40 yards and creating a better strategic angle of attack on this dogleg right; he enhanced an unsightly area between the tees and fairway through the use of native grasses; and he pulled the putting surface down the hill away from the clubhouse. Indeed, the old 18th green now serves as the practice putting green, though itís still of a piece with the new 18th green.

"Itís about 12,000 square feet total, with the lower level serving the 18th hole," Rogers explained. "Itís not unlike what you see at Oakmontís 9th green. Similar size and approach. Itís certainly a talked-about feature, and it works well - not a lot of people will be hitting their approaches long on a 440-yard uphill par-4!"

Not every hole at Manor was lengthened. In fact, the new 5th measures 170 today - 20 yards shorter than the original - for reasons related to strategy, drama and sunlight. "Weíre awfully pleased with the new 5th, which plays from an elevated tee over a creek to a green carved into a hillside, just beyond the hazard," Rogers said. "The former tees were slotted into a shaded area where turf health was always going to be problem. We moved them forward, into the sun, to address this issue. At the same time, the new tees allow players to a better view of the putting surface, where we came up with some very bold, deep bunkering that creates a striking pedestal green. Itís a shorter hole now, but more agronomically sound, more visible and far more dramatic."

Manor is technically a 27-hole facility thanks to a 9-hole short loop called the Harry Pitt Course. Two holes on the Pitt were rerouted to allow redesign of the clubís range, but otherwise it remains tact. Manorís new practice facility, meanwhile, is state-of-the-art. "Apparently, lots of neighboring clubs have come over to have a look at it," Rogers said. "In a densely populated area like suburban D.C., with so many older courses, the practice facilities are generally pretty cramped. Manorís old range certainly was. But we found the room and itís now the envy of the area."

Arthur Hills/Steve Forrest & Associates is one of golfís most prolific and respected course architects, with more than 40 projects underway in Mexico, Canada, the United States, Europe and the Middle East. Hills Golf Club in Sweden, named by Travel+Leisure Golf magazine among the top 10 courses to open worldwide during 2005, will celebrate its grand opening this spring, just north of Gothenburg. At about the same time, Olde Stone, an exquisite new private club project, will hold its grand opening in Bowling Green, Ky., U, while Wolfdancer Golf Club at the Hyatt Regency Lost Pines Resort is poised to open June 1, near Austin, Texas.

For more information on Arthur Hills/Steve Forrest and Associates, visit www.arthurhills.com, or call +32 2548 0568 (in Europe) or +1 419-841-8553 in the United States.†††††