Mark Anderson: Remember This Name
By: Joel Zuckerman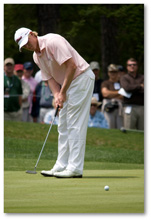 Mark Anderson
Birdie-birdie-birdie. Birdie-birdie-eagle.
It sounds like a summer's worth of golf highlights for a 10-handicapper. Or a wonderful-yet-unreachable golf fantasy, a sleep-induced dream, tantalizing but ultimately frustrating, when you are roused to reality just as you were slipping on the Green Jacket, or taking possession of the Claret Jug.
But for Mark Anderson, it's neither a summer nor a slumber but an incandescent hour-and-a-half for this fabulous amateur talent from sleepy Beaufort, S.C.
Anderson, a Gamecock and recent graduate of his state's university, began his competitive year by playing the last six holes in 7-under par to win a prestigious Australian amateur event with a deep international field called Master of the Amateurs. His closing trio of birdies got him into a playoff, and after two more birdies, he defeated the USA's No. 1 amateur, Ricky Fowler, with an eagle on the third overtime hole.
Prior to that stunning overseas victory, Anderson found that elusive "fifth gear" last summer at the Players Amateur, a marquee event outside of Hilton Head in Bluffton, S.C., not far from his Beaufort home. His career-best of 63 on Saturday was but a fleeting memory. He laid waste to the field in the final round with an efficiency rarely seen in competitive golf. He took just 58 additional shots between opening drive and concluding putt, and the 60 he put on the scorecard afforded him a comfortable five-shot margin of victory.
Regarding the unique ability to bear down and play his best when he needs to the most, Anderson responds with a smile and shrug of his wide shoulders. "I really don't know. I think you either have that ability or you don't," he states, without even a hint of cockiness. "I just like the moment. It's a cool situation to be in, having to make a few birdies down the stretch. Sometimes I pull it off, and sometimes I don't. I'm nervous, for sure, but that's not a bad thing. It helps you hit it further, and concentrate more. I've learned to deal with it."
Over the years this correspondent has had the opportunity to profile a number of competition-hardened golfers, be they pros or amateurs. Rarely do they play to their potential in my presence. Perhaps it's because they're demoralized by my booming tee shots, sometimes traveling as much as 225 yards from whence they were struck, or even 235, assuming brick-like conditions in the fairway. Maybe they are intimidated by the laser-guided approaches they are forced to witness, as two or three times per round when I manage to hit a green in regulation, the ball will nestle within 50 feet of the flagstick. But I think the true explanation for these sub-par (but never under par) performances is because these players know the story will include at least oblique references to their golf game that day, and many wilt a bit under this self-induced pressure.
So let the record state unequivocally: Though he deigned to play with just 10 clubs, leaving four irons in the trunk of his car as an experiment, Mark Anderson tied his home-course career low as we bombed-and-gouged (or in my case, bunted and ground-balled) around Beaufort's classy Secession Golf Club. Sixty-four strokes total, with eight birdies and no bogeys. He used the driver only once, despite 7,000-plus yards of terrain to negotiate. When he missed the green a time or two, he feathered pitch shots to within a few feet. He left himself simple chips or fringe-putts on the par-5 holes, all of which he turned into tap-in birdies. It looked as effortless as it was impressive, the finest display of golf this correspondent has ever been privileged to witness firsthand.
Mike Harmon has been the director of golf at Secession since the day the club opened nearly 20 years ago. As the face of this nationally-known, caddie-only facility, a former PGA Tour pro, an award-winning club professional and a guy who has met, played with or competed against hundreds of the best golfers in the nation, Harmon has a unique and longtime perspective on Anderson's abilities.

"Mark has great touch around the greens, a great putting stroke, and extraordinary length. He would be one of the longer hitters on Tour upon arrival," begins Harmon. "He also has this terrific competitive desire, coupled with a balance I haven't seen in a lot of players. He can top his opponents with regularity - if they make birdie, he'll match them. When he played in the PGA Tour's Verizon Heritage on an exemption this past spring, though he didn't make the cut, he handled himself well. He looked at ease, surrounded by world-class talent but still comfortable on the course, in the locker room and on the range. He wasn't nervous or intimidated."

Now he's 6'1", 180 pounds, with a ball speed of about 175 mph, while the average Tour pro is in the high 160s. That translates to some 285 yards in the air, which might be just shy of or well over 300 yards in total length, depending on the firmness of the playing conditions. But he was just a three-year-old tyke when he began playing with his parents 20 years ago, and guided by his 6-handicap dad and his quickly developing gifts, he was a par-shooter by middle school, and a member of the local high school team in fifth grade.

"I think the role of a good golf professional is to help any local kid that is showing real potential," continues Harmon, who played on Tour in the early '80s. "As a 13-year-old Mark was shooting good scores, so we offered him playing and practicing privileges at Secession in exchange for working at the club, and he took the opportunity and ran with it. We couldn't be more proud of what he's accomplished, and if he doesn't do another thing in golf, which is highly unlikely, we are very proud, and have been richly rewarded by our association."

"My goal was to play college golf when I was beginning high school at Beaufort Academy, hoping for a scholarship," states Anderson, who recently made it through Sectional Qualifying for this summer's U.S. Open, and will play in the Regional Finals on June 8th. "Between academics, golf ability, and help from Secession's Leveen - Roach Scholarship Fund, which provides money for students who display academic potential, share a connection to golf and the Beaufort area, it ended up being a full ride at South Carolina."

It will be a busy amateur summer for Anderson, who plans to turn pro later this year. "I think I would make the Walker Cup team if it was named today, but lots will change over the summer. The big events - the Porter Cup, North and South, Northeast Am, Players Am, Sunnehanna Amateur - they all will go a long way to determine the Walker Cup team."

Anderson also likes his chances in August's U.S. Amateur, though he's only made the field once in three previous attempts. "I'm playing well, and I've proven I can play with any of the top amateurs out there. Match play is a funny game, though. It's not necessarily the best player that wins, sometimes it's the luckiest player."

Q-School looms in the fall, either with or without the Walker Cup on his resume. "I feel like I can be a top-tier golfer on the Tour someday. I hit it well enough, and I'm consistent enough to play well on a regular basis. I look at Steve Stricker as a role model. Not real flashy, but he plays well week in and week out." What's left unsaid is the fact that Anderson is significantly longer than Stricker, whose 285-yard average off the tee barely cracks the PGA Tour's Top 100 in driving distance.

The final word comes from Mike Harmon, who has been mentoring Mark Anderson for a decade. "It doesn't always come down to talent alone. My experience is that it often comes down to who gets the most out of their talent, and lots of fine players, for whatever reason, cannot. I know the odds are long, and there is a ton of talent out there, but it would not surprise me to see Mark Anderson become a successful PGA Tour professional. I absolutely believe he can make it out there. I would be surprised if he didn't."
Joel Zuckerman, called "One of the Southeast's most respected and sought-after golf writers" by Golfer's Guide Magazine, is an award-winning travel writer based in Savannah, Ga., and Park City, Utah. He has written five books, including the epic "Pete Dye Golf Courses" in 2008. Joel's course reviews, player profiles, essays and features have appeared in more that 100 publications internationally, including Sports Illustrated, Golf, Continental Magazine, Travel & Leisure Golf, Sky Magazine, Golf Connoisseur, Golfweek, Estates West, Millionaire and Golf International. For more of Joel, visit www.vagabondgolfer.com.