Marrakech Golf Club Set to Open Early Next Year
Marrakech Golf Club, Assoufid, is set to open in spring 2012. The new course, which will draw players from Europe, the Middle East and Africa, features spectacular views of the snow-capped Atlas Mountains.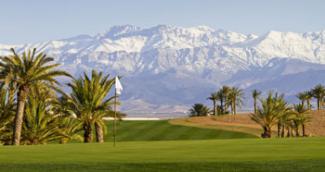 Marrakech Golf Club, Assoufid
The layout, the design debut of Scottish PGA professional Niall Cameron, forms part of a new resort and private residential development on a 222-hectare estate. The property will also contain a 98-room Rocco Forte Collection hotel and spa along with a clubhouse that is currently under construction and set to open next year.

The estate's first private residence, one of 80 luxury villas, has been completed and is now occupied. Twelve more homes are being built as part of an initial release of property. The club is just 20 minutes from the ancient center of the vibrant "Red City" of Marrakech, and a 10-minute drive from the international airport.

"I had to pinch myself when I first saw the site for the golf course," said Cameron, who previously oversaw the development of the Kyle Philips-designed Verdura Golf & Spa Resort in Sicily. "The setting, with the views to the mountains, is mesmerizing - you can see why people from all over the world are drawn here.

"The terrain for the golf course was ideal. The palm and olive groves, set on undulating rolls and folds in the landscape, enabled us to incorporate mature trees into the design.
"We also have a creek running through the course, which we have brought into play. It's a strategic design, prompting the golfer to think about how they tackle each shot, but it's also highly enjoyable and opens out on the back nine so you can fully appreciate the landscape and views to the mountains."
Morocco is among the fastest-growing golf destinations in Europe. Within a three-hour flight time of most European capitals, Marrakech is a legendary haven for artists, movie stars, businesspeople, statesmen and their families. Tourists enjoy the sights, sounds and heady aromas of the commercial area called souk as well as restaurants, clubs and shopping.
For those with a taste for the outdoors, skiing, walking and four-wheel driving in the Atlas Mountains is 90 minutes away, while the beach is a two-hour trip. Lake Lalla Takerkoust, just 30 kilometers from Marrakech, offers water sports such as jet skiing, waterskiing, kite-surfing and windsurfing.
The 7,020-yard, par-72 course is slated to open in March 2012. For more information, visit www.assoufid.com.