McConnell Golf - Leading the Private Club Resurgence across the Carolinas
By: Dave Droschak
It has been a tough decade for the private club industry across the Carolinas, unless your name is John McConnell. While many high-end golf developments were left in limbo during the Great Recession or struggled to stay afloat, the former high-tech businessman built a portfolio of courses and a unique membership model over the last decade that flies in the face of logic.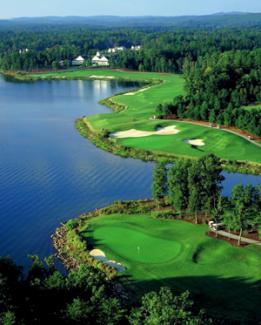 The Three Finishing Holes at Old North State Club
McConnell is now described by many as North Carolina's most influential man in golf, offering his members 153 holes designed by such legendary architects as Donald Ross, Pete Dye and Tom Fazio.

"I'm not sure that's necessarily true," McConnell said of the tag. "A better description is I may be viewed with some jealousy because I probably have the life that everybody would love to have. But hey, I'm doing my taxes today. You're got to stay focused."

Why invest at all in what many perceive as a fading industry?

It started innocently enough for McConnell. The final design of Ross's was on the verge of being plowed under for a condo development when the single-digit handicapper stepped in for the save. Embedded at the time in the Triangle-area community with ownership of two high-tech firms, McConnell not only purchased Raleigh Country Club in East Raleigh but immediately poured millions of dollars into renovating it.

Few knew - likely not even McConnell himself - that one private club purchase in December 2003 would turn into a portfolio of eight elite clubs scattered across North Carolina and South Carolina a decade later at 3,000 members strong, and that he would divest his businesses to form McConnell Golf.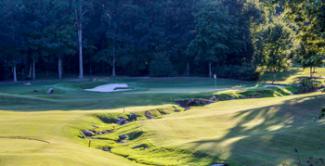 Treyburn Country Club in Northern Durham
(photo by Rick Fisher )
A large portion of McConnell's golfing empire - and the tens of millions of dollars spent on numerous course and capital improvements - has been accomplished in the toughest of times for the private golf sector as a major economic downturn rendered many memberships as luxuries golfers could do without.

"The biggest challenge is trying to maintain membership in a market and industry that are flat and have been declining," McConnell said. "That's everyone's challenge. The formula is you have to keep providing high quality at an affordable value and certainly maintaining high service standards. Every year you have that commitment you're going to take a market share from others who aren't willing to make the investment."

McConnell refuses to divulge his total investment. "Let's just say millions of dollars is the way to characterize it," he said.

"One of my business co-founders made a comment to me one day. He said 'John, the problem you have is you want everything to be top notch,' " McConnell said. "I guess even though we buy these clubs and we make a commitment in the amount of capital we are going to invest, we always seem to exceed that capital commitment by a large amount. It seems like every time you ride around the course you see something you want improved. I have to start accepting status quo."

That's more a passing comment than reality for McConnell, who truly has a love for golf and plays to an 8 handicap.
"Sure, I've certainly questioned myself as to whether golf is ever going to return to its form, but at the same time you know that to replicate these assets would cost several million dollars more each," he said. "Over time I think land and golf courses are going to become more valuable. We're already seeing an uptick in the market value over the last couple of years."

The 63-year-old McConnell hasn't backed off his vision and unique membership plan, which centers on declaring a "home club" while members enjoy reciprocal playing privileges at the other seven. Most recently, McConnell has headed into the Myrtle Beach market to manage Grande Dunes Members Club.

"I guess everyone gets hung up on an acquisition and certainly I always enjoy that, but it's like a person that starts buying art, and to me these golf courses are like art forms," McConnell said.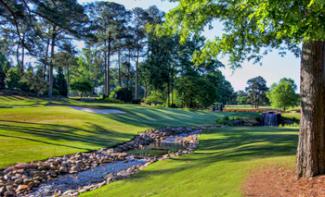 A Waterfall Scene at Raleigh Country Club,
the Last Design of Donald Ross (photo by Rick Fisher)
Three McConnell Golf courses - Raleigh County Club, TPC at Wakefield Plantation (north Raleigh) and Treyburn (northern Durham) - are scattered strategically across the Triangle, giving members a series of "connector courses" they can navigate.

"In the Triangle you can play three great golf courses any time you want to play them, and one of the advantages is we rotate green maintenance so golfers always have smooth greens to play on," McConnell said. "Just the fact that you get different varieties and it doesn't cost you anything more is special and cool. And Raleigh Country Club and Treyburn are ranked No. 1 and 2 in the Triangle so you have high value and high quality."

"Our greatest accomplishment is we're still growing in an industry where a lot of private clubs are closing their doors or turning into semiprivate or daily-fee," added Brian "Boomer" Kittler, the company's director of golf. "That last 10 years has been a great ride and I'm looking forward to the next 10 years."

McConnell's passion and investment to improve each facility are truly impressive in these times of club contractions - but maybe nowhere more than the Triad area of Greensboro, where the membership base has been energized at Sedgefield Country Club's Ross design while also propelling the Wyndham Championship back into the consciousness of the PGA Tour's top players.

McConnell Golf has now turned its attention across town to the Sedgefield Dye Course, formerly known as The Cardinal. The original plan in 1926 was for 36 holes at Sedgefield, but the Great Depression squashed that idea. With the purchase of the Dye Course eight years ago and the Ross Course in 2011, McConnell has been able to revisit that original idea and offer Triad golfers sister courses of unparallel architectural design within a 15-minute drive.
But despite the great Pete Dye himself coming back to renovate his stellar layout, golf memberships have lagged behind at the Sedgefield Dye Course, a direct result of the housing collapse and several other factors.

So, McConnell pulled his team together and plotted an aggressive membership approach this spring that he and others feel will help jump-start activity at the Dye Course, which across North Carolina is regarded as one of the state's best and most challenging layouts.

The new Sedgefield Dye Course membership has an initiation fee of just $2,000 with monthly dues at $325. That gets golfers unlimited weekday play, weekend and holiday golf after 1 p.m., and unlimited access to the range. Golfers purchasing the new membership can play with a member prior to 1 p.m. on weekends and holidays by paying the accompanying guest fee.

"There are no minimums, no other hidden fees," said Chad Flowers, Triad membership director for McConnell Golf. "At the end of the day most see the value in McConnell Golf; they see everything we've done at the Ross Course, they see the things we're doing at the Dye Course. I've even heard people say, 'I want to get in before this initiation fee doubles.' We're still a young company and still investing. When the economy does eventually turn and people are investing in golf club memberships our fees are going to go up, it's only natural. Eventually, things will get back to where they were in the golfing heyday."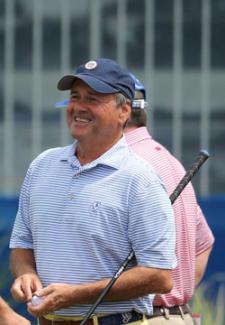 John McConnell Enjoys a Laugh at
2013 Wyndham Championship Pro-am
In addition to the upgrades to the Dye Course, Flowers said McConnell has earmarked on an additional $250,000 for clubhouse and pool upgrades. "As an employee it's great to see Mr. McConnell putting money into the club," Flowers said. "He has confidence in us to do our job, to make this what we know it can be. It is so much easier for us to do our job when he supports us like that."

One of McConnell's strategies in building his private club empire was to acquire courses designed by some of the world's greatest architects, and he has accomplished it. Old North State Club along Badin Lake and Treyburn outside of Durham were created by Fazio, while Ross designs at Raleigh CC and the Sedgefield are wonderful tests. Meanwhile, Musgrove Mill and The Reserve in South Carolina boast layouts crafted by Arnold Palmer and Greg Norman.

So, it was quite a coup to get Dye, a living legend in the design business, to return to the Sedgefield Dye Course in 2006 to spin more magic.

"I think Pete Dye is the best golf course architect since Donald Ross and he has built some memorable courses," McConnell said. "When he came back at age 82 to modernize the Dye course that he built in the mid-'70s he was very proud of his original work. The changes that he made to that impressive layout are some of the best holes in our state. Without a doubt, this golf course will test your skills and strategic thinking. Many members feel that the Dye course is our most challenging golf course within McConnell Golf, but it is a very fair layout and fun to play."

Along with Kittler, Michael Shoun has been with McConnell Golf from Day 1, starting as head superintendent at Raleigh Country Club. Now as director of agronomy, he oversees the conditions of all nine courses within the golfing empire.
"Yes, we've had projects going on and we've been extremely busy, but we're bettering our properties. And if you went back four, five, six years ago nobody was doing that," Shoun said. "We were the only game in town where we were making our facilities better; everybody else was just trying to get along and it has paid off. Now we have nine courses in excellent condition and moving forward. These other private clubs are just now starting this process, so it is going to take them awhile to get to where we are, if ever. John has led us in this direction."

McConnell grew up in the mountains of Virginia and went to college at Virginia Tech. He has yet to purchase a "mountain" course, which may be next on his golf wish list, or a club in the Charlotte area, which is North Carolina's most populated city.

"I would say early on I went for courses that had more beauty and great layouts than for the business operation," McConnell said. "Now I focus more on urban areas with membership bases and growing markets.

"The most satisfying thing is when I drive into these courses and I get a chance to say 'Wow, look at what we've accomplished' from a physical standpoint," McConnell said. "Sedgefield Country Club is a prime example of a club that was falling down in maintenance and lack of capital, and now you drive into the place and it is world-class. You just get a feeling that we have certainly put some old mastery back together."
David Droschak has covered golf in the Carolinas for three decades, mostly with The Associated Press, where he worked for 20 years as AP sports editor in North Carolina prior to launching Droschak Communications, a full-service marketing and PR firm based in Apex, N.C. Dave, 53, has covered numerous major golf tournaments, including the 1999 and 2005 U.S. Opens at Pinehurst Resort, and is a longtime member of the Golf Writers Association of America. Dave will be hand in 2014 to provide coverage of the historic back-to-back U.S. Men's and Women's Opens in the North Carolina Sandhills.

Dave was honored with the Sports Writer of the Year award in North Carolina in 2005, and is currently editor of Triangle Golf Today (www.trianglegolf.com), a print and online publication regarded as the "No. 1 Source for Golf News in North Carolina." He is also golf editor for Pinehurst Magazine, an award-winning glossy publication.

Dave grew up in Penn Hills, Pa., about five minutes from famed Oakmont Country Club and was introduced to the game of golf as a caddie at Green Oaks Country Club in nearby Verona, Pa. Dave was the co-captain of the 1978 Penn Hills state championship baseball team, was a pitcher for the 1982 Atlantic Coast Conference champion University of North Carolina Tar Heels, and pitched professionally for two years in the St. Louis Cardinals organization. He is a member of the Penn Hills High School Sports Hall of Fame, which also includes NBA coach George Karl and former four-time Pro Bowl offensive lineman Bill Fralic.