Me & Al at the Ryder Cup
By: Jeff Shelley
I wasn't planning on doing anything related to golf. My wife and I were going to Chicago to spend six days with her niece Lisa and her husband Paul and their three-year-old son Alex. For the first time in six or seven years I wasn't going to pull out a computer and work while on vacation. My boss even gave the go-ahead to contract with a fill-in to handle Cybergolf's daily updates which of course, for this week anyway, revolves around the 39th Ryder Cup being played at - guess where - Medinah Country Club outside of Chicago.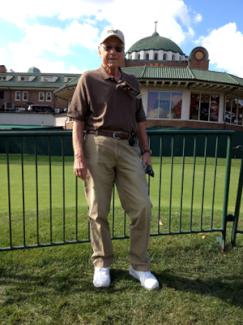 Al Rauckinas in front of Medinah's Clubhouse
When my wife Anni asked Lisa if we could get tickets for Thursday's practice round at the Ryder Cup as a 75th birthday present for her father-in-law Al, Paul's father, I agreed. So we went. Al picked us up at 8:00 a.m. and, after snaking along in crawling traffic, made it to the shuttle bus parking lot and entered Medinah around 10:00.

Al had never been to a big-time golf tournament before. My unofficial estimate is that 30,000 to 40,000 people descended on the No. 3 course Thursday to catch a glimpse of the best golfers representing the U.S. and Europe in this intense biennial competition. We walked pretty much the entire place, a big, brawny golf course with considerable length - nearly 7,600 yards, slick and tilting greens, and narrow, off-canted fairways that wind between towering oak. Water invades the place in the form of ponds - some big, some small - and streamlets that will invariably play a role in whether the USA wins back the Cup or the opposition takes it back to Europe for the 10th time in 14 events.
There were all manner of attendees, with many sporting Stars and Stripes on shorts, pants and hats; others in kilts; still more bearing the flag colors of their favored nations over on the Continent.

Al hung in well throughout the day. The retired civil engineer, who worked for years for the state of Illinois building roads, loves golf. He plays a couple of times a week when at his Chicago home in the spring, summer and fall, and does the same when he and his wife Vanda retreat to their Florida condo in the winter. In between rounds, he works out. He's followed that exercise regime for the past 12 years ever since he quit smoking and overcame health issues.

In addition to his endurance, perhaps even more amazingly is that Al plays with the same 12 to 16 guys in both states, all of whom are Lithuanian buddies.
My only previous meeting with Al, Vanda and the rest of Paul's family and friends - many of whom are first- and second-generation Lithuanians - came when he and Lisa got married in Cancun a few years ago. It was at that Mexican resort when I first experienced the wonderful camaraderie of these people, who I had never met before. It was clear that they are prideful folks but also know how to have a helluva lot of fun.

After tromping across Medinah for six hours, occasionally glimpsing the spotless swings of touring pros like hometown hero Luke Donald - a Northwestern grad who, despite his membership on the opposing squad elicited shouts of "Luke, Luke, Luke!", and Americans Jim Furyk, Bubba Watson, Webb Simpson and Jason Dufner, we got back on the shuttle bus and returned to the dusty parking lot for the drive back to Lisa and Paul's home in Naperville.

With Anni sitting in the back seat, Al and I started talking about what brought him to America back in 1949. Speaking in his unique accent with the "flat-A" twang of a Windy City resident, Al said that Chicago is now the home of approximately 200,000 people of Lithuanian descent. An 11-year-old Al and his family - including his mother, father and sister - escaped the country following World War II during the Russian occupation, a time when thousands of his country's men and women were exterminated while Stalin was in power. The Lithuanians, who celebrate two Independence Days - one in 1918 and another in the early 1990s following the dissolution of the Soviet Union - were among the millions of ethnic people killed during Stalin's sociopathic regime.
Chicago is a great town, filled with people of many different nationalities. While here we're going on a boat cruise to see the city's incredible architecture, eat some of its famed deep-dish pizza, and - something I've had on my bucket list for a long time - checking out a blues club.

With indirect thanks to my love of golf and the 2012 Ryder Cup at Medinah, my first history lesson about the "City with Big Shoulders" came from a spry 75-year-old Chicagoan born in Lithuania, a man with a twinkle in his eye, an incredible love of family, and an insightful knack for telling a powerful story about what it means to be an American.