Meadow Brook a Real Beauty in Rhode Island
By: John Torsiello
You know those television shows where the gal, or guy, gets a fabulous makeover that turns an ugly duckling into a beautiful swan? Well, those makeovers pale in comparison to what was done to a once-perfunctory layout along Route 138 in tiny Rhode Island, which may be small in total area but big on really good golf courses.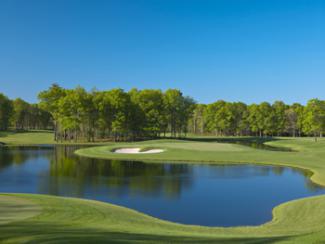 One of the Tough Par-3s at Meadow Brook
Taking a very pedestrian and worn-out nine-hole public course, architects Roger Rulewich and David Fleury, along with hands-on owners Pete Hendrick and his son Jay, turned the land into a sound, challenging and, yes, visually appealing 18-hole daily-fee course that rivals some of the best venues in the Northeast. The revamped and expanded course opened for play in 2010. The conditioning is excellent, the fairways expansive, and the tees and greens quite large, allowing the owners and superintendent varied pin and tee locations to minimize wear and tear on the turf.

The course tops out at around 7,500 yards from the back tees, although four other markers and those huge teeing grounds let all players to test their abilities on this gem. The middle tees make the track very approachable for average golfers; there are few forced carries - usually over water, but nothing so long that a decent ball-striker can't handle.

Meadow Brook was built to be a "modern golf classic imbued with classic virtues," claims Rulewich. "This is truly something unique in my career," added the architect, who helped create such Northeast courses as Fox Hopyard Golf Club in Connecticut, Saratoga National Golf Club in New York, Ballyowen Golf Club in New Jersey, and Crumpin-Fox Golf Club in Massachusetts. Rulewich also designed all the courses along Alabama's famed Robert Trent Jones Golf Trail.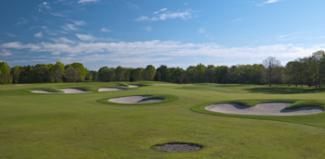 A Well-Bunkered Fairway at Meadow Brook
"At Meadow Brook we had a property that was begging to become the golf course we designed. Playing golf is a special time for people and it should be played in a place that is special," added Rulewich, who worked with Trent Jones between 1958 and 1995 and whose firm is called Rulewich & Fleury Golf Design.

The architects routed Meadow Brook over rolling terrain and through large stands of pine trees, the latter feature dominating holes on the back nine, where water also enters play.

The front side is more open, almost links-like in character, and has a nice mix of long and short par-4s, mid-length par-5s, and strong par-3s. I really like the second hole, a 523-yard par-5 that snakes its way to a green that is somewhat above the fairway. There are two nasty fairway bunkers on either side of the tee-shot landing area that must be avoided. The approach with a fairway wood is to a sunken area and then the third to a tabletop green. I enjoy a par-5 as the first or second hole because it lets you unwind and hit the big sticks before moving on to tighter holes as the round unfolds. The second at Meadow Brook fulfills that personal preference.

The fourth is an absolute beast of a short hole, a 261-yard par-3 from the tips that rises up to its green. Framed by maples and pines, this is one of the prettiest holes on the course.
The ninth, measuring 397 yards from the back tees, plays to an uphill landing area with two small bunkers on the left that narrow the target. Gauging the distance on the approach is tough as the shot goes to an elevated green hidden from view. Pick out a number and trust your swing.

No. 10 is a great way to start the home half, one of my favorite holes here, and one of Meadow Brook's most-photographed. The par-3 plays 210 yards from the tips, where the tees are set into a terrace of natural rock outcroppings and above the pond-fronted green below. It's an ideal example of how a golf architect can push up some land or use a natural incline to create a panoramic scene on otherwise flat terrain.

Number 15, measuring a whopping 649 yards from the way-backs, may be the best par-5 on the layout. The opening and second shots must be struck with accuracy to thread the ball between tall pines. A well-executed approach to around the 150-yard marker leaves a downhill view of a sloping green near the property's largest tree. This is a very pretty hole and looks like it could be in northern New England rather than South County, R.I.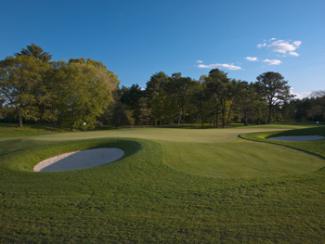 Lots of Pin Options at this Meadow Brook Hole
(All Photos by Larry Lambrecht)
The 17th is yet another solid par-3 that stretches 205 yards to a massive green which slopes dramatically from front to back. The 18th, a 441-yard par-4, is a good finishing hole. The drive must stay away from a pond that starts along the left of the fairway and runs all the way to the putting surface. A solid tee shot leaves a mid-iron to a green protected by water at the left and front, with bunkers at the rear.

Meadow Brook is a solid and attractive golf course. As mentioned above, the fairways are ample, the greens sizable (be prepared for some monstrous first putts), and the rough not overly penal. This is a course where every shot is right in front of you with no lurking gimmicks or tricks.

The greens fees are very affordable, especially considering the excellence of the routing, the pedigree of the architects, and the conditioning, which is top-notch.

Be sure to check out Meadow Brook Golf Course when visiting the Ocean State this year. For more information, visit www.meadowbrookgolfri.com.
John Torsiello is an editor/writer living in Connecticut. He has written extensively about all aspects of the golf industry for a number of national and regional publications. He is a regular contributor to "Golf Course Industry," "Lawn and Landscape," "Golfing" and "Fairway Living" magazines as well as various online publications. He has strong, ongoing relationships with industry professionals and has worked closely with course owners, architects, developers, course superintendents and general managers around the country. He has won a number of awards for his writing, including first place from the Turf and Ornamental Communicators Association for a piece that appeared in "Golf Course Industry" magazine.