Meeting Charlie Schaubel
By: Jeff Shelley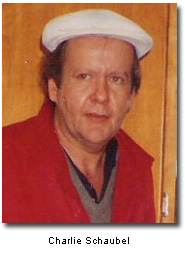 I met Charlie Schaubel 20 years ago when he was the operator and golf pro for the old Interbay par-3 and driving range. Due to the facility's location near downtown Seattle, Charlie probably gave more lessons at that run-down range than any other golf instructor in the Pacific Northwest and maybe even the West Coast. We're talking thousands of golfers.

Charlie, now 60, was a familiar character to many. His early-1970s land yacht, a huge Cadillac, was seemingly always parked in the muddy parking lot next to Interbay's dilapidated "clubhouse" off 15th Avenue West. His golf-pro garb was inevitably topped by a white cap with a dirty bill stained by repeated use.

Interbay's range was a piece of work - not one in progress but just barely alive. It was Seattle's own Ponky. The concrete tees were jagged and tilted - as if an 8-Richter scale earthquake happened underneath them, and the balls had been whacked badly hundreds of times. Schaubel outfitted his old Toyota sedan with screens and other armor to pick the range balls. Great fun was had by all whenever the Toyota did its duty as everyone treated the car and its unfortunate driver as badly as invading al Qaida insurgents.
A couple of weeks ago I saw Charlie's name in a blurb in The Wire, an e-newsletter for the golf industry. The announcement said Charlie was attempting to sell the domain name he'd owned for years, www.bestdarngolflessons.com.
This old friend was always one of my favorites on the local golf scene. I found myself going to Interbay to not only hit balls at the Toyota but also hear Charlie's colorful stories. I helped him - vainly - try to market a product he'd invented, the Putt-Band Swing-Band, with mixed results. When I mentioned one day that I needed a new computer to help write the first edition of my book, "Golf Courses of the Pacific Northwest," Charlie said, "Let me buy it." After we made a quick trip to his bank, Charlie pulled a couple grand from his safety deposit box for a new Macintosh. I later paid him back in full.
I called Charlie to get caught up. He's now living in Atlanta and, as noted below, has had quite a journey since developing an undying love for the game as a kid growing up in Philadelphia.
At one point in time, Charlie was a non-member head professional in the PGA of America. Now, he says he "just teaches," and is considered as "inactive" in the PGA program. He proudly calls himself a "driving range pro." When I asked for his teaching credentials, Charlie said, " I'll show you my credentials. You give me somebody who wants to learn how to hit the ball better, and in 30 minutes you will see a living credential. That is how a 'Tin Cup' pro thinks about all of those with bullshit credentials, who can't teach a lick. My students are my credentials and they are the only ones that count."
As for his teaching technique, "I just look at people and figure out what in the hell they are thinking based upon their actions with the golf club."
The following, in Charlie's own words, is what this old driving golf pro - who's given thousands of golf lessons to the famous and not-so-famous - has been up to for the past few decades. Because of the length of his colorful accounts, we'll run this in three installments over the next week or so.
In Charlie's Own Words

My first love was playing golf. I can still remember dreaming about playing a "real golf course" as Bruno and I hit Wiffle balls in the Fairmount Park in Philadelphia. That was back in 1956. I can still remember speculating with Bruno what this course we were going to play was like. Turned out it was Cobbs Creek, designed by Hugh Wilson, who also crafted the world-famous Merion East.

Since we thought golf was played on an open field like Little League baseball, we figured they used chalk lines to mark out the holes. The greens had to be mowed down like the infield, only lower. Basically, our idea was golf involved a much bigger open field with chalk lines and round circles of closely-mowed grass with a pole with a flag stuck in the ground. It was going to be way cool because we could hit real balls and hit our drivers without worrying about the ball going into the street and hitting cars, like we did with baseball.

You can image how Bruno's and my world was shook when we went to the course for the first time. It was way different than our field of chalk lines and, in fact, it was totally beyond our imagination. We were hooked.

I played junior golf and won some kind of low-gross tournament. Back then we had a tournament a year and there were only seven of us in it.

Cobbs Creek was frequented by the Philly Mafia. Everyone had a nickname. They called us "red hats" because we wore our baseball caps. We had no idea why they carried guns in their bags, but they did. We caddied for them from time to time when they had a big match. There was all kinds of money being passed around on the 18th green, which we thought was cool.

We could not wait to get back to the course. We'd wake up at 5 a.m. and catch the bus and then the el train to 69th Street Station, where we passed by a place that had fresh hot doughnuts, then walked about two miles up a big hill to the course. It was always great walking across the dew-covered fairways to the clubhouse, where we had a locker in the clubhouse alongside all the guys with nicknames like "Papa Farina" and "Big Al." We named one guy "Henry the Frog" because, to us, he looked like a frog.

Bruno and I had our Junior Mafia thing going. We even put water pistols in our golf bags.

I went on to play golf at West Chester State College (now West Chester University). I hung out with the jocks. But I was against the Vietnam War, which made for some interesting times. Like the time we organized a Peace and Freedom day on campus where we invited every radical group in the Philadelphia area to this little state college.

The net effect is that the jocks threw rocks at us and called us names, and the college president called us in and said he didn't think we fit in around there, and that maybe we should consider going to another college.

Tomorrow in Part 2, Charlie talks about moving to "The Big Easy" and a training device he helped create that resulted in some big paydays for some touring pros but, unfortunately, not for him.