Memories of Brian Lanker - My Best Friend
By: Blaine Newnham
Brian Lanker got to Ballybunion and Augusta National before I did. Unfortunately, he got to the hereafter before I did, too.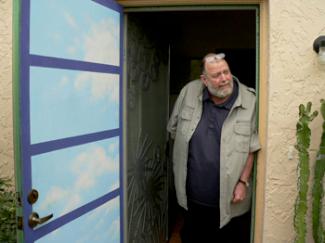 Brian Lanker Visiting Artist Friends in Fort Myers, Fla.
Brian died in March 2011 just 10 days after he was diagnosed with advanced liver and pancreatic cancer. He was 63. We had a little time to talk during those final days. We were best friends. As always, and even in the gravest of conditions, he seemed more worried about me than he was of himself. But that's the way Brian was.

Brian Lanker was one of this country's great photojournalists. By the time he was 26 he won a Pulitzer Prize. Twice while in his 20s he was national newspaper photographer of the year.

He produced covers for Life and Sports Illustrated, always poignant portraits of athletes ranging from Bill Russell to Julius Irving, from Magic Johnson to Randy Johnson. When Sports Illustrated wanted a picture of Arnold Palmer at Augusta, they sent Brian.

Twice he shot the swimsuit issue for SI, which was as provocative and professional as it had ever been done. He did gorgeous advertising work for Nike, Adidas and Marlboro, did a film and a book with our daughter, Nicole, called "They Drew Fire," and, most importantly, cemented his legacy with the profound "I Dream a World, Portraits of Black Women Who Changed America."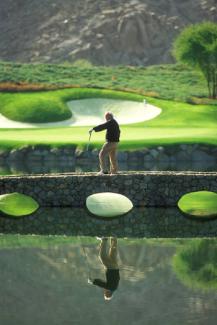 Brian Lanker's iconic image of Arnold Palmer
Maya Angelou, who wrote the forward for the book, became a great friend. She stayed at his home in Eugene, Ore. They played scrabble together.

Brian was a close friend with the late Ken Kesey. He helped build a monument to Kesey in downtown Eugene. Kesey, if he were around, would have been a grand speaker at the memorial ceremony being staged for Brian in June.

For much of the photographic world, Brian leaves behind pictures of people great and small. For us, he leaves behind as many stories as pictures. In our house is a large photograph of the famous chef James Beard walking on the beach near Seaside, Ore.

We also have a photograph that Brian took of two former Olympic champions, cyclists from France, tasting the wine of their vineyard. It was one of a series of pictures he took for Sports Illustrated of Olympic champions from the 1932 Games in Los Angeles on the eve of their 1984 return to Los Angeles.

For my 40th birthday Brian made a film. For a year leading up to the surprise party he collected Happy Birthday wishes from a variety of folks, including aging film star Rory Calhoun, whom Brian had happened to run into in Los Angeles.


For my 60th he ordered a replica of my high school letterman jacket, which I no longer had.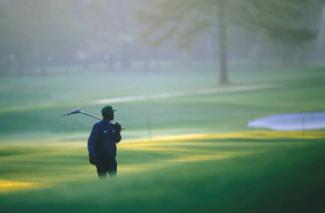 Prepping for the final round of a Masters
(by Brian Lanker).
The stories go on and on. Brian challenged jazz trumpeter Wynton Marsalis to a game of horse on the basketball court as the only way to get a photo session. He won.

On a canal trip in France, Brian stopped the natives in their tracks by lip-synching the sounds of Opera star Luciano Pavarotti while standing at the front of our boat. Brian looked like the stout Pavarotti. He needed that big a body to house that big a heart.
In most of life's situations, I had found myself in a leadership role. With Brian I felt more like his caddie.

For all his artistry, Brian was a better friend and a human being than he was a photographer. The only time he had to depend more on me than I did on him came in a golf tournament. He loved sports but had little time to play them. Though he merely dabbled at golf, Brian still had the courage to accept my invitation to our annual member-guest tournament.

He was in over his head. But he laughed his way through things. We had a goal not to finish last, and we didn't. The fun, for me, came when we played the alternate-shot Chapman format. Brian chuckled as he dumped me in one horrible situation after another and I reveled in being able to get out of them. There was no pressure, just two guys who loved and respected each other.

As far as a legacy, Brian shouldn't be remembered as much for winning a Pulitzer as for his dogged and brilliant work to produce "I Dream a World."
"I Dream a World," said Jewell Jackson McCabe, president of the National Coalition of Black Women, "is the strongest civil-rights statement about Afro-American women in the past 50 years. It is a monumental document that will live beyond this generation and into the 21st century."

In 1991 I did a profile of Brian for Pacific Northwest Magazine, the Seattle Times' Sunday supplement, shortly before his "I Dream a World" museum tour stopped in Seattle.

"It was incredibly frustrating," Ken Mann, his New York agent, told me at the time. "Brian was a new man on the advertising scene and very much in demand. But he would let nothing get in the way of doing the very best possible work for the book. He would not inconvenience these black ladies in any way, even though it meant he was losing $5,000 a day doing a job somewhere else."

For three days Brian sat in a motel room in Jones Island, S.C. He was waiting to meet, interview and photograph 89-year-old Septima Poinsette Clark. "I had read about her work as a teacher and civil-rights activist, and we knew we just had to have her in the project," Brian said. "They told me she had just had a stroke and I wouldn't be able to photograph her. I knew I just had to. She embodied the project."

Typical Brian. He checked weekly on her condition and waited for months until she was able to move from a hospital to a rest home. Then he went to South Carolina to wait some more.
"A lot of the women in the project," he said, "were fairly old; much of what they accomplished might have been 20, 30, 40 years before. These weren't times in their lives when they necessarily wanted to be photographed. It wasn't their fault. It was my fault. Why wasn't I here 30 years earlier? If not me, someone else?

"How do you take someone in a nursing home, in a wheelchair and on oxygen, and give her the dignity and the strength her life embodied? It transcends the reality of the circumstances I had to work with."

Septima Clark and Brian met one day, and worked the next. Brian was seduced by her amazing strength. One side of her face was paralyzed, so he decided to profile the other. He was struck, too, by the regal, African quality of the cornrows in her hair.

"I go to the rest home the next day and some well-meaning white attendant has taken the cornrows from her hair and put it up in a nice little bun," he said. "I said I'd wait another day if I had to."

Finally, he had 15 minutes during which Clark was able to sit proudly in her wheelchair without oxygen. "I asked her to bring a hand to her face," Lanker said, "and she did so in a most majestic and unusual way. It was almost Egyptian-like. I made that photograph, and it was the only one like it."

Typically, Brian had cut a deal with the publisher to keep the book's price down to $19.95. He got no advance, opting instead for royalties. "What good is the book if it could not be in the hands of those who needed and deserved it most?" he asked.

The book sold more copies than any serious photography book other than "The Family of Man."

There was so much of Brian in that book: the vision to understand the scope and historical importance of the project, and the persistence to make it work.

We'll miss him greatly.
Blaine Newnham has covered golf for 50 years. He still cherishes the memory of following Ben Hogan for 18 holes during the first round of the 1966 U.S. Open at the Olympic Club in San Francisco. He worked then for the Oakland Tribune, where he covered the Oakland Raiders during the first three seasons of head coach John Madden. Blaine moved on to Eugene, Ore., in 1971 as sports editor and columnist, covering the 1972 Olympic Games in Munich. He covered five Olympics all together - Mexico City, Munich, Los Angeles, Seoul, and Athens - before retiring in early 2005 from the Seattle Times. He covered his first Masters in 1987 when Larry Mize chipped in to beat Greg Norman, and his last in 2005 when Tiger Woods chip dramatically teetered on the lip at No. 16 and rolled in. He saw Woods' four straight major wins in 2000 and 2001, and Payne Stewart's birdie putt to win the U.S. Open at Pinehurst. In 2005, Blaine received the Northwest Golf Media Association's Distinguished Service Award. He and his wife, Joanna, live in Indianola, Wash., where the Dungeness crabs outnumber the people.