Methodical, Clinical, Resolute, Brilliant
By: Tony Dear
On a day when all his emotions must have been bubbling together just beneath his amazingly calm exterior and with the image of his father no doubt vivid in his mind, Tiger Woods plotted a steady course round the scorched links of Hoylake, again without needing his driver and only briefly feeling the heat that a typically resolute and determined Chris DiMarco applied midway through the back nine.
The day started with Ernie Els, Sergio Garcia, Jim Furyk and Angel Cabrera hoping to apply some heat of their own. But their rather weak collective effort hindered Tiger's imperious progress as little as the one moment of light rain that hit the area all week. As Tiger boarded the 12th tee, an inconsequential drizzle moved in from the West but petered out as quickly as most of his nearest challengers' efforts to rein him in.
It was left to Florida's Chris DiMarco, himself battling strong emotions following the death of his mother earlier in July and with his father and son in attendance, to provide some spirited competition just as he did at Augusta National in last year's Masters. After holing a 20-footer for par at the 11th, he holed a monster putt at the par 3 13th for birdie that took him to within one of Woods, who was making his only bogey of the round back at the tough par-4 12th, the most difficult hole on the course. DiMarco, whose year up to the Open Championship had been wrecked, more or less, by a skiing injury he sustained in March, then holed another lengthy putt for a par at the 14th. And, after a brilliant up-and down at the 16th and another birdie on the 18th, he was home in 33 and 'round in 68. Someone at least was making Woods earn his third Claret Jug.
"I never go away," DiMarco said afterwards, a statement Woods would no doubt agree with and which will also be music to Tom Lehman's ears. The Ryder Cup captain was annoyed that one of the game's grittiest performers had chanced his arm, or in this case his ribs, by skiing during a Ryder Cup year. But with the the 360 points DiMarco earned for his runner-up finish (15, less incidentally, than John Rollins received for winning the BC Open in New York, incidentally) he leaped into sixth position in the U.S. standings, going a long way to securing his spot on the team.
Woods, of course, tops the list and will surely remain there between now and August 20th, when the team is announced, if he compiles any more closing rounds as classy as that which he pieced together yesterday (since this was written, Tiger won the Buick Open with four straight 66s).
Favoring a long iron to keep the ball out of the rough and away from the perilously deep bunkers, Woods missed only one fairway, giving him a remarkable 85.7% stat for the week, and hit 15 greens in regulation. His putting, which had been somewhat disappointing during Saturday's third-round 71, never wavered. Five one-putt greens and no three-putts saw him close in five-under 67, the lowest final-round score in relation to par since Justin Leonard's 6-under 65 at Royal Troon nine years ago.
This was certainly a win for strategy and precision over all-out power. One wonders if the apparent ease with which Woods got to 18-under par on one of Britain's sternest tests after hitting his driver only once (on the 16th hole Thursday) might persuade him to throttle back more often and try to keep the ball on the fairway from where many commentators believe he can't be beaten.
Whatever tactics he employs in the future, Woods will continue to enjoy the significant mental advantage he has over his peers. That mental edge seemingly evaporated in 2003 and 2004, but it returned with a vengeance last year after he gained confidence in his new swing. Not for the first time, those who found themselves close to Tiger near the top of the leaderboard when it mattered just didn't display the necessary tools to overcome the 30-year-old.
Sergio Garcia, sporting a natty lemon outfit, lived up to his choice of colors for much of the round before eagling the 16th hole when the pressure had gone. Likewise Furyk, who many expected would push Tiger all the way, bogeyed three of the first eight holes and only slipped into gear once the cameras were turned the other way. Cabrera, looking to make it two Argentinean wins at Hoylake (Roberto De Vicenzo won the last Open at Hoylake, in 1967), double-bogeyed the 2nd and later bogeyed the 12th and 13th. And Els, who will be encouraged by his best showing at a major since knee surgery last year, made crucial mistakes at the 8th and 11th holes just when a birdie or two would have put a significant amount of wind up the leader.

Woods, on the other hand, birdied the 14th, 15th and 16th just when the one player who was making some noise, DiMarco, was rattling in putts from the four corners.

Phil Mickelson's disappointing tie for 22nd denied us the chance of seeing the two players who are distancing themselves from the pack slugging it out in a major, but it will surely happen soon.

How about the PGA Championship?

This article originally appeared in the UK's Cool Player.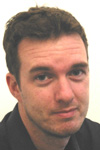 Tony Dear has been writing about golf for 11 years. A former assistant club pro from Sussex, England, Tony started out as a freelancer in 1992 before taking a staff writer's job at Fore!, a magazine based in Peterborough. As the magazine's chief instruction writer, it was Tony's job to compose instructional articles aimed at a youngish readership whose letters to the editor suggested they often got confused by technical jargon and theory. Tony brought his simple approach to teaching golf to the magazine, helping boost sales by 10,000 issues. As a result, he was nominated within the company and nationally for Young Writer of the Year awards.

From there, Tony moved 20 yards across the Emap UK office to join Today's Golfer. There, he was soon promoted to a senior editorial position, focusing on equipment, and became a significant part of a team that saw sales figures double within the magazine's first 12 months.

After three years at Emap UK, Tony was dragged kicking and screaming across the Atlantic by his American wife ("not really, I love it over here") and, after short spells in Phoenix and Denver, wound up in Seattle in May 2003. He recently moved to Bellingham in the far northwest corner of the far Northwest of the U.S. and became a father to a son on whom he has already staked £5 for the 2029 Open Championship. At present, he is freelancing for a number of print and online publications back in England including Today's Golfer, Golf World, Bogey, The Open Championship Magazine and Casino.com. He is also a contributing editor for Denver-based Colorado AvidGolfer.

Recent features include a look at Colorado's self proclaimed 'links' courses, an interview with Suzy Whaley, with whom he played nine holes ("and got soundly thrashed") and a 64-page instruction supplement for Today's Golfer.

Tony has authored three books in the last five years and been nominated for several specialist and young writers awards. "Although I've never actually won one," he admits. He is a member of the Northwest Golf Media Association and the Golf Travel Writers Association based in London.