Mid Pines Makeover - Young Architect Restores 1921 Ross Classic
By: Dave Droschak
With less than a handful of golf courses opened in the United States in 2012, you have to wonder what kind of future 31-year-old architect Kyle Franz faces in the next decade.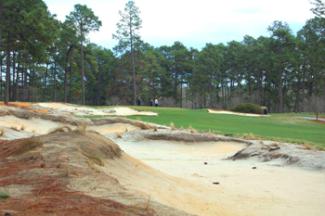 Franz Used Existing Sand at Mid Pines
to Restore the Course's Shot Intent
Sure, the business is ultra-tight; there just aren't a lot of opportunities now in the States, many golf architects opting to take their trade overseas to the Pacific Rim and remote locations in China, Vietnam and Indonesia in an effort to stay afloat financially.

But there's something to be said for youthful exuberance, talent and dreams. Franz has worked under some of the best in the business - Tom Doak, Bill Coore, Ben Crenshaw and Gil Hanse - and on some of the best projects - the Pinehurst No. 2 restoration and currently the 2016 Olympic course in Rio de Janeiro - prior to getting his first real break in the business.

He's currently putting the final touches on a restoration of a 1921 Donald Ross classic in Southern Pines, which is his first solo project. It's impressive.
"I certainly hope this is a big break for me in the business," said Franz, who begged Doak for a job at Pacific Dunes as a 19-year-old. "We're at least five years away from getting anymore heavy golf course construction in the United States. We would be better off if a lot of the efforts of the most talented people in the business were put into making the golf courses we already have better before we put more capital on the line in an economy that's not necessarily built for it."

Mid Pines Resort is better known as the sister course - actually situated across the street -from the more famous Pine Needles Resort, which has hosted three U.S. Women's Opens and is the home of famed teacher Peggy Kirk Bell.

Facing greens that were last redone in the 1960s and some brutal North Carolina summers, Pine Needles and Mid Pines Resort president Kelly Miller knew he had to pull the trigger sooner than later on his struggling putting surfaces at Mid Pines. He met Franz at a cocktail party a few years ago while the young architect was working for Coore and Crenshaw on the restoration of Pinehurst No. 2.

What Miller didn't know was that Franz had been sifting through file after file in the Tufts Archives in his spare time, waiting for the right moment to re-approach Miller about his plan to not only work on the greens but to restore Mid Pines to its original Ross ideals.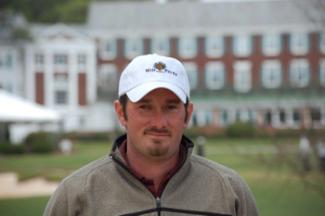 Franz Began his Career under Tom Doak
12 Years Ago at Pacific Dunes.
"Kyle came in and quite honestly wowed me," Miller said. "We started talking about greens restoration and that we needed to take them back out to where they used to be. But Kyle had also spent a lot of time researching the course. I'll give him a lot of credit, because it was a surprise. We literally started walking the course and he would say, 'This is what Ross would have done.'

"He's a huge student of Ross. He probably knows more about Ross than Ross himself knows. I kind of became enamored with his knowledge and what he wanted to do. So, I said 'OK, let's give him a shot.' "

"I don't know if I was necessarily nervous about it because I didn't know how much they wanted to do it," Franz said. "If I would have known that Kelly was absolutely serious about doing a major project then, yes, I would have been much more nervous. I never dreamed we would actually end up doing all this stuff. We just started talking about architecture and drove around the golf course. It all went from there."

Sure, Franz will restore about 25 percent of the original Ross greens that were lost to the dreaded riding mower over a 50-year period, but he also cut down 300 to 400 tall pines to open up the course's corridors, started digging in the sand to make some dramatic flashes and massive waste areas that Ross once displayed at Mid Pines, and transplanted wire grass from on the property for that "old-feel" look.

"There is a bunch of cool-looking holes and some cool-looking shots out there now," Miller said. "You compare it to the old 1921 layout and what it is now, and it's pretty close."
Exactly zero dirt or sand was trucked onto the 250-acre property, and right before his eyes Miller was presented with virtually a new golf course for less than $1 million.

"That's what makes a lot of this the fun," Franz said. "A lot of it is already there and you sort of visualize putting the pieces back together again. I really like that about restorations and especially putting this style of bunkering back together again. There are some of them that have been changed along the way, like the left side of the 13th green that had been turned into a perfect circle.

"All I did was get back in there with the machine, threw around a bit of the dirt and played a shell game to get it back to where it was. It all balanced out perfectly. It's kind of fun to play archeologist to a degree, kind of tinkering and throwing things back together again."

"I learned so much more about the golf course from Kyle," added Miller, who has been at the courses since 1982. "He's got this book and would whip it out and say, 'You can see where Ross had this or that and this is the way he wanted it.' He was great about the history, but where I'll give Kyle a lot of the credit is he's out there and he's looking and watching golfers and he's seeing where the college kids are hitting it.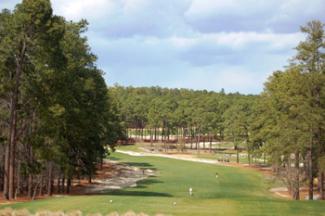 Franz Added a Large Waste Area at the Dogleg
of the Downhill 16th (Photos by David Droschak).
"On No. 18, we added a bunker and he was asking the kids if we did this what would you do off the tee. You want to restore it to what Ross' intensions were, but you know if Ross was alive today he would be tinkering with it. Kyle watches, observes and listens."

The play among members and resort guests had swung to about 70 percent in favor of Pine Needles over Mid Pines in recent years. The accomplishments of Franz could transpose those figures once all the work is completed this summer.

"This kind of architecture, working on golf courses that already exist, is a heck of a lot of fun," Franz said. "I would like to do a couple of great courses in my career from scratch as everybody would like to do, but I would love to just do 20 restoration or renovation projects on really neat pieces of land. I would be quite happy just doing that."
For more information about Mid Pines, visit http://www.pineneedles-midpines.com.
David Droschak has covered golf in the Carolinas for three decades, mostly with The Associated Press, where he worked for 20 years as AP sports editor in North Carolina prior to launching Droschak Communications, a full-service marketing and PR firm based in Apex, N.C. Dave, 51, has covered numerous major golf tournaments, including the 1999 and 2005 U.S. Opens at Pinehurst Resort, and is a longtime member of the Golf Writers Association of America.

Dave was honored with the Sports Writer of the Year award in North Carolina in 2005, and is currently editor of Triangle Golf Today (www.trianglegolf.com), a print and online publication regarded as the "No. 1 Source for Golf News in North Carolina." He is golf editor for Pinehurst Magazine, an award-winning glossy publication, and was instrumental in helping launch Triangle Golf Deals powered by Twongo (www.trianglegolfdeals.com) in the fall of 2011.

Dave also is the co-founder of www.HurricanesBeat.com, a website devoted to coverage of the Carolina Hurricanes, an NHL franchise he has covered since the team moved to North Carolina from Hartford in 1998.

Dave grew up in Penn Hills, Pa., about five minutes from the famed Oakmont Country Club and was introduced to the game of golf as a caddie at Green Oaks Country Club in nearby Verona, Pa.

Dave was the co-captain of the 1978 Penn Hills state championship baseball team, was a pitcher for the 1982 Atlantic Coast Conference champion University of North Carolina Tar Heels, and pitched professionally for two years in the St. Louis Cardinals organization. He is a member of the Penn Hills High School Sports Hall of Fame, which also includes NBA coach George Karl and former four-time Pro Bowl offensive lineman Bill Fralic.