Mike Strantz: The Maverick Rides Off Into the Sunset
By: Dave Droschak
Jerry Pate stood on the 11th hole a few years ago at Monterey Peninsula Country Club with a spectacular view of Cypress Point, Spyglass Hill and the city of Santa Cruz off in the distance, talking to his son about the genius of golf course architect Mike Strantz.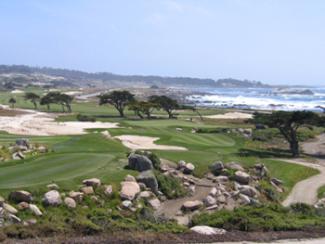 Hole at Monterey Peninsula Country Club
It was one of those special moments between a father and son occasionally captured during a solitude moment on the links. What transpired next as the two stood on the highest point of the golf course prompted Pate to call former PGA Tour colleague Forrest Fezler, who worked side-by-side on the coastal California renovation project with good friend Strantz, who at the time was dying of throat cancer.

"I hadn't heard from Jerry in a couple of years," Fezler said. "He said, 'Forrest, I just had to talk to you about this personally. I was telling my son all about Mike and what a great designer he was and what a great golf course Monterey is; we were on the tee admiring everything. I just felt something come over me. I felt chills running through my body telling my son these stories about Mike. Then I hit the ball and got a hole-in-one. I swear to God. I said I knew Mike was looking down on me.' "

The story doesn't end there.

"I said, 'Jerry, there is one thing you probably don't know,' " Fezler said. " 'The 11th hole was the last hole Mike ever designed.' It was eerie."

Fezler recalls another story as he and Strantz were working on that same piece of golf real estate. "He said, 'Fuzz, I'm not sure what I'm going to do here, I'm running out of holes.' I don't know what he meant by that, whether he knew that was going to be his last hole," Fezler said.

A former lead architect for Tom Fazio, Strantz designed just nine signature golf courses before his death in 2005 at the age of 50.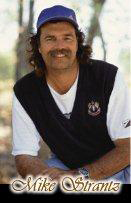 Architects aren't normally tagged with nicknames. Those are usually saved for hockey enforcers ("The Grim Reaper" or "The Hammer") or boxers ("Iron Mike" or "Boom-Boom"), but "The Maverick" moniker fit Strantz - with his thick mustache and rugged cowboy look - to a tee.

Unconventional? No doubt. Daring? You bet. A pioneer? In the truest sense of the word.

A natural artist, Strantz would sketch detailed hole renderings on his first visit to an undeveloped site and then tackle a goal of creating a unique layout. "I take a lot of time walking around a piece of property, and I try to let the character of the property dictate the design," Strantz once said. "You have to let the land speak to you to get the most out of it."

Strantz also worked on only one project at a time - a philosophy that allowed him to create innovative, exciting and breathtaking golf courses. "Mike always told me you have to take chances," Fezler said.

"Pete Dye took the chances - some worked and some didn't. Mike said you have to be different, that we have to keep people stimulated in the game of golf. Pretty soon a lot of golf holes start looking alike. You become bored with the game. He said you have to do something with every single tee, with every single green complex that should excite you."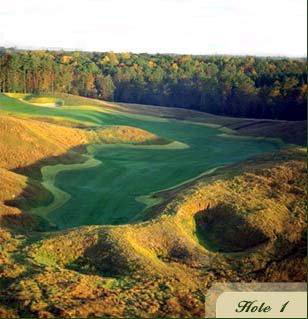 The Dramatic Opening Hole
at Royal New Kent Golf Club
Near Williamsburg, Va
Unlike more conventional architects, Strantz never "eased" into a golf design, with his first holes often creating as much of a "wow factor" as the 18th.

When asked what shot is the most intimidating at Tobacco Road, regarded as one of the top-10 most difficult courses in the nation, director of golf Joe Gay swallows hard. "The tee shot off No. 1 scares me," Gay said of a par-5 that features a drive that must split a pair of 100-foot-high mounds. "How about that, the first one you put into the ground?

"We gave a helicopter tour when we first opened since we had a golf course that was sort of an in-your-face. We wanted to do something memorable for our hotel packagers and the media so we flew straight through those mounds. The sides of the mounds were higher than the helicopter. That scared me to death. Let's just say I wouldn't want to fall off of them."

Despite his limited work, Strantz has made some top-10 lists of the best or most influential architects of all-time. Some golfers and colleagues like his designs, while others consider the array of blind shots, sandy wastelands or severely undulating greens too revolutionary and over-the-top.

When Tobacco Road (with its 140 Slope rating) first opened in 1998, it was a hot topic of conversation in the golf world, and all the talk wasn't exactly positive. "In the early years we didn't want to be associated with 'wacky golf' because golf is classic, it's historic, it is country club, it's not out of the box," Gay said.

The Par-5 Opener at Tobacco Road
"I will describe Tobacco Road this way: If you go to a theme park and you have all these classic rides like the Ferris wheel and the merry-go-round, we are the biggest, baddest rollercoaster in that theme park. The highs are higher and the lows are lower - this course will take you on an emotional rollercoaster. Every turn is fascinating.

"I've played this golf course more than 100 times and I discover something every time I play it, a little nook or cranny, something that is cool that Mike left us that I had never seen before," added Gay. "The fairways are wide and if you manage your game at all . . . It is a lot of smoke and mirrors - it looks scary, and there is a lot to look at, but when it comes right down to it, it's 6,500 yards and fair."

"Mike always liked to get a player aroused, but give you a lot of room," added Fezler. "What appears to be a tight hole isn't. He always gave you the space to hit the ball, but with excitement."

Some of the best work on the nine Strantz courses comes on his par-3s, where he often built tee boxes that spanned 150 to 180 yards to create numerous angles into undulating greens that either opened up or became narrower, depending on the set-up that particular day.
The Rugged Bunkering on the 13th hole
at Tobacco Road
"Mike always told me that a par-3 should never be straight. It should look like a miniature par-4," Fezler said. "You should always put swing into a golf hole, a swing of your visual line, whether it's a sand trap or a bunker and it swings left-to-right or right-to-left, or bunkers around a green - something that makes you shape the ball.

"There is nothing more boring than to stand there on a straight hole - any hole. Those are hard holes to play because your eyes don't see things in straight lines. Mike said things should curve like nature does."

Strantz also used contrasting grasses on all of his courses, for color and another strategic reason. "He didn't want any superintendents or memberships changing the visual curve of the golf hole," Fezler said. Despite their seemingly difficult nature, almost all of the Strantz designs have become wildly successful, winning numerous "best-of" awards over the last 20 years.

"Mike Strantz left us a golf course that is so unlike others in the area that people have to play it, even if they walk off it and shot a real high score and say they're never coming back to this place," Gay said. "It kind of adds to the mystic when they say, 'Hey, you've got to see this place.' "
Seeing a Strantz course, the artistry in front of you and around every inch of sandy graveyards, fairway slopes or green complexes is one thing. But playing a Strantz course should be on very golfer's bucket list. "There is so much going on when you play one of his golf courses, just imagine what was going on in his head to create that. He made us all artists," Fezler said.

"In the beginning a lot of people didn't really know what to make of Tobacco Road because they had never seen anything like it," said Tobacco Road co-owner Mark Stewart. "As more people have come and the word-of-mouth has gotten around, it doesn't seem as unconventional as it first did - but it still does to a few people who come in and say, 'Wow I've never seen anything like this.' "

Strantz never dreamed of rolling off 50 or 60 designs. A nice round number of 20 was his goal. Unfortunately for all golfers, he never hit that mark. "We're sad that Tobacco Road is only one of nine," Stewart said.

"You don't run across many people who love what they do as much as Mike was in love with what he did," Fezler said. "It is hard to say in words what we did lose when we lost Mike, but losing Mike inspired a lot of architects to take that extra step, to be creative. He inspired many architects to change their philosophy of how to build golf courses.

"There isn't a day that goes by when we're building a course that we don't say, 'What do you think Mike would do here?' "
David Droschak has covered golf in the Carolinas for three decades, mostly with The Associated Press, where he worked for 20 years as AP sports editor in North Carolina prior to launching Droschak Communications, a full-service marketing and PR firm based in Apex, N.C. Dave, 51, has covered numerous major golf tournaments, including the 1999 and 2005 U.S. Opens at Pinehurst Resort, and is a longtime member of the Golf Writers Association of America.

Dave was honored with the Sports Writer of the Year award in North Carolina in 2005, and is currently editor of Triangle Golf Today (www.trianglegolf.com), a print and online publication regarded as the "No. 1 Source for Golf News in North Carolina." He is golf editor for Pinehurst Magazine, an award-winning glossy publication, and was instrumental in helping launch Triangle Golf Deals powered by Twongo (www.trianglegolfdeals.com) in the fall of 2011.

Dave also is the co-founder of www.HurricanesBeat.com, a website devoted to coverage of the Carolina Hurricanes, an NHL franchise he has covered since the team moved to North Carolina from Hartford in 1998.

Dave grew up in Penn Hills, Pa., about five minutes from the famed Oakmont Country Club and was introduced to the game of golf as a caddie at Green Oaks Country Club in nearby Verona, Pa.

Dave was the co-captain of the 1978 Penn Hills state championship baseball team, was a pitcher for the 1982 Atlantic Coast Conference champion University of North Carolina Tar Heels, and pitched professionally for two years in the St. Louis Cardinals organization. He is a member of the Penn Hills High School Sports Hall of Fame, which also includes NBA coach George Karl and former four-time Pro Bowl offensive lineman Bill Fralic.