Mike Strantz's Utterly Unique Tobacco Road
By: Dave Droschak
Playing Tobacco Road Golf Club during its grand-opening round with architect Mike Strantz more than a decade ago now, I hit what I thought was a horrible drive on No. 15, striking it some 50 yards off-line to the right. As I cussed my way off the tee, Strantz interrupted my tirade with a "that's perfect" utterance.

The Par-5 Opener at Tobacco Road
I turned and laughed, and spewed yet another profanity toward the Carolina Blue sky.

Unsuspecting to me, the hole turned out to be a split fairway, parted by one of a number of sandy graves placed throughout the course on land that was once a productive sand quarry used to build roads and baseball fields across North Carolina.

My golf ball was indeed in the short grass. I knew it well before that hole on a golf layout that will literally "scare you straight," but it was a poignant moment and one where I realized what Strantz created in 1998 was, to use a baseball term, "out of left field."

There is some debate as to just how many blind shots golfers face at Tobacco Road. My tally is 10 of the 18 approach shots, and that doesn't count the two tobacco smokestacks used as aiming tools on your drives at Nos. 16 and 18. There are also five bells to ring for the "all clear" sign and several 10-foot-high flags as players stretch their necks at times to see where to aim.

And did I mention the 33 wooden steps you must descend to a vast sand pit if you try to go for the green (now 40 feet above you) in two on the par-5 11th hole - and come up short?

Tobacco Road is a crew-cut haircut by today's distance standards, the par-71 course measuring just 6,532 yards from the "Ripper" tees, named after a metal tool used back in the day to till and break up hard soil for cultivating tobacco. But with a 150 Slope rating from the tips, it's beyond a James Bond thriller.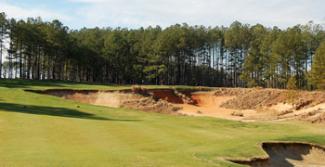 The Deep Bunker Complex Around
Tobacco Road's 11th Green
Tobacco Road quickly overcame its original "goofy golf" label and has thrived to the tune of 35,000 rounds a year as the fun alternative to a round of traditional golf in the Pinehurst area, one of the world's golfing Meccas that's located about 25 miles south of the Strantz layout.

Tobacco Road has been so successful in holding golfers' interest it now demands $134 for a weekend round from March 19 to May 6 as its reputation among "Snowbirds" has grown quicker than a tobacco plant in Carolina's August heat.

"We were just excited as it progressed because we could see what Mike (Strantz) had seen all along," said Mark Stewart, who co-owns the upscale public course with brother-in-law Tony Woodell. "It was visually stimulating and we figured it would attract interest and play. And we wanted a course that would be marketable.

"Most golfers feel like they can design a golf course and . . . think it is easy, but you have to be able to sell it to the public. It was so unique and dramatic we knew it would photograph well. What do they say; a picture is worth a thousand words."

Much of the successful marketing of Tobacco Road has been orchestrated by director of golf Joe Gay, a former N.C. State University standout golfer who has been at the Sanford course since Day One.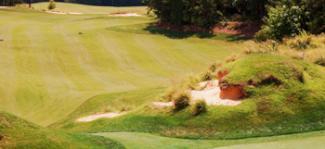 The Rugged Bunkering on the 13th hole at Tobacco Road
"I had never heard of the guy when I first came here," Gay said of Strantz, who was just branching off into his own architectural firm at the time. "I did not appreciate what we were getting into. Now, when the golf course was built I realized how spectacular it looked. But still, I was more worried about things from an operational standpoint. Spectacular sometimes translates into a nightmare of round times, and I was thinking how was I going to get people around this place? That has evolved into not a big deal."

While the course is a lot fairer in reality than to the naked eye, its Slope rating of 150 is the second-highest in the Carolinas - just behind the Ocean Course at Kiawah Island, S.C. Tobacco Road has also been dubbed "Pine Valley on Steroids."

While fairways serpentine through sandy waste areas, Strantz doesn't give golfers any breaks on the greens either. The third hole has a putting surface 60 yards deep, while the green on the 17th hole is 90 yards wide. Then there is unlucky No. 13, a double-dogleg par-5 with a blind shot to a green that is just 16 yards deep and guarded front and back by 25-foot-high mounds filled with native grasses - and, of course, lost balls.

Aside from the obvious visual stimulation that intimidates you from the opening tee shot with a fairway that narrowly splits two 100-foot-high mounds, a golfer who enjoys "thinking his way" around a course will find Tobacco Road captivating.

"There is so much to discover here, we have so many varied pin placements, there is so much local knowledge of areas that you think are impossible but you realize if I play it up the left side that slope is going to rebound my ball to the center of the fairway, so the fairway is actually double the size I thought it was," Gay said. "This golf course becomes more fun the more times you play it. Maybe that's the appeal of it now."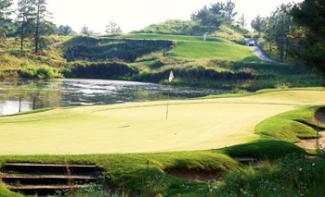 View from behind the 14th Green at Tobacco Road
(All Photos by Dave Droschak)
That's particularly true of the angles to the green Strantz created with varied tee boxes on the course's five par-3s, none of which measure more than 194 yards.

"Sometimes you play a golf course and you see it all the first time," Stewart said. "What's that saying, 'If everyone was naked all the time where would the excitement be?' That's kind of like our blind shots. If you could see it all the time there is no excitement or sense of accomplishment when you do something. So we always hear of people that keep coming back and finding different little unique things about the golf course they can enjoy."

The vintage clubhouse, modeled after a rustic farmhouse with hand-selected antiques and a constant fire burning in a restored tobacco curer, adds to the ambiance of a truly unforgettable golfing experience.

"You know, we're bombarded by real-estate development golf clubs that have out-of-bounds on every hole," Gay said. "We have no out-of-bounds, there are no houses out here - it's throw-back golf. This was a golf course that was just built for the love of the game, not for creating property value."
For more information about the course, visit http://www.tobaccoroadgolf.com.
NOTE: Mike Strantz died of cancer at the age of 50 in 2005, leaving behind just nine dynamic golf designs in California, North Carolina, South Carolina and Virginia. The architect's unique work will be featured on Cybergolf in the upcoming months.
David Droschak has covered golf in the Carolinas for three decades, mostly with The Associated Press, where he worked for 20 years as AP sports editor in North Carolina prior to launching Droschak Communications, a full-service marketing and PR firm based in Apex, N.C. Dave, 51, has covered numerous major golf tournaments, including the 1999 and 2005 U.S. Opens at Pinehurst Resort, and is a longtime member of the Golf Writers Association of America.

Dave was honored with the Sports Writer of the Year award in North Carolina in 2005, and is currently editor of Triangle Golf Today (www.trianglegolf.com), a print and online publication regarded as the "No. 1 Source for Golf News in North Carolina." He is golf editor for Pinehurst Magazine, an award-winning glossy publication, and was instrumental in helping launch Triangle Golf Deals powered by Twongo (www.trianglegolfdeals.com) in the fall of 2011.

Dave also is the co-founder of www.HurricanesBeat.com, a website devoted to coverage of the Carolina Hurricanes, an NHL franchise he has covered since the team moved to North Carolina from Hartford in 1998.

Dave grew up in Penn Hills, Pa., about five minutes from the famed Oakmont Country Club and was introduced to the game of golf as a caddie at Green Oaks Country Club in nearby Verona, Pa.

Dave was the co-captain of the 1978 Penn Hills state championship baseball team, was a pitcher for the 1982 Atlantic Coast Conference champion University of North Carolina Tar Heels, and pitched professionally for two years in the St. Louis Cardinals organization. He is a member of the Penn Hills High School Sports Hall of Fame, which also includes NBA coach George Karl and former four-time Pro Bowl offensive lineman Bill Fralic.