Minnesota's History Keller GC Getting Major Facelift
Keller Golf Course is a classic parkland layout with a rich tradition that dates to 1929. The course was closed October 1st for a $12 million renovation. The municipal facility, one of the state's oldest and finest, is slated to reopen in 2014.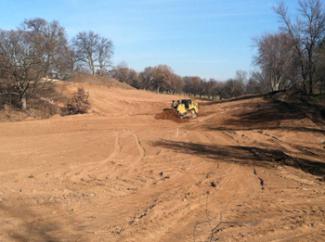 Construction Underway at Keller GC
The course is located in Maplewood on the outskirts of St. Paul. Historically significant for its long association with the early days of professional golf, it's operated by the Ramsey County Parks and Recreation Department.

Richard Mandell, a golf architect based in Pinehurst, N.C., is directing the renovation work, while dozens of Keller patrons have joined a golf advisory panel to work with the designer on the refurbishment of the course. "The plan is to polish the gem and not change the character of the property," he said. "There are too many people who love this course to make significant changes. My objective, with golfer input, is to solve problems and update the course for another successful 70 years or more."

The extensive renovations by Duininck Golf will include new irrigation and drainage systems. The greens, to be rebuilt to USGA specifications, will be resurfaced with a new disease-resistant bentgrass cultivar, as will the fairways and tee complexes. Bunkers will be renovated and in some cases repositioned to be strategically relevant for the modern game. The layout will be stretched to approximately 6,700 yards (par 72).
According to Kevin Finley, the county's director of golf operations, Keller got a facelift nearly 20 years ago, but said an overhaul of a course that registers 30,000 rounds a year was long overdue. He insisted the essential design of the course, much beloved by St. Paul's community of public golfers, will not change significantly.

"We were attracted to Richard Mandell because of his minimalist approach to renovating classic golf courses and his interest in involving the public golfer throughout the design process," Finley stated. "It's going to be a new golf course, but it's going to be the old Keller."

He added that the facility's original clubhouse and pro shop, which had become dilapidated, will be replaced by new buildings as part of the renovation.

Duininck Golf, a Minnesota-based golf construction company that has mastered the challenges of building and renovating courses in the upper Midwest, is performing the work. In assessing the assignment, company principal Judd Duininck said, "It's great to have an opportunity to work on a classic historic course in our backyard."
He added that the firm has done remedial work at venerable Minnesota clubs such as Interlachen, Edina North Oaks and Oak Ridge.

"Richard Mandell has a good eye for classical design, and we'll be following his direction to revive the subtle Golden Age features at Keller," Duininck said.

With clearing, rough-grading and shaping underway, Duininck Golf crews will stay on the job until the ground freezes. Work will resume as soon as possible in the spring. Already, nearly 500 trees have been selectively pruned or removed to improve sightlines and allow more air and light to nourish the turf. An additional 210 trees will be planted to frame the holes and beautify the layout. The course routing and existing hole corridors will remain the same.

Paul Digenau, Keller's golf course superintendent, said the much-needed facelift will result in new playing surfaces, new cart paths and a much-improved playing experience. He described Duininck Golf as an "amazingly competent contractor" with the skills and organizational abilities to complete the elaborate course renovation on schedule.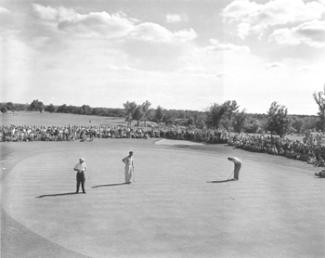 Arnold Palmer Competing in the 1955 St. Paul Open
Ahren Habicht, Project Manager for Duininck Golf, said, "There's a great team in place to make this a successful renovation, from the county officials and maintenance staff, to the design team, our dedicated crews, and Keller's avid community of golfers."

Built on nearly treeless farmland, Keller Golf Course was the brainchild of Herbert P. Keller, a Ramsey County commissioner. To save the $10,000 architect's fee, the design assignment was given to the county's civil engineer, Paul Coates, who paid his own way to the East Coast to study the nation's best courses. He consulted with Donald Ross while visiting Pinehurst, N.C.

Coates attempted to create the kind of course most designers strive for: a challenge for the low handicapper but playable for all levels of golfer. Despite its lack of designer pedigree, Keller is known for its creative, strategic use of the rolling terrain and met with immediate acclaim. It hosted the PGA Tour's St. Paul Open from 1930 through 1968; the 1932 and 1954 PGA Championship, a match-play event in that era; and the 1949 Western Open, considered a major tournament at that time. In the 1970s, the LPGA's Patty Berg Classic was held at Keller.

A "Who's Who" of notable golfers has competed at Keller, including Walter Hagen, Gene Sarazen, Ben Hogan, Sam Snead, Byron Nelson, Arnold Palmer, Jack Nicklaus and many more. Palmer and Nicklaus, competing in the 1965 St. Paul's Open, were edged by 22-year-old Raymond Floyd for the title. In the years since, Keller Golf Course has continued to host Minnesota Golf Association tournaments and USGA qualifying events.
For more information about Keller Golf Course, visit https://parks.co.ramsey.mn.us/golf/Pages/Keller-Golf-Course.aspx. For more about Richard Mandell and Duininck Golf, visit http://www.golf-architecture.com and http://www.duininckgolf.com, respectively.