Mission: Extremely Possible - Santa Barbara Soothes the Heart, Soul & Golf Game
By: George Fuller
Driving the Pacific Coast Highway as it traces the shimmering Pacific Ocean north out of Los Angeles, I can already feel layers of tension lifting away from my shoulders. This is the route my wife, Landry, and I always choose when heading to Santa Barbara, 90 minutes north of the chugging metropolis we call home. To us, even a couple of days in Santa Barbara feel like a week-long vacation.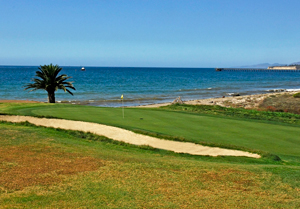 11th Hole at Sandpiper
Among the things we enjoy most are the Spanish Mission architecture - inspired by the graceful adobe archways and red tile roofs of Mission Santa Barbara, founded in 1786 as the 10th of California's 19 historic missions, the town's picturesque setting on the continent's edge, and the fact we can do virtually nothing for two days or we can play 36 holes a day on some very fine layouts, several of which are almost as historic as the old mission itself.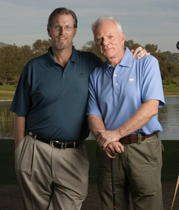 George Fuller & Golf Buddy
Malcolm McDowell
If we can carve out an extra day for our travels, we detour a bit east to Ojai Valley Inn & Spa to stir up a round with our friend Malcolm McDowell, the irrepressible British actor and golf nut who lives there. Malcolm counts the George C. Thomas-designed golf course - a classic California getaway since 1923 - at Ojai Valley Inn ($180) as among his favorite area courses.

"Where else can you play a George C. Thomas course without paying a hefty initiation fee?" he asks. (Bel-Air Country Club, Riviera Country Club and the two at Los Angeles Country Club - all private clubs - are Thomas's other Southern California gems.)

Tucked into the golden mountains east of Ventura on a slow, cat tail-winding stretch of Highway 33, the Ojai Valley Inn layout is characterized by tree-lined fairways, rolling terrain and a design style that emphasizes enjoyment (though it's no pushover) over demand.

Malcolm also recommends Ojai's Soule Park Golf Course ($31-$48), a low-cost 18-hole "hidden gem" that dates to 1962 and features mature trees, a creek that fronts the seventh green and serene mountain surrounds.
As you approach Santa Barbara from the south, another historic property near outstanding golf offerings is Four Seasons Resort, The Biltmore in Montecito. Situated on 20 acres of lush gardens that contain more than 3,000 different tree and plant varieties, the original Santa Barbara Biltmore opened in 1927 and through the years has provided a welcome retreat for Hollywood luminaries and Southern California's social elite.

Nowadays owned by Ty Warner, whose holdings also include Sandpiper Golf Course, Rancho San Marcos and Montecito Country Club (and also San Ysidro Ranch), the Biltmore will arrange tee times for guests on their own or other area courses.

It's a rare treat to have access to the otherwise-private Montecito Country Club ($135), a 1922 Max Behr design, but guests of the Biltmore and San Ysidro Ranch are so privileged. Slated to close in fall 2011 for a complete redesign by Jack Nicklaus, now's the time to play Montecito and marvel at the wide ocean views from the course's elevated fairways and hillside clubhouse.

Sandpiper and Rancho San Marcos contrast wildly in style and terrain, and playing both can easily be accomplished done in a single summer day. Sandpiper ($139-$159) is set on a bluff overlooking the Pacific 15 minutes north of downtown Santa Barbara. The coast in this region is populated with towering eucalyptus trees and shady canyons, as well as a headland fully exposed to the elements. Measuring greater than 7,000 yards from the black tees and with a healthy men's rating of 74.7 from that distance, this course epitomizes a "beauty and the beast" tag. It helps to have a knock-down shot in your arsenal here, as afternoon winds often blow off the water.
Four Seasons Resort, The Biltmore
Hole 11 is a par-3 that plays down to the waterfront and an errant ball (long) might actually end up on the beach; the 12th plays right back up to the bluff top with an uphill par-4 of only 341 yards, but accuracy and position are keys to success.

By contrast, Rancho San Marcos ($79-$104) is inland, winding through the Santa Ynez River Valley. Originally established in 1804 as a working ranch by the Santa Barbara Mission, ancient oak trees and original adobe buildings combine to create a setting of old world serenity. Today, a pleasant Robert Trent Jones II-designed golf course occupies the land.

The front nine on the par-71, 6,800-yard Rancho San Marcos plays on mostly level land, while the back nine bobs and weaves across hillier terrain, culminating at the highest point on the course, the green of No. 14, where players are treated to an expansive view of nearby Lake Cachuma.

Following Highway 246 west from Santa Ynez Valley will lead to Lompoc, where La Purisima Golf Course is found. This is the road less traveled to be sure - a journey along one of California's scenic, undeveloped byways - but a treasure awaits at this golf-for-golf's-sake design. Set upon 309 acres of rolling, oak-studded former ranchland, no commercial development or residences surround the course.
Designed by golf architect Robert Muir Graves as a walking course, with greens and ensuing tees in close proximity to each other, La Purisima ($65-$110) ranks among the best daily-fee courses in the state. Though it likely would never happen for logistical reasons, a major professional tournament could be staged here and even-par might be the winning score. And though it will give better players a stern test from its 7,100-plus yard black tees - particularly when the afternoon winds kick up - from the appropriate tees for their skill level, everyone will enjoy their round.

Another Graves design in nearby Goleta is par-71 Glen Annie Golf Club ($59-$74), where players enjoy elevated views of the Pacific Ocean and Channel Islands during a round. It's not all that long, maxing out at just over 6,400 yards, but for a fun round in a scenic setting, this is the place. After a game, make time for a cold beverage or meal in the Frog Bar & Grill so you can enjoy the views without worrying which club to hit to a tight uphill par-4.
If you do decide to book accommodations at the Biltmore or elsewhere in Montecito, reserve an hour one morning to discover Pierre LaFond, a charming market just five minutes from the hotel, where espresso drinks and fresh pastries, gourmet sandwiches and picnic baskets are available. Locals sit at outdoor tables reading the newspaper and soaking in the sunshine, a very civilized way to start the day.

Landry and I, though, got our coffee and croissants to go along with a picnic basket loaded with cheeses, olives and crackers and set out for a day of wine-tasting in the Santa Ynez Valley. Having played golf the previous two days, we felt like something different.

There are more than 100 wineries in the area roughly 30 minutes north of Santa Barbara, producing everything from renowned pinot noir nearer the coast, to complex syrah and full-bodied viogniers further inland. An easy way to visit several wineries is to follow the Foxen Canyon Wine Trail, setting your sights on Zaca Mesa Winery & Vineyards. Along the way you'll pass the tasting rooms of Firestone, Curtis, Koehler and Fess Parker, arriving at Zaca Mesa just in time to unpack your hamper and sample their wines at a covered picnic table overlooking the valley.
"This area is what Sonoma was like 30 or 40 years ago," says Brook Williams, president of Zaca Mesa. "We're basically farmers who make wine."

On the day we were headed home, we stopped for lunch at a hole-in-the-wall everyone had raved to us about, La Super-Rica Taqueria, for fresh corn tortillas filled with marinated pork and homemade guacamole, and came away understanding why the line was 15 minutes long to order. The food here is homemade, authentic and delicious.

As we made our way back down the coast that afternoon towards home, we stayed on the alert for any spouts and tail slaps of the Gray and Humpback whales that migrate through the Santa Barbara Channel during their annual migration, but it was too late in the year. I'm pretty sure I can talk Landry into another visit . . . soon.
Award-winning publisher, editor, writer and photographer George Fuller has been covering golf travel and lifestyle for more than 30 years. His book and magazine assignments and projects have taken him throughout the United States, Canada, Europe, Asia, Polynesia and Mexico.

From 1992 to 1997 he was editor of LINKS-The Best of Golf, based in Hilton Head, S.C. In 2005, after having spent several years in the Pacific starting two magazines for Continental Micronesia Airlines and writing two books, Fuller launched GOLF LIVING Magazine for the Los Angeles Times, a "super-regional" magazine of travel, real estate and the lifestyle surrounding the game of golf. After a successful year of publication, he purchased GOLF LIVING from the newspaper and sold it to Media That Deelivers of Scottsdale, Ariz., with a contract to operate it for them.

In 2007, he launched TEE IT UP Magazine in partnership with the nationally syndicated radio show of the same name; and in 2009 he gained the contract to redesign and re-launch TEXAS GOLFER, a magazine with 25 years of history in the Lone Star State.

He has nine published books to his credit, the most recent being I Golf, Therefore I Am...Nuts! (2008, Human Kinetics Publishing). Others include Discover Hawaii's Best Golf (2001, Island Heritage Publishing) and California Golf: The Complete Guide, (11th edition, 2005, Avalon Books). He has contributed to many guidebooks, notably the Berlitz Travelers Guide, Birnbaum Guide, Citibank's Great Resorts of the World and several city editions of Guest Informant.

Fuller's newspapers and magazines credits include TIME, Wall Street Journal, San Francisco Chronicle, The Los Angeles Times, Robb Report, Coastal Living, Palm Springs Life, Estates West, GOLF Magazine, Golf Digest, Travel & Leisure Golf, LINKS, Successful Meetings, Honolulu and many others. He has reported for Reuters, United Press International (UPI), written for Copley News Service and is still a regular on-line travel correspondent for CBS Sports.com.

George Fuller is based in Newport Coast, Calif. He can be contacted directly at: gfuller@earthlink.net; 310/245-9550 (cell).