Mississippi's Tunica - Big Smiles, Sunny Weather, Great Golf
By: David Wood
In Mississippi, the phrase "Southern hospitality" proves there is usually solid truth behind clichés. Though it was only 8:00 in the morning, I had already been encouraged to "have a great day" by a small army of cheerful employees at the comfortable Harrah's Casino Veranda Hotel in Tunica.
I woke at 7:00 to a jovial wake-up call, "Have a great day, Mr. Wood." The smiling housekeeper I passed in hallway 20 minutes later said in a sweet drawl, "You go have yourself a great day, y'hear." The friendly counter person at the lobby juice bar, who served me a steaming cup of coffee and a "P-con" roll, continued the trend with, "Have a great day out there in that that sunshine."

I thought to myself, "What the heck, I might as go with the majority opinion and have a great day!" Yet having a great day when visiting Mississippi on a golf vacation isn't exactly hard to do. The Magnolia State has affordable, excellent golf from the Tennessee border all way to the Gulf of Mexico.

This was my third trip to Mississippi with golf clubs along for the ride. I'd been wowed with the splendid variety of courses the state offers from Gulf Shores to Jackson. Would the northern part of the state hold up its end of the golfing bounty? No worries there. Tunica has super spots to play the ancient game of the Scottish shepherds, 21st Century style.

Tunica is only 20 miles from the Memphis International Airport. My first glance at the booming area - built out of old cotton fields along the banks of the nearby Mississippi River - made me think I'd mistakenly flown into Las Vegas or Atlantic City. High-rise hotel casinos lit up like Christmas trees shoot skyward out of the flat Delta countryside. Huge neon billboards marquee the name stars playing in the various showrooms. I had no clue this area was so chockablock with first-class gaming and accommodations. With 15 million visitors annually, Tunica is now our nation's third-largest gaming destination. Even better, the area's golf is superb and reasonably priced - especially given how good the layouts are.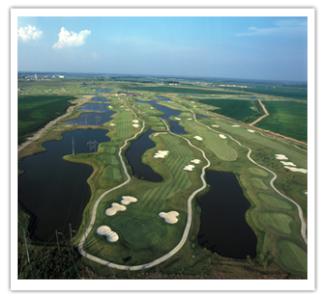 Aerial View of Tunica National
Tunica National Golf Club

Tunica National is a stout 7,210-yard layout designed by renowned PGA Tour player and architect Mark McCumber. McCumber gives you plenty of room off the tee to find the broad rolling fairways. However, things get trickier on your approach shots as the designer is known for his precision iron play. You are going to need to be just as razor-sharp as he in hopes of getting on the putting surfaces in regulation. Numerous diabolically situated water hazards and sharp-edged bunkers protect the excellent greens.

Probably the biggest protector for the par-72 track is the wind. As this Delta land is as flat as a crepe that was recently run over by a steamroller, it looks as if you can see all the way to the horizon and then the horizon past that one. There is nothing to impede the breeze from gathering a full head of steam and creating mayhem on your poor little golf ball. Full attention to the elements must be paid for a chance of a good score.
As you make your way back to the clubhouse, two rough but excellent tests impede your trek to the 19th hole in the thriving clubhouse. The 468-yard, par-4 17th plays along a lake abutting the left side of the fairway and is constantly in play as the wind pushed my shots toward the drink with a little too much relish. The last is another toughie of 443-yards that requires a well-struck second shot with a long iron or hybrid over the same lake that must create a cottage industry for reclaimed golf balls. Using just eight strokes on these two ruffians for back-to-back pars seems a minor miracle as both require such well-excuted shots that you might think that, perhaps, tennis is better suited for you as a recreational sport.

By the way, if you choose tennis, you're in luck at Tunica National. The 8,000 square foot clubhouse also houses The Tunica National Tennis Center. This is a marvelous championship facility with four indoor clay courts and dreams of one holding prestigious tournaments. Tunica National is a hotbed of activity. I recommend it highly with golf clubs or tennis rackets or both. For more information, visit www.TunicaNational.com or call 662/357-0777.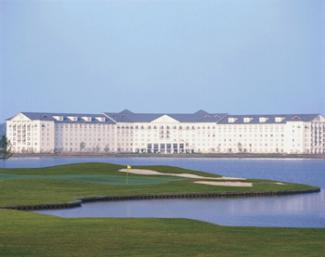 Links at Cottonwood & Harrah's Casino Veranda Hotel
Links at Cottonwood at Harrah's

The Links at Cottonwood can serve as Exhibit A why Mississippi is becoming renowned as a premier golf-and-gaming destination. This Hale Irwin design sprawls out under the gaze of the recently built Harrah's Casino Veranda Hotel. The course is a slice of wonderful links in the Mississippi Delta and a real golfing pleasure to my Scottish golf-loving eyes. Show me dune-shaped mounds flanking fairways and wild native grasses wafting in the breeze and I'm one happy golfer. Links at Cottonwoods has those attributes in spades.

Unlike most Scottish course characteristics, however, are the water hazards that impede the proceedings; the agua comes into play on 10 holes. Throw in that wind that blows across the Delta and havoc can certainly run rampant with your score. My favorite holes were the final three. The 16th is a 185-yard par-3 that plays to island green with a wildly undulating green. The 17th is a reachable par-5 of 515-yards with water lurking menacingly along the right. An aggressive tee ball gives you a chance to go for the green in two, but you'll need some intestinal fortitude to challenge the encroaching water. The 18th, a long par-4 that usually plays even longer than its 445-yards due to the wind in your face, is an excellent finish to a first-rate golf experience.
In addition to hitting the tables or seeing a show, Tunica has a full gamet of great food - from the downhome Blue and White Cafe where you almost expect Aunt Bee and Opie to come in for grits and biscuits to the Harrah's Casino's lavish "37" that's as opulent a dining experince as you'll find anywhere in the world. Tunica has it going on. No wonder it's become so popular.

For more details, visit www.HarrahsTunica.com or call 877/307-7529.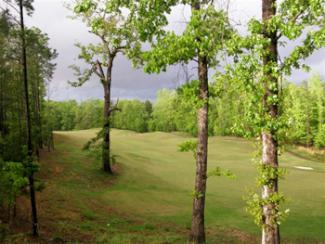 One of the Many Fine Holes at The Dogwoods
The Dogwoods

My long-held theory that a long and winding back-road drive always leads to a wonderful golf experience was again proven after a visit to The Dogwoods. Just down the highway a spell from Tunica in the picturesque Hugh White State Park on Grenada Lake, The Dogwoods is proof as to why Mississippi golf is so cool: reasonable green fees ($44 plus cart!) at a fun course with nothing but nature surrounding you and your weapons of choice. Mississippi does it right and deserves huge props for embracing golf as tourism attraction.

The white dogwoods were in fragrant bloom as I played through the peaceful tree-lined fairways that were carved out of a native forest. What I enjoyed most about Dogwoods was the feel of being out in the countryside and entertained by a tough course. There are no housing developments, no street noises, just the chirping of birds and the echo of my shots in and around the rolling terrain and through the thick groves of trees. The Dogwoods is the golf version of beta-blockers.

As I sit here writing this, I can't recall one hole that stood out more than another as so many are first-rate. I do remember a great day of golf in a serene spot where I'd love to visit and play again and again - this track is that good. What the heck is better than that? And to boot, as I left the clubhouse to get back in my car, the cheerful girl in the proshop yelled out, "Have a great day!" I already did.

For more information or a tee time, visit www.thedogwoodsgolf.com.
David Wood - writer, in-demand corporate speaker, and humorist - is the author of the book, "Around the World in 80 Rounds." For information on David, visit his website: www.DavidWoodSpeaking.com or email him at David@DavidWoodSpeaking.com.