Monarch Beach Golf Links
One way you can define the word monarch is, "a person or thing that holds a dominant position." At Monarch Beach Golf Links, near Dana Point, golfers can try to "dominate" this very "dominant" piece of real estate on the Pacific Ocean. To be an absolute ruler of this course, you'll have to look deep into your bag of tricks.

Robert Trent Jones II designed this jewel on the Pacific, keeping his eye on the ocean at all times. He crafted the layout in a way that lets you see the water from 12 of the 18 holes; two of them are close enough to hear the crashing waves in your back swing. To rule this Scottish links style course, you can't be afraid of the sand. There are 90-traps that can snag your ball and large undulating greens that can turn a par into a bogey without even trying. The course opened here on the "California Riviera" back in 1983.
It is only 6,344 yards from the blues, but don't get too cocky, there are nine holes with water as a part of the floor plan, and those greens will get you if you hit your approach shot to the wrong part of the green. Being at sea level comes into play also, the ball won't fly as far as you're used to, and early morning rounds might have some very wet, heavy air for you to deal with too. Having a golf course near the ocean usually means it's going to be somewhat hilly and Monarch Beach won't disappoint you on that count. Uphill and down hill shots are going to be a big part of your round, so if you think a little before you swing, the chances of your ball landing short or long will diminish tremendously.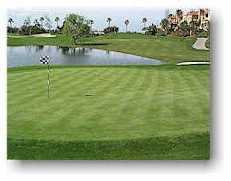 This par-70 track will not hurt you too badly if you wander off the fairway with a tee shot, but watch it on the water holes, you might want to leave the "big dog" in the bag from time to time. On the greens near an ocean, a putt might tend to break towards the water, but that doesn't necessarily hold true for this course, so beware!

The signature hole is the number three, a beautiful par four that takes you right down by the ocean. On a clear day, you can see Catalina Island. Other days will treat you to boats and ships of all sizes cruising by and surfers strutting their stuff just off shore. If you're really lucky, you might even see some dolphin or whales popping out of the water from time to time.
If you're visiting from out of town, the Ritz Carlton is close by and a new 400-room hotel is being built right next to the course. It's scheduled to open in mid-2001.To truly feel like a king or queen of the world, make time to hang out in the Tuscan-themed clubhouse and the restaurant. It has a great view of the ocean and would be a wonderful place to catch a sunset. Whether you're a blue-blood or just want to feel like one, get out to Monarch Beach Golf Links and be the leader of your own golf kingdom.