More on the Five Towns Area Country Clubs: Lawrence Yacht & Country Club
By: Jay Flemma
[Author's Note: Today we continue our series of comparing and contrasting the various Five Towns-area courses, a set of private clubs that offer a great alternative for New Yorkers to the super-pricey, ultra-exclusive mega-clubs in the area, yet have excellent architectural pedigrees as well. The "Five Towns Six" are Seawane, Rockaway Hunting Club, Middle Bay, Woodmere, Lawrence, and Inwood. We've already discussed Inwood (http://www.cybergolf.com/writerscorner), Seawane (http://www.cybergolf.com/golf_news/course_review_seawane_country_club_in_hewitt_harbor_ny), and Woodmere (http://www.cybergolf.com/golf_news/dont_say_shoulda_woulda_coulda_go_play_woodmere). Now let's take a look at Lawrence Yacht Club.]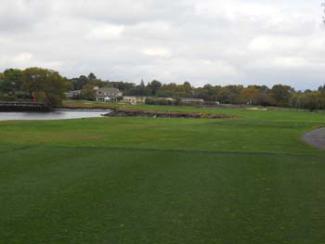 A Water Hazard & the Clubhouse
at Lawrence Yacht and Country Club
Lawrence Yacht and Country Club started in 1924 as a Devereux Emmet-designed private club simply called Lawrence Country Club. Originally built over a small 110-acre parcel, several land purchases and swaps resulted in what is now a 94-acre parcel bordering Reynolds Channel and Bannister Creek. A Joe Finger redesign of this new parcel in the late-'60s brought expansive change to the original design, including 16 new greens and a reversing of several holes where green sites and tees were swapped and the course's routing re-sequenced. A second renovation project begun in 2007 under Northeast Golf's Robert McNeil impacted at least another nine holes.

Emmet was only able to incorporate two par-5s, and the course's routing of 35-35=70 has remained remarkably constant through the decades despite two waves of redesigns. There's not much of Emmet's original work left (mainly because so many holes have been reversed and given new greens), but the club did try to maintain Emmet's general style.

Finger was a nationally recognized architect and built many successful, well-received golf courses - Champions and the Concord Hotel's Monster course to name two, but when it came to restorations he was never much one for preserving what he found on classic courses. And he studied and rose to prominence during the "Doldrums of Golf Course Architecture" - the 1950s through the '80s, which wasn't an age of preservation anyway. That, sadly, was all too frequently an era of replacing what was at classic courses with modern ideas, usually something "hard for hard's sake."

Nevertheless, Lawrence Yacht Club wanted to stay consistent with what they had before. They sought to at least keep the flavor of Emmet, who built many great courses regionally.

"We wanted greens that reflected what we had before, and we wanted the holes to reflect Emmet's philosophy of fitting the course to the natural terrain he found on the property," said Jay Gordon, the former mayor of the town of Lawrence and the man most responsible for shepherding the club through difficult financial times and into a new age of prosperity.
Gordon recalls close to six decades of the club's events and has been integral in the club's survival, growth and prosperity. Wanting to keep the classic feel of Emmet's original design, Gordon worked closely with Finger during the '60s renovation.

What resulted was an approximation of Emmet's style of routing and grading of his bunkering, i.e. below grade. Finger didn't reproduce the specific hallmarks of Emmet - you won't find any cross bunkers, tilted fairways, tightly-mounded green surrounds or false fronts, but he also didn't turn Lawrence Yacht into a penal architecture brute like the "Monster" either. He kept the design playable and natural, and resisted his innate urge to be ultra-penal, especially on the left side.

"That's one of Joe's hallmarks," explained Baxter Spann, who worked with Finger in the design firm of Finger, Dye, Spann for many years. "He'd put the more severe hazards on the left because the better players would miss on that side."

A second renovation began in 2007 and has continued intermittently since then. McNeil of Northeastern Golf was the next architect to work on the course. "We rebuilt the bunkers below grade, like Emmet did originally, and we brought the bunkers back closer to the greens," said McNeil. "Emmet frequently built his bunkers below grade, so we wanted that simple, more natural look rather than bunkers with high lips that were above grade."

Such things happen over time with bunkers and indeed with all parts of a golf course: the lips build up after years of play, or mowing lines divert fairways and shrink greens or hazards. A golf course is a living thing that needs constant monitoring.
"The renovation has really improved things," echoed several members. "And conditions have really improved under our new (superintendent). We noticed a positive difference right away," they added, referring to Adam Thomas, who studied turfgrass at the University of Florida and was an assistant at Pine Valley and Shinnecock Hills. "He's doing a great job, the greens are wonderful."

Indeed, they are. The greens and the green settings are the greatest charm of Lawrence Yacht & CC; they are nothing if not idyllic. While there was no way to restore the original course, they tried to stay true to their roots. McNeil's work flows well with the small greens with interesting internal contours; it hearkens back to the flavor of the original intent, and provides a seamless whole that flows naturally 1-18.

"Emmet's genius was in not changing the terrain to build the golf course, but in building the course to fit the terrain," stated Gordon. "Some architects move half the earth and get no better a course then they would have if they had just left the terrain alone. We wanted the course to be as true to what Emmet might have built as we could get."

As such, it's a fun, sporty play: a low-impact, natural and yet well-defended course much like the classic Golden Age designers might have built on such small, flat sites. While you must play solid golf to score exceptionally well, Lawrence Yacht Club doesn't ever beat up bogey golfers that badly unless you they the ball sideways, into the channel, or both.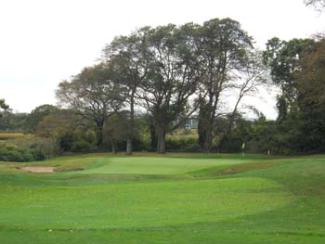 One of the Greens at Lawrence Yacht and Country Club
While most golfers like the stretch of holes at Nos. 5-8, a long, straight par-5, followed by three par-4s that play along the inland water table, your author prefers 12-15, two side-by-side short par-4s that play out to the channel and back, followed by an excellent short par-3 that was an Emmet staple - the light bulb-ish shaped green, set obliquely and guarded by a below-grade bunker, and followed by the best short par-4 on the course, a fair interpretation of a Knoll hole, where the green is guarded in front by a large mound and bunker.

I'm of two minds about 16 - another short par-4 which is a sweeping dogleg-left, with the marina right along the edge of the fairway . . . guarded by an unsightly but necessary net. If the net wasn't there every boat in the marina would get pegged four times a day; you can reach out and touch them as you walk by. Luckily for the boats, the hole requires a huge draw so as not to go through the fairway, so only a goofy hook or a double-cross is in danger of getting enmeshed. The second shot plays slightly uphill to the green. I love the thrill of hitting around the corner of the marina with a hard draw, but the nets, of course, detract ever so slightly.

"The 18th is one of the best finishing holes anywhere," said McNeil, as the channel guards the left off the tee, then cuts through the fairway on the approach as well.

Lawrence Yacht and Country Club provides a nice day along the channel. The club is warm and welcoming - rightly proud of their little gem of a club - and they are graced with excellent amenities.

Although it's probably the least preserved of the original Five Towns designs architecturally, and needs, 1) to cut down more trees, and 2) try to incorporate more center-line or diagonal hazards to increase strategic interest, it's also a solid, sporty jaunt around some scenic bayside terrain. The highlight is the greens, which are well contoured and roll perfectly true.

[Author's Note: we'll revisit Lawrence Yacht and all the rest of the Five Towns clubs in a cumulative wrap-up piece later this fall.]
Lawrence Yacht and Country Club
101 Causeway Road
Lawrence, NY 11559
516/239-1685
www.lycc.cc
Par 35-35=70
News, Notes & Quotes

One of the other great things about LYCC is how everyone is so laid back. Head professional Pete Procops goes the extra mile for everyone at the club, and what's more he has some color and personality! PGA head professionals are almost universally consummate professionals and wonderful people - role models all, but at times they can tend to look alike and can perhaps be a drop cookie cutter. Not so Pete! He exudes an infectiously vibrant excitement that resonates with all the members. Everyone smiles when Pete's around, and they get what they need remarkably quick too!

"Pete's our rock!" gushed one ebullient member. "He's worth five other guys!"

You also have to love the classic rock blaring out from the starter's shack. "Celebration" and "Blinded by the Light"? You have to dig a club that plays Manfred Mann and Kool and the Gang on the first tee.

This story originally appeared in Cybergolf on October 11, 2012.
Since launching his first golf writing website in 2004, http://jayflemma.thegolfspace.com, Jay Flemma 's comparative analysis of golf designs and knowledge of golf course architecture and golf travel have garnered wide industry respect. In researching his book on America's great public golf courses (and whether they're worth the money), Jay, an associate editor of Cybergolf, has played over 420 nationally ranked public golf courses in 40 different states, and covered seven U.S. Opens and six PGA Championships, along with one trip to the Masters. A four-time award-winning sportswriter, Jay was called the best sports poet alive by both Sports Illustrated and NBC Sports writers and broadcasters. Jay has played about 3 million yards of golf - or close to 2,000 miles. His pieces on travel and architecture appear in Golf Observer (www.golfobserver.com), Cybergolf, PGA.com, Golf Magazine and other print magazines. When not researching golf courses for design, value and excitement, Jay is an entertainment, copyright, Internet and trademark lawyer and an Entertainment and Internet Law professor in Manhattan. His clients have been nominated for Grammy and Emmy awards, won a Sundance Film Festival Best Director award, performed on stage and screen, and designed pop art for museums and collectors. Jay lives in Forest Hills, N.Y., and is fiercely loyal to his alma maters, Deerfield Academy in Massachusetts and Trinity College in Connecticut.