Mount Washington - A Magnificent Glimpse of the Past
By: Rob Duca
There is something magical about arriving at Mount Washington Hotel in Bretton Woods, N.H. The white edifice beckons from a distance, its grand 900-foot wraparound veranda and majestic red spires evoking memories of an era of opulence and simplicity.
Looking Down a Fairway at Mount
Washington Golf Course
The anticipation builds as you drive down the winding, twisting one-mile entrance, the hotel coming closer and clearer into view, set against the Presidential Range of the White Mountains.

There isn't a bad time to be had here. In winter, there's skiing. In fall, stunning foliage is on display. In spring and summer, visitors play golf, hike and swim.

Whatever the season, the setting is dazzling.

I journeyed north mainly for the golf, and to savor the experience of settling into a rocker or wicker chair on that expansive porch with a cigar and a glass of port.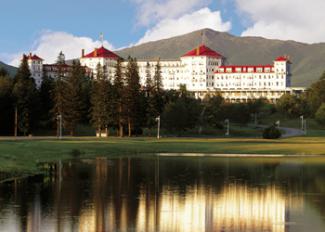 Mount Washington Hotel
People don't often think of golf when visiting the hotel, which is a mistake. The renovated Mount Washington course is a visual masterpiece, featuring stunning views, dramatic holes and a classic layout. The nearby nine-hole Mount Pleasant course, opened in 1895 and restored in 1989, provides an ideal warm-up for the championship test.

The Mount Washington course was originally designed by legendary Scottish architect Donald Ross in 1915. Among its earliest visitors were Thomas Edison, Babe Ruth and Bobby Jones. But it fell into disrepair along with the hotel in the 1980s and closed for two years while being restored by Brian Silva, who based his work on Ross's original design.

The course reopened in the spring of 2009 to rave reviews. Golfweek magazine has voted it "Best Course You Can Play in New Hampshire" for three straight years. It has since hosted four New Hampshire State Opens and the New England Open Championship.

It's worthy of high praise. At 7,004 yards, the par-72 course takes golfers on a rollercoaster ride of elevation changes, demanding a wide variety of recovery shots from bunkers and closely cropped areas around the greens. Silva has called it "mountain golf at its best."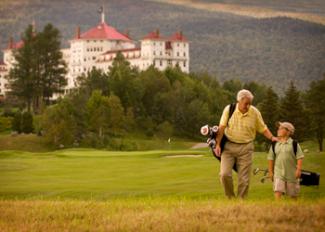 Golf at Mt. Washington is a Family Affair
Fairway bunkers were unearthed and restored, including a signature Ross "Principal's Nose" bunker on the fourth hole. Trees were removed, enhancing the panoramas, and the placement of tees and greens made use of the course's natural rolls and swells.

The golf course work was all part of a $50 million investment intended to return the resort to its previous splendor. Among the more modern additions now are a spa, conference center and outdoor pool.

But a visit to Mount Washington Hotel still feels like stepping back in time, from the moment you walk into the cavernous lobby with its 23-foot-high ceilings and proceed to the check-in desk - where old-fashioned mail slots are still used to hold messages for guests - to when you step into the cozy elevator hand-operated by a hotel employee.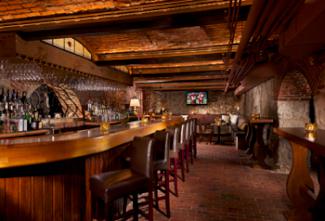 The Cavebar Inside Mount Washington Hotel
Opened in 1902, the hotel was registered as a National Landmark in 1978. It most famously hosted the world's financial leaders in 1944 at the Bretton Woods Monetary Conference, when the World Bank and the International Monetary Fund were established.

The rich and famous that have slept here include presidents William Howard Taft, Woodrow Wilson, Warren G. Harding and George H.W. Bush, as well as such luminaries as Winston Churchill, Alfred Hitchcock and Carl Sandburg. One can't help but look around and wonder what it all must have been like those many years ago.

For more information, visit http://www.omnihotels.com/FindAHotel/BrettonWoodsMountWashington/Golf.aspx.
Rob Duca is an award-winning sports columnist who wrote for the Cape Cod Times for 25 years, covering golf, the Boston Red Sox, the Boston Celtics and the Boston Bruins. He is now managing editor of Golf & Leisure Cape Cod magazine and has written for a variety of other publications, including Sports Illustrated, the Boston Globe, Yankee magazine and Cape Cod Life.