Mountain Air: Casually Golfing in the Clouds
By: Dave Droschak
I've been to nearly all of North Carolina's exclusive mountain golf clubs over the last three decades. But for one reason or another I've never made my way to Burnsville and Mountain Air. I had heard plenty, though, from my fellow writers about the unparalleled beauty of this golfing escape and its private airstrip perched atop Slickrock Mountain.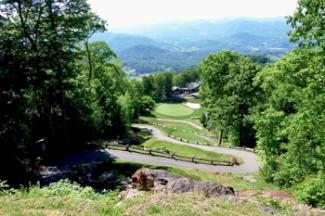 The Par-3 10th Gives Golfers 8-10 Seconds
of Hang Time & Offers Expansive Vistas
I cleared my calendar this spring and finally made the four-and-a-half-hour trek, past an entrance to the Blue Ridge Parkway and several sand quarries where sugar white-bunker sand is mined, and up the twisting mountain entrance to a pristine golf course that cost an estimated $1 million a hole to build back in the early 1990s.

I soon found out that "hang time" is thrilling and seemingly endless at Mountain Air. It's hard to argue that, with its 100-mile panoramic mountain views on the front nine and a combined elevation drop of 600 feet on the 10th the 11th holes alone. "The contours of the mountain were used here to create such a dramatic day on the links," said head pro Chris Parham.

No argument here.

About a quarter of the club's members fly their own planes directly into the community's 2,875-foot paved, private runway, situated at 4,400 feet above sea level. For those who arrive by car, a recently renovated four-lane highway makes the ride from Asheville short and gorgeous.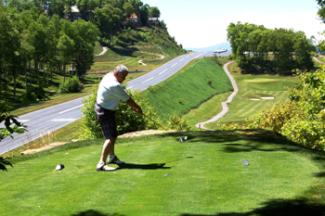 Mountain Air's Airstrip Knifes Through the
Front Nine at 4,500 Feet Elevation
The 3,500-foot climb from Mountain Air's front gate to its mountaintop clubhouse adds to the anticipation. "You basically drive through a sea of clouds to get here and when you're up top it's simply breathtaking." Parham noted.

Once on site, I was quickly informed of the club's main rule - no ties. "It's such a different environment here than most country clubs," said Andy Singleton, who left the private Governors Club outside of Chapel Hill nine years ago to become general manager at Mountain Air.

"In addition to this being 'summer camp' for grown-ups, we say that everybody checks their egos at the gate here. We've got people who can belong to any club in the world, but when they come to Mountain Air they just want to relax and have fun. If you see a tie, it's a banker or a job applicant."

Randy Banks, whose family owned the mountain, was the visionary behind Mountain Air, hitting the drawing board with plans back in 1985. The club came together in stages - as did the golf course, with its first nine holes completed in 1990 and a second nine five years later.

As it sits now, the airstrip knifes through the front side to offer a unique "hazard" for golfers, who can literally watch planes take off and land over a tee shot.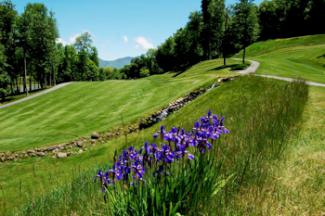 The 4th Hole at Mountain Air Features a Waterfall
"The only reason we are here is because of the runway," said Margie Cuckler, who heads up the club's marketing committee and whose husband John flies his own plane. "We lived in Birmingham, Ala., and my husband worked full time and we wanted to get to someplace cool. We could be here in one hour and 45 minutes via our plane. Had there been no runway we would have never purchased here. About 25 percent of the members are or at one time were pilots."

As I was eating lunch, a plane took off and roared overhead. It was quite a site against the backdrop of blue skies and green mountains. "It never gets old," Parham said of the club's unique aeronautical orientation. "You can see when planes fly over everyone here goes out to the fence and says, 'Wow.' "

Mountain Air's vibrant pilot community is aware that mountain flying is substantially different than the usual experience of landing at a conventional "flatland" field. Pilots coming into Mountain Air for the first time are provided a safety manual as well as a video about landing on the runway.

The detailed manual was compiled by Mountain Air's roster of experienced pilots as a way to review the process for landing and taking off in the alpine environment - in particular at Mountain Air, while adding in extensive risk management.

"You land at Mountain Air weather permitting, which means proper visibility and wind conditions," said Bill Marshall, a member from Fort Walton Beach, Fla. "The conditions have to be right to come in there and land. You need to be a prepared, experienced pilot and you need to be on your toes."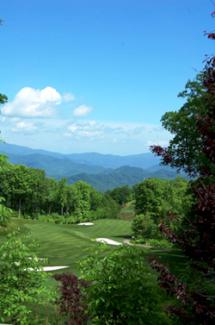 The Scenery at Mountain Air Makes it
Difficult to Concentrate on Golf
(Photos by Dave Droschak)
Mountain Air's airstrip can handle most shapes and sizes of aircraft, everything from a single-engine Cessna to a small Citation jet. The runway was constructed uphill, helping pilots decelerate as they land. Mountain Air residents on the ground, meanwhile, are made aware of approaching aircraft by a pilot-landing warning system that alerts them. Also, there is a pair of cameras positioned to provide real-time images for runway safety and to observe the weather conditions along with runway markings to assist landings.

Back at the Scott Pool-designed golf course, there is 260 degrees worth of views as you gaze from the Smoky Mountains of Tennessee around the Blue Ridge and Appalachians to Mount Mitchell - the highest point east of the Mississippi River.

"I've been to about all of the North Carolina mountain courses and some places are comparable, but most of the time you are in a valley looking up at the mountains," Parham said. "For me, it's the views at Mountain Air that make it special, and the golf course is manicured to a tee. On the front nine it's a spectacular view on every hole.

"You think you have a great view and then you go to somebody else's house and it is entirely different and fabulous in its own way," added Cuckler. The most dramatic elevation change comes on the par-3 10th hole - whose cart path resembles San Francisco's Lombard Street and its hairpin turns, and the 11th - with a combined 600 feet of downhill golfing fun. "Wasn't playing those holes neat - a little different, huh?" Parham asked. "It's about eight to 10 seconds of hang time on No. 10."

A club that once spent $3 million a year on its marketing budget, Mountain Air has weathered the recent economic turmoil (one that hit high-end golf clubs particularly hard) and is once again making its mark in the second-home and retirement real estate market with a 4,000-acre community that consists of 16 miles of scenic streets and roads.
"Our best year was 2005," Singleton said. "We peaked at 435 members. Then, 2008 happened and everything sort of started sliding, just like everybody else. The good thing about Mountain Air (is) when that all started to happen the infrastructure was already in place, with a lot of people who had a significant investment in real estate, so they weren't going to let this place fall apart. It wasn't going to happen."

Cuckler proudly informs me that 36 percent of the POA budget, or $1.2 million a year, is earmarked for landscaping. That investment shows.

"The property owners took over from the developer four years ago and we spent a lot of time figuring out what was important and making sure we have the plans in place to maintain and improve our infrastructure," she said.

"Mountain Air is way more than golf," added Singleton. "If we were trying to compete with other courses just on the golf we wouldn't be able to because you are looking at clubs with Donald Ross courses, but here it's more about the families, it's about the experience you have when you are up here."
For more information, visit www.mountainaircountryclub.com.
David Droschak has covered golf in the Carolinas for three decades, mostly with The Associated Press, where he worked for 20 years as AP sports editor in North Carolina prior to launching Droschak Communications, a full-service marketing and PR firm based in Apex, N.C. Dave, 51, has covered numerous major golf tournaments, including the 1999 and 2005 U.S. Opens at Pinehurst Resort, and is a longtime member of the Golf Writers Association of America.

Dave was honored with the Sports Writer of the Year award in North Carolina in 2005, and is currently editor of Triangle Golf Today (www.trianglegolf.com), a print and online publication regarded as the "No. 1 Source for Golf News in North Carolina." He is golf editor for Pinehurst Magazine, an award-winning glossy publication, and was instrumental in helping launch Triangle Golf Deals powered by Twongo (www.trianglegolfdeals.com) in the fall of 2011.

Dave also is the co-founder of www.HurricanesBeat.com, a website devoted to coverage of the Carolina Hurricanes, an NHL franchise he has covered since the team moved to North Carolina from Hartford in 1998.

Dave grew up in Penn Hills, Pa., about five minutes from the famed Oakmont Country Club and was introduced to the game of golf as a caddie at Green Oaks Country Club in nearby Verona, Pa.

Dave was the co-captain of the 1978 Penn Hills state championship baseball team, was a pitcher for the 1982 Atlantic Coast Conference champion University of North Carolina Tar Heels, and pitched professionally for two years in the St. Louis Cardinals organization. He is a member of the Penn Hills High School Sports Hall of Fame, which also includes NBA coach George Karl and former four-time Pro Bowl offensive lineman Bill Fralic.