Much Moore to Come
By: Tony Dear
Anyone who saw Ryan Moore smack his opening drive 20 yards past Phil Mickelson's in the third round of this year's Masters knows this kid is for real. With the defending champion for company and an estimated 200 million TV viewers around the world looking on, most 22-year-olds would have been hyperventilating. Instead, Moore's unfazed, almost nonchalant, look suggested that for him at least, this really was no big deal.
"I wouldn't say that exactly," he said a month later, "but I did feel comfortable."
It wasn't just that one drive that got people's attention, of course. On Sunday, paired with Darren Clarke, the recent University of Nevada Las Vegas (UNLV) graduate birdied seven holes, including the last, to wind up at 1-under par, the best total by an amateur since Lindy Miller in 1978.
Andy Bischel, assistant golf coach at UNLV, could have predicted Moore's strong showing having witnessed his star pupil's remarkable progress over the previous three and a bit years. "He has all the golf skills he'll ever need," he says. "And he's as determined to succeed as any player I've seen come through our program, including Adam Scott, Chad Campbell and Chris Riley."
Speak with Moore even briefly and you soon picture a composed young man who knows exactly where he is headed. Rather than the usual furrowed brow and ponderous uhhing and ahhing, the question "Any long-term goals?" evokes an almost immediate response: "I want to be number one in the world, the best player ever. Hey, I want to win every tournament I ever enter."
Over the phone it's difficult to gauge how serious he's being, but there's no instant retraction of his words or embarrassed laugh. Despite an unassuming and even slightly bashful nature, Moore is deadly serious about his golf and there's no denying the genuine self-belief in his voice – the innate conviction of a mega-talent for whom the game comes easily. After a year in which he won the U.S. Amateur, U.S. Public Links Championship, NCAA Division 1 Championship, Western Amateur, Sahalee Player's Championship plus individual and team honors at the World Amateur Team Championship in Puerto Rico, it's a confidence and conviction that's well-founded.
Dr. Mark Guadagnoli, a professor in the Department of Kinesiology at UNLV and the golf team's mental coach, adds further insight into Moore's psychological make-up. "He is unique in that he is not only extremely confident and focused, but laid back as well. In my classes, and just through talking with him as a friend, he has learned to stay patient and focus on the moment. He has the great ability to remain calm and confident in the eye of the storm."
A prime example occurred during the U.S. Amateur at Winged Foot, when Moore came to the 33rd hole of the 36-hole final 2-down to 19-year-old Luke List. The eye of Moore's storm widened considerably when List's approach to the 416-yard 15th stopped just 8 feet from the hole. Rather than surrender to what seemed like inevitable doom, however, the 5'9" 170-pounder from Puyallup, Wash., bore down, knocking his own approach, an 8-iron from 169 yards, to a similar distance.
When he holed and List missed, the momentum swung significantly back in Moore's favor, giving him an edge he never gave up. A winning par at the treacherous 16th and birdies on each of the final two holes, both daunting par-4s, sealed an impressive comeback and a 2-up victory.

In the gallery was Moore's father, Mike, who owns and operates Classic Golf Club near Seattle, where so many of Ryan's early milestones in the game were passed. "At about four, he amazed others on the range when he declared he could hit the ball higher by opening up his 4-iron and hit it lower and further by hooding it. Then he showed us," Mike recalls. "He made his first birdie at age four by holing a 25-yard pitch. At 11, he shot a 74 off the men's tees and at 12 he equaled par. He won the men's Club Championship at 14 and 15 against some of the best amateurs in the region."

Ryan's only swing coach, Moore Senior says he is more a pair of eyes than an actual instructor these days and rarely feels moved to comment on his son's technique. "I don't need to say much to him, his swing hasn't really changed a great deal over the years," he says. "He has refined it, but it is very much his swing, which he knows and trusts. He doesn't think about mechanics much. We focus mainly on balance and alignment and occasionally we'll work on his weight transference."

Not, you'll notice, the position of his hands at address or the path of his backswing – both elements best described as unconventional and which most by-the-book teachers would seek to alter if given half a chance. "It's not classic," Ryan Moore admits, aware of his swing's peculiarities. "But it repeats and I trust it, and that's what's important."

His downswing, that of a strong and finely-tuned athlete, shallows the club out considerably, resulting in a much lower trajectory than that which most big-hitting tour pros aspire to today. It's a ball-flight that could make life difficult at Pinehurst in the U.S. Open, where the high ball is king, but which will prove beneficial at St. Andrews during this year's Open Championship.

At the time of our conversation, Moore was undecided when exactly he would be turning professional. He will play the U.S. Open as an amateur, but in order to use his exemption for the Open Championship he would have to remain amateur, and that means twiddling his thumbs in the unpaid ranks for four weeks when he could be out earning some very decent money and establishing himself on the PGA Tour. (After this interview was published, Moore decided to earn his way into the event by performing well on the PGA Tour.)

"I don't think Ryan wants to be sitting around for a month when he could be using sponsors invites to carve out his place on tour," Mike Moore told the Seattle Times recently. "There is obviously an allure to playing at St. Andrews, but his priority is charting a course that gives him a steady place to play."

He already has at least 15 tournament invites, of which he will be entitled to accept seven, as a non-member. From those seven starts he will need to bank checks totaling $700,000 or thereabouts to finish in the top 125 of the money list and earn a card for next season. Should he fall short, a trip to the dreaded Q School will be in order. "That's why he's leaning towards trying to qualify for the British as a professional," says Mike.

Naturally, club manufacturers and player agents are keen to sign up his sort of talent and have been beating a path to Moore's door for some time now. Perry Rogers, Andre Agassi and Shaquille O'Neal's manager, wants to snap up golf's next superstar, but it is likely Moore will stick with his dad and elder brother, Jeremy. "We've listened to a lot of agents," says Mike. "We will get the help we need, but in the end, Ryan feels most comfortable with me and his brother handling things for him."

Having his family around providing comfort will be an attractive option for Moore, as in the time it takes to sign his name on the bottom of some contract, he will go from whale in a duck pond to minnow in the deep blue sea. Sure, he'll have a $1 million club contract in hand, but he will still find himself at the bottom of a very steep mountain that can't be climbed with talent alone.

Bischel, for one, doesn't doubt he can reach its summit one day and believes Moore has the game and determination to be contending in majors sooner rather than later. Phil Mickelson thinks Moore will become one of the PGA Tour's best ball-strikers the instant he joins it. Father Mike sees no limit to what his son can achieve.

And while Dr. Guadagnoli, another firm believer, doubts his protégé will win every tournament he enters, he doesn't see any reason why Moore shouldn't at least think that way. "Does Ryan believe he is capable of winning everything? Of course he does, and why not?" he says. "Why would any great athlete want to believe anything else?"

Personal Profile

Full Name: Ryan David Moore
Date Of Birth: 5/12/82
2004 Scoring Average: 69.39

What they've said about Ryan Moore:

'Wow, he is some kind of player." Phil Mickelson.

"He's very impressive. He drives it well, his ball-striking is great and he putts it good." Chris Riley

"All champions talk about having the heart of a champion. Ryan has a will." Dwaine Knight, head coach of theUNLV golf team.

"Ryan was just about the best golfer in any field last year. I wouldn't be at all surprised if he finishes in the top-10 this week." Jay Haas, shortly before the start of the Masters.

"He was very calm and collected. He knew what he was doing out there." Darren Clarke after the fourth round of the Masters.

"Most people would have taken the money and gone. I admire what he did. He set a great example for young golfers." Knight on Moore's decision not to turn pro in 2004 but return to UNLV to see out his four years.

The above article originally appeared the United Kingdom publication, "Golf Pages."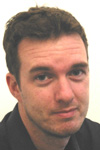 Tony Dear has been writing about golf for 11 years. A former assistant club pro from Sussex, England, Tony started out as a freelancer in 1992 before taking a staff writer's job at Fore!, a magazine based in Peterborough. As the magazine's chief instruction writer, it was Tony's job to compose instructional articles aimed at a youngish readership whose letters to the editor suggested they often got confused by technical jargon and theory. Tony bought his simple approach to teaching golf to the magazine, helping boost sales by 10,000 issues. As a result, he was nominated within the company and nationally for Young Writer of the Year awards.

From there, Tony moved 20 yards across the Emap UK office to join Today's Golfer. There, he was soon promoted to a senior editorial position, focusing on equipment, and became a significant part of a team that saw sales figures double within the magazine's first 12 months.

After three years at Emap UK, Tony was dragged kicking and screaming across the Atlantic by his American wife ("not really, I love it over here") and, after short spells in Phoenix and Denver, wound up in Seattle in May 2003. He recently moved to Bellingham in the far northwest corner of the far Northwest of the U.S. and became a father to a son on whom he has already staked £5 for the 2029 Open Championship. At present, he is freelancing for a number of print and online publications back in England including Today's Golfer, Golf World, Bogey, The Open Championship Magazine and Casino.com. He is also a contributing editor for Denver-based Colorado AvidGolfer.

Recent features include a look at Colorado's self proclaimed 'links' courses, an interview with Suzy Whaley, with whom he played nine holes ("and got soundly thrashed") and a 64-page instruction supplement for Today's Golfer.

Tony has authored three books in the last five years and been nominated for several specialist and young writers awards. "Although I've never actually won one," he admits. He is a member of the Northwest Golf Media Association and the Golf Travel Writers Association based in London.