Much Variety at Upper Cape Courses
By: Rob Duca
It would be impossible to cover all the golf there is to offer on Cape Cod in a single story. There are simply too many courses and too much variety. Although the Cape has never managed to market its resources in a tangible manner, such as Myrtle Beach, Hilton Head or Pinehurst, the region is rich with superb public layouts offered at reasonable prices.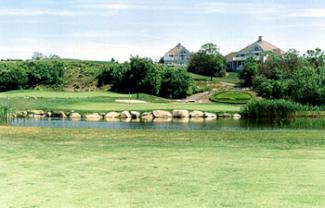 There's Trouble Galore on Ballymeade's 9th Hole
In the interest of economy (word-wise) and simplicity, I'll break the Cape into three stories over the upcoming weeks, featuring the Upper Cape, the Mid-Cape and the Lower Cape. The Upper Cape covers the towns of Bourne, Falmouth and Mashpee. Here's a look-see at courses in the area.

Ballymeade Country Club, East Falmouth

I was transcribing my notes from my tape recorder after playing Ballymeade Country Club. It went something like this: "Intimidating hole, elevated green, bunkers everywhere." "Tough, tough approach to sloping back-to-front green." "Brutally difficult par-4." "Hazard right, bunker left, woods long, no room to miss." "This one can ruin your round. Good luck."

Get the idea? The above describes just five holes on what is perhaps Cape Cod's most treacherous layout. Narrow fairways, deep bunkers, long carries over water, rolling landscape, severe doglegs both right and left, elevated and undulating greens - Ballymeade has it all.

Ballymeade is not long at 6,928 yards, but it's extremely tight. You're usually thinking more about survival than birdies. The demands begin on the first tee, where you must keep your tee shot left to avoid the approach being blocked by trees. The second hole is a challenging par-3 of 202 yards with four bunkers protecting the green. The third is a wonderful, 523-yard par-5 with a deep gully catching second shots that stray right. The two-tiered green is elevated and requires a delicate wedge.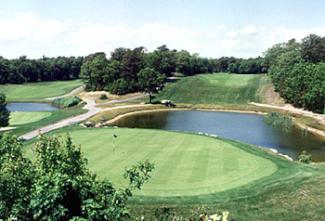 Ballymeade CC's Closing Hole is No Picnic
Which brings us to the dogleg-left, 356-yard par-4 fourth. If you haven't played here, you'll wonder what to do as you stand on the elevated tee and look down upon a pond, a paper-thin fairway and woods behind it. There isn't much of a bailout area. The best play is to take a deep breath, pull out a hybrid and hope to hit it 200 yards over the water.

The 174-yard par-3 11th is considered the signature hole. On a clear day, you can gaze upon Buzzards Bay, Bourne Bridge and Mattapoisett from the elevated tree. But stay focused on the task at hand. You're facing what amounts to an island green, with a rock wall that drops off into a deep gully on all sides. Depending on the swirling winds, you could hit anywhere from 8-iron to 4-iron.

Finally, one can't discuss Ballymeade without mentioning the ninth and 18th, the first and second handicap holes, respectively. The greens sit side-by-side, both fronted by large ponds.

The ninth is a 420-yard par-4 and requires a solid drive that still leaves an intimidating second shot. The par-5 18th requires a solid lay-up followed by a delicate approach. There isn't much room to miss on either hole.

Ballymeade has been softened since it opened in 1989 with a redesign by Chi Chi Rodriguez and Jim Fazio. Trees were cleared out and golfers now have the chance to locate errant shots and play on. In the early days, the cost of lost golf balls might have equaled greens fees for 18 holes. For more information, visit www.ballymeade.com.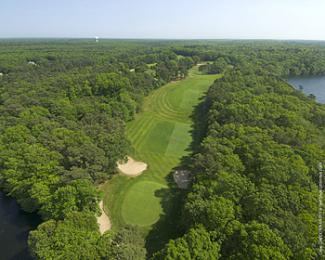 The 13th at Cape Cod CC is an Uphill & Strategic Par-5
Cape Cod Country Club, Falmouth

Rumors have circulated for decades that Cape Cod Country Club was partially designed by legendary architect Donald Ross. As the story goes, Ross expanded the course to 18 holes shortly after it opened in 1928. No proof has been found to substantiate that tale. But it plays like a Ross layout, featuring a natural appearance along with small crowned greens, creative bunkering and an emphasis more on shot-making than length.

There isn't a tremendous advantage to being a big hitter here; precision and course management are more critical. And like many genuine Ross courses, it's better to be short than long with the approach.

The course plays to a par 71 at around 6,500 yards from the tips. That's not intimidating by anyone's standards, but you'll understand from the opening hole that lack of distance doesn't mean it's devoid of challenge. Elevated greens that require perfect distance control are a staple. The seventh hole is only 315 yards, and you'll get even more distance if you clear the hill and roll into a valley. But the approach is blind to a green with a false front, involving the most delicate of pitch shots.

The 15th, a par-3 of 190 yards, is also entirely uphill. Three of the par-3s measure more than 190, topped by the 265-yard 12th. The only par-3 that isn't long is the 165-yard ninth, but that requires a carry over a pond to a green sloped back to front and protected by a bunker.

The 14th is a fine hole. The green is shaped like a volcano, with steep drop-offs to the right, left and front. Any shot slightly off-line will roll into trouble and leave an extremely difficult chip. When John Thoren won the Massachusetts Open here in 1955, he never went for the green on his second shot here, even when he was using a sand wedge. Instead, he hit the ball into the hill and then chipped onto the green, hoping to make par by one-putting.

By the time you putt out, you'll feel you've achieved something special, especially if you walk the course. Here's a tip: Don't walk the course! The hills will tax any golfer's legs.

For more information, visit www.capecodcountryclub.com.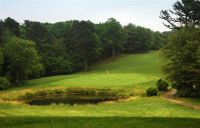 It's a Tight Fairway Leading
to Falmouth's 4th Green
Falmouth Country Club

If you haven't played Falmouth Country Club lately, you might not recognize the place. The forgiving fairways, the flat terrain and a layout that was a cure for insomnia from its inception in 1969 into the late-1990s are remnants of the past. Now managed by Billy Casper Golf, Falmouth has changed - for the better.

Nine new holes were opened over the past decade, providing Falmouth with a dramatically altered 18-hole layout. They feature tighter fairways, rolling terrain, undulating and elevated greens, plenty of bunkering, and a series of doglegs. The holes were placed in the middle of the original nine to create the new course.

Holes four through 13 are new, with the remainder from the original front nine. The original back side, now called the Talon course, plays as a separate entity, set aside mainly for beginners and casual golfers who don't care to be pressured.

A par 72 of 6,665 yards from the tips, the course opens with three holes that give no indication anything has changed. But you learn differently at the elevated fourth tee, which is considered the signature hole. The drive must find a narrow fairway and avoid a huge oak tree that blocks its midsection. At 384 yards, this is a tough but fair hole that demands accuracy.

The par-4 seventh might appear easy, playing only 318 yards. But it's a sharp dogleg-left, with four traps guarding the front, left and right of the green. At the par-5 531-yard eighth, water presents trouble at the midway point, while the 385-yard 11th is yet another dogleg, this time to the right.

The days of straightforward holes at Falmouth with little trouble and easy escapes are over. For more information, visit www.falmouthcountryclub.com.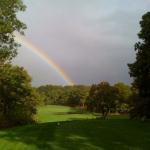 Paul Harney GC Was
Founded & Owned by
Former PGA Tour Pro
Paul Harney Golf Club, Hatchville

Built and owned by former PGA Tour pro Paul Harney and his family, this is a pleasant course with a laid-back atmosphere. The unpretentious clubhouse is adorned with photos and memorabilia from Harney's career, while the old-school costs (never more than $35) are certainly a drawing card.

Playing to a par-60 from 3,585 yards, this is a superb place to work on every iron in your bag. With 11 par-3 holes ranging from 90 to 225 yards, you'll be pulling out everything from a pitching wedge to perhaps a 3-wood. Your putter will also be tested on these severely sloped greens.

The rollercoaster fairways present a series of challenges. The shot on the 160-yard third is all carry to a back-to-front-sloped green, while the 170-yard ninth must clear a hazard and a front bunker. The par-4s aren't long (none more than 270), but they are either uphill, feature a sharp dogleg or demand an accurate drive to a narrow fairway.

For more information, visit www.paulharneygolfcourse.homestead.com.
The Brookside Club, Bourne

This target-style course comes into view moments after crossing the Bourne Bridge. Opened in 1997, it's in superb condition, with outstanding greens. But the layout is quirky, and the sloping landscape leads to a succession of blind shots.

Some might say that the club is more about the condos that surround every fairway and green than it is about the course. On some tees, you're hitting so closely to buildings that you might be able to eavesdrop on dinner conversations. Homeowners have been known to phone the pro shop to request that tees be moved forward on certain holes so as not to invade their privacy. Miss some greens by a fraction and your ball might come to rest in someone's salad bowl.

On the positive side, Brookside offers a wide variety of holes - few look like any other. Although the card measures only 6,300 yards from the back tees, it plays longer. Par is 70, with only two par-5s that stretch out to 540 and 586. There are par-4s of 460 (the downhill first), 400 and 440 (the No. 1 handicap hole). There's also a downhill par-3 of 115.

The par-5 fifth might be the most difficult on the course. The fairway slopes severely from right to left before bending right, leaving little room to land the ball. The third is also a test, with a narrow opening to a green that falls away on three sides.

The best par-3 is the 194-yard 13th, surrounded by bunkers and an elevated, two-tiered green. That's followed by the dogleg-left par-4 14th that features a narrow fairway and water in front of an undulating green.

Brookside will challenge your accuracy and your poise. Rely on the guide to help you get around and it will be more enjoyable. For more information, visit www.thebrooksideclub.com.
Quashnet Valley Country Club, Mashpee

Quashnet Valley can be like choosing between hard-shell or lazy lobster. Ultimately, you'll enjoy both versions, but getting there poses dramatically different challenges. At Quashnet Valley it depends on whether you play the blue or white tees. The difference between the two is nearly 500 yards, and you'll notice it on the very first hole, which is a reachable par-5 of 525 yards from the whites and a grueling 590 from the blues. It's also quite noticeable on the 10th (377 yards vs. 332), 16th (350 vs. 339, but a much more demanding tee shot), 17th (183 vs. 156) and 18th (520 vs. 480).

Advanced players will love playing the blues, with holes that offer a variety of strategic options. But the high handicapper can have a great day from the white tee markers, where greens are accessible on many holes and bail-out areas allow you to dodge potential trouble. Course knowledge is critical to score well here.

For instance, it's important to understand that an approach hit to the left on No. 3 will bounce off the steep bank and skip onto the green, but balls sent even slightly long are gone forever. On the dogleg-left par-4 ninth, the rule of thumb from the blues is to select the same club off the tee that you hit on the par-3 eighth. Many advanced golfers play the 369-yard hole as two par-3s, hitting consecutive irons between 170 and 180 yards.

Quashnet Valley has become exceedingly more golfer-friendly since opening in 1984. In its original state, it was a layout that offered little forgiveness for wayward shots. Miss a fairway and you were pulling out a new ball. Management has diligently softened the course over the past decade. A new irrigation system was added in the late-1990s, establishing healthy rough that prevents balls from rolling into hazards. Bunkers have been removed, and others added in hopes of saving penalty strokes. The overall effect is fairways that play wider and a course that isn't nearly as penal.

Quashnet Valley still requires accuracy more than length, but it's a fair test that rewards shot-making. For more information, visit www.quashnetvalley.com.
Rob Duca is an award-winning sports columnist who wrote for the Cape Cod Times for 25 years, covering golf, the Boston Red Sox, the Boston Celtics and the Boston Bruins. He is now managing editor of Golf & Leisure Cape Cod magazine and has written for a variety of other publications, including Sports Illustrated, the Boston Globe, Yankee magazine and Cape Cod Life.