Mungeam Forms New Course Design Company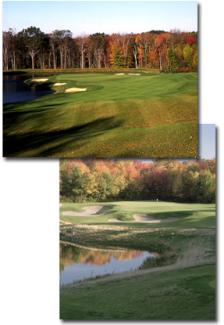 Mark A. Mungeam, ASGCA, has announced the creation of Mungeam Cornish Golf Design Inc., a new course architecture firm formed in response to the recent dissolution of Cornish, Silva and Mungeam, Inc.

After nearly 20 years working together -most of that time overseeing their own projects independent of one another, architects Mark Mungeam and Brian Silva decided to create separate businesses that reflect their long-established work habits while enabling each to explore new challenges.

"It was great working with Brian. We influenced and learned a lot from each other, which really helped our design styles evolve and improve," said Mungeam, who noted that Mungeam Cornish Golf Design was officially formed in August 2006.

Mungeam Cornish sets out on its new course with a variety of projects. The firm's ongoing work includes the complete restoration of Woodway Country Club, a wonderful Willie Park Jr. design in Darien, Conn., and the finalization of a bunker renovation and practice facility expansion project at municipally-owned Cranberry Valley Golf Course on Cape Cod. The firm is preparing master plans for Robert Trent Jones-designed North Hills Country Club in Manhasset, N.Y., and the 27-hole Silvermine Golf Club in Norwalk, Conn., and will continue fine-tuning the top-100 Olympia Fields Country Club (North Course) in Chicago and the A.W. Tillinghast-designed Golden Valley Golf and Country Club in Minnesota.

This spring sees the 18-hole grand opening of Butter Brook Golf Club, a dynamic new design in Westford, Mass. The firm has also begun the design of The Falls at Black Creek, a new 18 in Forestburgh, N.Y., where the rustic course is sited among ledge outcrops, wooded slopes and a mountain stream.
Mungeam may be best known for his sensitive renovation of Olympia Fields in preparation for both the 1997 U.S. Senior Open and the 2003 U.S. Open. But the architect's original design work is equally admired. His early design of Shaker Hills Golf Club in Harvard, Mass., was selected the second Best New Public Course by Golf Digest in 1992. Other notable Mungeam designs include Cyprian Keyes Golf Club, Boylston, Mass., (another Golf Digest Best New Public Course selection); Owls Nest Golf Club, Campton, N.H.; Charleston Springs Golf Course (36-holes) in Monmouth County, N.J.; The Links at Hiawatha Landing near Binghamton, N.Y.; LeBaron Hills Country Club in Lakeville, Mass.; and the recently opened and acclaimed Golf Club at Oxford Greens in Oxford, Conn.
Mungeam also helped prepare The Broadmoor in Colorado Springs for the 1995 U.S. Women's Open. Other renovations include the restoration of Briarwood Country Club, a Colt and Allison design in Deerfield, Ill., and Farm Neck Golf Club on Martha's Vineyard.
Mungeam began working in golf course construction after receiving a Bachelors degree in Civil and Environmental Engineering from Worcester Polytechnic Institute (Massachusetts). He joined Cornish and Silva in 1987, and became a partner/principal in 1995.
Mungeam will remain affiliated with Geoffrey S. Cornish, a renowned golf architect and historian. Now primarily retired from course design, Cornish began his career in 1935, when hired by Canadian architect Stanley Thompson to evaluate soils during the construction of Capilano Golf Club outside Vancouver, B.C. After serving in the Royal Canadian Army's famed Hastings & Prince Edward Regiment in Europe during World War II, Cornish settled in Amherst, Mass., where he taught at the University of Massachusetts and began a practice in golf course design.
With more than 230 original designs to his credit, Cornish planned more courses in New England than any architect in history. He continues to write and teach, having published numerous books, including the widely read "Bible" of course designers, "The Architects of Golf," which he co-authored with Ron Whitten, golf architecture editor at Golf Digest. Cornish is the recipient of numerous awards, including the Donald Ross Award from the ASGCA (1982), the Distinguished Service Award from the Golf Course Superintendents Association (1981), an honorary doctorate from the University of Massachusetts (1987) and induction in the Canadian Golf Hall of Fame (1995).

Mungeam and Cornish are assisted by Timothy Gerrish, RLA, who began working with Cornish more than 10 years ago while doing postgraduate studies in Landscape Architecture at the University of Massachusetts. Gerrish has played a key role in most new course and renovation projects through project coordination, attendance at permitting meetings and preparation of construction documents. Indeed, Gerrish was lead designer at Butter Brook GC.

For more information, contact the firm at 508/278-3407 or visit www.mcgolfdesign.com.