'My Golfing Day with Dad' by Carol Abbott
By: Nancy Berkley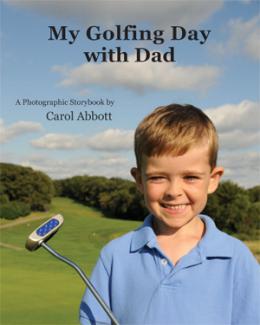 This new children's book is a perfect Father's Day gift. But, if you miss this Sunday's deadline, buy it anyway. And tell your pro shop to have some in stock.
The 30-pager is a photographic storybook about 6-year-old, Grant Abbott, and his father, Mike, as they share their first round of golf together. It is composed primarily of large, color photographs taken by Carol Abbott, Grant's mom and Mike's wife. Carol also wrote the short, perky text.
The story about how this book came to be is a story in and of itself and reflects how today's families are discovering the values of the game.
I spoke with Carol about it. She told me she had always been interested in photography, although her current day job is as the office manager for her husband's trucking business in Omaha. But about four years ago, her husband introduced her to golf - having learned it himself years as a young caddie at Omaha Country Club.
Carol told me that she quickly fell in love with the game. At about the same time, the family moved to Plattsmouth, a suburb of Omaha, and purchased a home on Bay Hills Golf Course, a fine public facility. (The photos in the book were taken on that course.)
As a young mom Carol joined the ladies league to play nine holes every couple of weeks. I continually preach to the industry about the importance of offering good nine-hole opportunities for busy moms. Case made!
Then, as Carol continued, she looked around for books about golf for young Grant. Nothing really pleased her so she decided to combine her love of golf with a growing interest in photography. She wanted to catch the spirit of the game and the sense of family time. In fact, she told me she specifically opted not to write educational text. You will not find an explanation of what a "hole" is or a "flagstick." I love that about the book.
This is a book to be read by adults who love the game and can educate in their own personal style. A 3-year-old might just enjoy the photos of Grant having fun on the course with his dad and that may be all they talk about.
But the photographs provide an opportunity for older children to hear their parents explain why golfers wear golf shoes or what a power cart is. (There is a particularly nice photo of Mike and Grant heading off on the course in their cart.) My hat is off to the folks at Bay Hills, which allows responsible parents like Mike Abbott to take well-behaved children in a cart out on the course. After all, it's on the course that love affair with the game begins.

The book has a sense of humor with text such as: "Dad, isn't the fairway where it should land? Uh-oh, look over there. Your ball's in the sand." There's a wonderful action photo of dad hitting out of the bunker. The final photograph in the book is a heartwarming hug between dad and son at the end of their round.

I asked Carol, "What's next?" I loved her answer. She's going to do a mom-and-daughter photo book. And she's planning a line of greeting cards with a golf-photo theme.

"My Golfing Day with Dad," by Carol Abbott, Abbott Golf, $18.95. To order, visit http://www.abbottgolf.com/about.html. It's also available through www.amazon.com.

A reminder that July is Family Golf Month, sponsored by the PGA of America along with many other industry associations. Golf courses will be offering special programs for junior golfers and their families. For more information, visit www.playgolfamerica.com.
Nancy Berkley, President of Berkley Golf Consulting, is a regular contributor to Cybergolf. She's an expert on women's golf. Her book, "Women Welcome Here! A Guide to Growing Women's Golf," published by the National Golf Foundation, is an industry reference on marketing golf to women. She is a resource for golf-industry trends and marketing advice on her website www.nancyberkley.com. In 2008, she chaired a panel at the World Scientific Congress of Golf in Phoenix, Ariz., and was a guest speaker at the Northern California Business Women's Conference held at Poppyridge Golf Course in Livermore, Calif. Nancy also consults with golf facilities and product manufacturers. She was a contributing editor of Golf for Women magazine and is the Chair of the Advisory Board of Golfer Girl Magazine where she also writes a series about careers in the golf industry. Her articles also appear on www.ladiesgolfjourney.com. Nancy provides a Free Help Line on her website for those seeking marketing advice in the golf industry.