Myrtle Beach, Mystical Style
by Steve Donahue

Until last October, I had never stepped foot in Myrtle Beach, S.C. That folks is an embarrassing admission from a diehard, well-traveled golfer with nearly 800 courses in 50 states and 10 countries under his belt. While I'm pretty sure I had been the only golfer in North America - perhaps on earth - to have never previously teed it up in the public golf capital of the world, it sure was worth the wait.
The Wizard Course
Yes, Myrtle Beach definitely must be seen to be believed.

It only took five minutes on Highway 17 - the 100-mile-long Grand Strand's main drag - for me to see why more than 3.1 million rounds are played on Myrtle Beach's 102 golf courses. The region is truly a kid-in-the-candy-store experience for traveling golfers who crave endless golf options, and countless après-golf activities, including restaurants and bars for every budget and taste.

It also helps that Myrtle Beach is perhaps the world's most accessible public-course mecca, as Myrtle Beach International Airport has nonstop flights on nine airlines from nearly three dozen U.S. cities.

I was part of a seven-person group (not surprisingly, I was the lone Myrtle Beach virgin) sampling the Grand Strand experience in four days, focusing on three highly acclaimed courses with distinct personalities, all owned and operated by Mystical Golf - The Witch, Man O' War and The Wizard.

We quickly discovered why Mystical Golf's trio makes for the fine "golf buddy" package destination. Mystical Golf partners with Oceana Resorts to create stay-and-play packages for all seasons thanks to the three unique and thought-provoking courses, accommodations and gracious Southern hospitality.
Oceana Resorts' Patricia Grand Resort Hotel was our home for the trip and couldn't be more convenient for traveling golfers. First, it's right on the beach, with Atlantic Ocean views from every room. Second, it's just 10 minutes from the airport. Third, it's also close to world-class golf, dining and things to do, including Broadway at the Beach, NASCAR Speed Park, the Convention Center, Coastal Grand Mall and Tanger Outlets. And the hotel's own restaurant, Grand Central Station, is outstanding.

Several veteran Myrtle Beach visitors had told me over the years that after a few vacations it's hard to differentiate between the area's courses. Well, you'll never confuse The Witch, Man O' War and The Wizard - all designed by Dan Maples, a veteran course architect who turned Mystical Golf President/CEO Claude Pardue's dream of three outstanding, totally distinct courses into reality. Golf Digest rates each from 4 to 4 ½ stars and Golf Magazine named them "The Best Value in America."

Pardue, an astute businessman and marketer, even personally designed each clubhouse to have its own personality, including medieval castle ruins at The Wizard and a low-slung, timbered clubhouse built on stilts over water at Man O' War, appropriate since water factors into 16 holes. Even each course's tee markers are unique. For instance, The Witch's tee markers, which resemble pointed witch hats, are actually pointed stumps of cypress trees plucked from the Waccamaw Swamp that spawned the front nine. All three courses also feature well-stocked and themed golf shops as well as fine food and beverage options, full practice facilities and excellent service.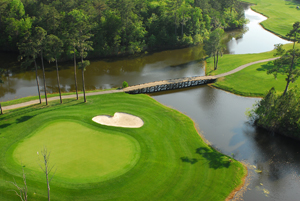 Aerial View of The Witch Course
The Courses

The 6,796-yard, par-71 Witch - often considered Mystical's signature track - was Pardue's first course, opening in 1989. Pardue and Maples spent many hours dodging alligators, snakes and black bears in an attempt to find the perfect collection of holes that transformed a useless swamp into the spectacular front nine. Those holes wind spookily - OK, mystically - through 500 acres of cypress groves and wetlands. Holes separated by deep swaths of forest give the sense that you're the only group on the course. More than 4,000 feet of wooden bridges snake through the swamp, and rolling hills add to The Witch's mystique.

Pardue opened Wizard and Man O' War - which share a tract of land separated by a 100-acre lake - in 1996. The term "links-style" always has been thrown around recklessly when used to describe virtually treeless parkland courses, but The Wizard truly is reminiscent of a number of British Isles inland links and heathland courses I've played thanks to the layout's mound-framed fairways, deep bunkers and winding, burn-like ditches. Throw in the arched-stone bridges reminiscent of St. Andrews' Old Course's Swilken Bridge and the howling wind - not to mention a 15-minute rainstorm - and we enjoyed a pretty authentic links-style experience on the 6,721-yard, par-71 gem.
Many consider Man O' War Mystical's most-challenging course. Not only does water factor into 16 holes, but the 6,967-yard, par-72 layout is the longest of the trio. And when the wind is roaring as it did during our round, hitting the true-rolling, lightning-fast greens in regulation is a real challenge. Like its sister tracks, Man O' War's holes are strong throughout, with three holes particularly memorable. The fairway and green at the 433-yard, par-4 ninth - which played dead into the gale for us - are essentially one island surrounded by water, making accuracy mandatory. And here you'll face rare back-to-back holes with island greens - the 382-yard 14th and 173-yard 15th.

While I absolutely loved all three Mystical Golf courses, The Wizard was my favorite. In fact, each layout received multiple votes when a pleased Pardue asked everyone in our group which course was their pick.
Myrtle Beach is also second to none when it comes to post-round activities, for every palate and budget. Our group enjoyed dinners at restaurants both upscale and laid-back. Greg Norman's Australian Grille, a popular fine-dining establishment at Barefoot Landing Golf Resort, features outstanding seafood, steak and poultry dishes, plus a wide selection of wines, including the Shark's own label.

On the southern end of the Grand Strand we all loved the Murrells Inlet Marsh Walk, a half-mile stretch of seven dining-and-entertainment establishments on the waterfront. Menus range from fresh seafood to wood-fire grilled steaks, not to mention countless beer options, all served in a laidback atmosphere. We would eat our meal at one restaurant and then walk to a few other places for post-dinner refreshments.
While stay-and-play packages are Myrtle Beach's bread and butter, it's tough to beat the packages provided by Mystical Golf, which is offering the "Anderson Ocean Club Mystical Special" stay-and-play package through Sept. 7, 2011, for as low as $184 person in a shared suite. The package includes three rounds of golf (one per course); three nights' accommodations at Oceana Resorts' Anderson Ocean Club in two-bedroom suites with complimentary high-speed Internet access and furnished private balconies; lunch at each course, each day; daily breakfast at the Grand Central Station; and an "Instant Replay" round for cart fee only ($23). Rates vary by date, and cart fees aren't included and will be added during the booking process.

"We continue to offer guests unsurpassed value with our Myrtle Beach stay-and-play packages," Pardue says. "With three courses providing country-club conditions at public course prices and the comfortable Anderson Ocean Club accommodations right on the Grand Stand, we're the 'best bang for your buck' in golf travel."

For more information on Mystical Golf or the Anderson Ocean Club Mystical Special stay-and-play package, call 843/282-2977 or visit www.mysticalgolf.com.