Nakoma Resort & Spa Unveils Villas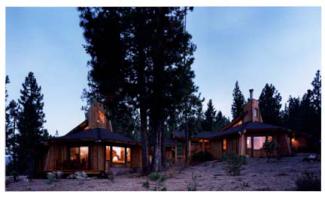 Nakoma Resort & Spa at Gold Mountain, Calif., – home of legendary architect Frank Lloyd Wright's Nakoma, a 24,000-square-foot clubhouse design – recently announced a "Villas Preview Program." Through the program, couples may preview the Wright-inspired Villas and enjoy the resort's Day Spa, the championship-caliber "Send Me Your Heroes" Dragon Golf Course, and "One-World Cuisine" in the restaurant.
Recently featured in Architectural Digest and on The Golf Channel, Nakoma was designed in 1924 but never built until the owners of Gold Mountain collaborated with Taliesin Architects, Inc. – the Arizona-based extension of Frank Lloyd Wright's architecturural practice – to bring the building to life.
The Villas of Gold Mountain are located within walking distance of Nakoma and the Dragon. Each of the villas – Mountain, Tower and Butterfly – feature interiors appointed with stone, wood and natural materials in line with Wright's "organic" architecture.
Couples who book a tour of the villas receive lunch or breakfast in the Nakoma Wigwam Room and either a spa treatment or round of golf at The Dragon. The program also includes an overnight option at a fraction of the customary prices.
Each villa offers bedding, nightly turn-down service, in-room spa service, gourmet meals delivered, rose petal baths, large jacuzzi bathtubs, walk-in shower, televisions, DVD, CD, security safe, FAX, computer terminal and other amenities.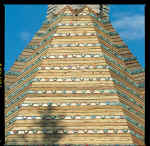 Located about an hour west of Reno, Nev., Nakoma perches on the hillside that overlooks Gold Mountain. Its five teepee-like spires – with a central spire soaring 60 feet – adds a notable presence to the resort. For more information about the villas preview program, call 800/446-5368.
About Gold Mountain
Gold Mountain is a master-planned community that offers wooded homesites with panoramic views of the Sierra Nevadas, the Mohawk Valley, meadows, river and pristine recreational space. The development was planned by Scottsdale-based Taliesin Architects, the continuation of Frank Lloyd Wright's architectural practice established in 1893.
Gold Mountain's Nakoma clubhouse was designed by Wright in 1924 for a country club in Wisconsin. But it was never built until Gold Mountain owners Peggy and Dariel Garner brought it to life. It is a magnificent example of Wright's genius and is open to the public for casual gourmet dining. Breakfast, lunch and dinner are served daily, year-round. In addition to homes designed by Taliesin Architects, the resort offers luxury rental and fractional ownership villas, an outstanding wine collection, cultural arts and nature programs, comprehensive spa offerings, and more. For more information, call 800/446-5368 or visit www.nakomaresort.com.
About The Dragon

Designed by award-winning golf course architect Robin Nelson – with contributions from LPGA Hall of Fame member Patty Sheehan, The Dragon is as scenic as it is challenging. The course contains 84 bunkers, 120 feet of elevation change, and six sets of tees ranging in length from 7,077 to 4,611 yards. The Audubon Signature Sanctuary course swerves up, down and around the natural features of Gold Mountain, and golfers are often easily distracted by views of nearby pine- and snow- covered peaks. For more information or a tee time, call 800/368-7786.