Nantucket - Still a Special Place
By: Elisa Gaudet
It is not down in any map; true places never are - Herman Melville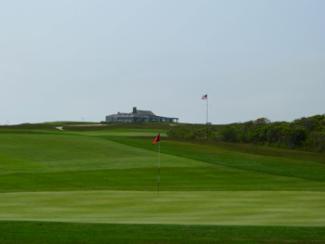 Sankaty Head Golf Club
Still unspoiled in many ways, Nantucket is a special place where you can ride a bike for miles without seeing another person and the only sounds you hear are the clicks of the wicker basket on the front of the bike and the wind in your ears. It also makes for the most interesting "Two Good Rounds" given the incredible golf courses for a small island, and Cisco Brewers, which originally started out as America's only outdoor brewery.

By far one of the most beautiful courses I have ever seen is Sankaty Head. You will have to use a lifeline to play this very private club, but should you have the good fortune to step into the clubhouse - which dates back to 1923 - you will have one of the most spectacular panoramas on the Atlantic Seaboard.

Designed by Emerson Armstrong and opened in 1923, the links-style course is perched on the edge of Nantucket Island in Siasconset. The famous Sankaty Head Lighthouse, which serves as the club's logo, has stood on a bluff on the southeastern side of Nantucket Island since 1849 and looms over the front nine.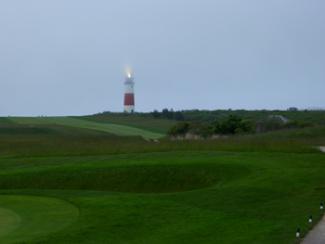 Sankaty Head Lighthouse
Another special place, Nantucket Golf Club, is the most recent addition, opening in 1998. This 18-hole, par-72 layout is a Rees Jones design built on a 250 acres of rolling terrain that was part of Levi Coffin's former farm. Located not far from Sankaty Head GC, the founders created a private golfing experience perhaps due to the long waiting list for membership at Sankaty Head.

Another gem is Miacomet Golf Course, Nantucket Island's only 18-hole public facility. Situated a mile from the ocean and three miles from town., the course is owned by the Nantucket Island Land Bank and was named after an area of the island once inhabited by Native Americans referred to as "Miacomet" or "the meeting place." Opened in 1963, Miacomet is revered by the island's year-round population.

Sconset Golf Club, known as "Skinners," opened in 1894 and is Nantucket's first golf course. It's now a nine-hole public venue; the current clubhouse is the old farmhouse, and the original barn serves as a constant reminder of property's history.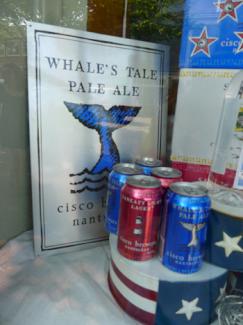 Cisco's Whale Tail Ale
A trip to Nantucket Island would not be complete without a visit to Cisco Brewers. The self-proclaimed "alcohol amusement park" contains a distillery, winery and brewery. All three are on the same property; a courtyard serves as social center and libation-tasting is often accompanied by live music.

The brewery is best known for its Whale Tail Pale Ale, an English style lager. The brewery's flagship beer is named in honor of Nantucket's whaling history. Sankaty Light Lager is named after the lighthouse. The distillery is best-known for Triple Eight Vodka, which is made from organically grown corn and is triple-distilled and blended with ultra-pure, sand-filtered island water from Well No. 888, hence the name.

Bourbon, rum and gin are also produced here. While the grapes are imported - given the difficulty to grow grapes on Nantucket - the rest of the wine process is done on-site. The winery produces chardonnay, pinot gris, sparkling rose and port. For more information, visit www.ciscobrewers.com.
At sea a fellow comes out. Salt water is like wine, in that respect - Herman Melville
Elisa Gaudet brings a wealth of entertainment and golf experience to Cybergolf. Elisa has spent the past several years in the golf industry in the U.S., Latin America and Spain. She worked for the PGA Tour and the Tour de las Americas before founding Executive Golf International, a golf marketing company that works with clients to develop strategies using golf as the medium. Often referred to as the Maria Bartiromo (a business analyst for CNBC) of golf, Elisa says: "Golf, as a marketing tool, has been around for years. It's amazing how many new ways companies can align their brand with the golf market to reach their target audience. Our goal is to create alliances and establish cross-border relations." Elisa also worked in the entertainment industry for over 10 years, including five in Los Angeles as a model and actress. She can be seen at many celebrity golf events and often gets the inside scoop from PGA Tour players. In 2011, Elisa published her first book, "Two Good Rounds" (Skyhorse Publishing). Her story for Cybergolf, "Golf a Romantic Affair at Cabin Bluff," won the top prize in ING's 2012 Travel Writing category. For more information about Elisa, visit her websites at www.onthelip.com or Executive Golf International www.execgolfintl.com.