Nature a Hallmark at Lake of Isles
By: Rob Duca
Lake of Isles is approximately a two-hour drive from Cape Cod and only minutes from Foxwoods Resort Casino. But it feels like you're in a landscape of unspoiled isolation, encircled by trees as you stroll along the rolling fairways on a dramatic and impeccably maintained golf course.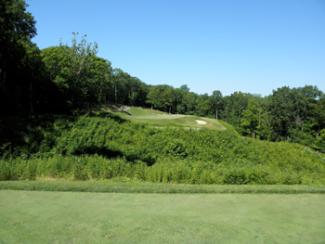 4th Hole at Lake of Isles
Located in North Stonington, Conn., this Rees Jones-designed layout is truly championship caliber, with exceptional bunkering, thick rough, undulating greens and magnificent elevation changes that provide dazzling panoramas.

The public North Course opened in 2005 and was immediately showered with praise as one of the finest in the Nutmeg State. Owned by the Mashantucket Pequot Tribal Nation, it's laid out on 900 wooded acres, with virtually every hole its own private hideaway.

Even the process of journeying from hole to hole is a ride through the great outdoors, with cart paths taking golfers on long and winding excursions through the woods and across a series of bridges built over 90-acre Lake of Isles. Playing this course feels like a combination golf/nature experience, where spotting a deer lounging alongside a green is hardly rare.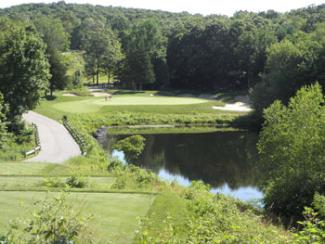 No. 3 at Lake of Isles
During a recent visit I stayed at the MGM Grand at Foxwoods, where from my hotel room window on the 30th floor I saw nothing but woods for miles and a tantalizing glimpse of the golf course in the distance. It would be difficult to find two more extreme atmospheres than Foxwoods and Lake of Isles. It's a bit like going from midtown Manhattan to the Black Hills of South Dakota - in five minutes.

You leave your hotel room, walk past the endlessly ringing bells and whistles of the casino's slot machines, and suddenly you're in a peaceful setting that blends seamlessly with its natural surroundings.

The North Course at Lake of Isles has five tiers of tee boxes on every hole, and be forewarned that it's essential to select the one that suits your game. The tips are set back at 7,252 yards, while the golds are no bargain at 6,717.
At some courses, shorter hitters can push the envelope and play from a longer distance. Not here. Many holes demand carries over hazards to reach the fairway, and if you're not realistic about how far you can hit your tee shots, you'll be taking a succession of penalty strokes and digging again and again into your ball pocket.

I played from the silver markers (6,304 yards) and it provided more than enough challenge. The theme of Jones's design is evident from the opening hole, a par-5 with an elevated tee, a forced carry over a hazard, and an approach to an uphill, well-bunkered green.

A majority of the holes begin at raised tees - some so high that they offer spectacular views over the tree line to other holes. Hazards in the form of waste areas or water must be carried off the tee on nine holes, while a deep ravine lurks on the approach at the par-5 15th.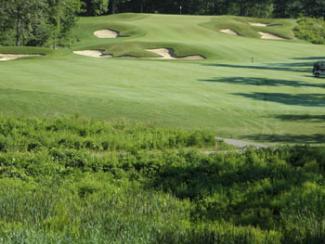 2nd Hole at Lake of Isles
Sixty-nine bunkers enter play, many of which I had the unpleasant experience of visiting. This isn't an easy golf course, but it's a fair one. Fairways are relatively wide and you won't be tormented by quirky bounces. Solid shots will be rewarded. And no holes are alike. There are right and left doglegs, along with approaches to some greens that are elevated and others set in a valley. Literally, I used every club in my bag.

The most memorable hole is the par-3 11th, which plays over water off a heightened tee, with views of two wooden bridges long and right of the green. The downhill par-3 17th also offers dazzling vistas. Behind the green is a row of trees with the lake in the background.

Regardless of how you score, you'll want to linger afterwards in the rustic clubhouse, which has cedar-shake siding, stone pillars and a spacious porch overlooking the lake. Spend a few moments there, and that incessant casino cacophony becomes a distant memory.

For more information, visit www.lakeofisles.com.
Rob Duca is an award-winning sports columnist who wrote for the Cape Cod Times for 25 years, covering golf, the Boston Red Sox, the Boston Celtics and the Boston Bruins. He is now managing editor of Golf & Leisure Cape Cod magazine and has written for a variety of other publications, including Sports Illustrated, the Boston Globe, Yankee magazine and Cape Cod Life.