Nebraska's Woodland Hills and Highlands GC Examples of Fine Design
By: Steve Habel
There is a movement afoot in golf course design to build tracks that are less punitive and taxing to players and the bottom line. These newer courses are often easier to maintain and more reasonably priced, yet enjoyable for all players while proving a challenge to low-handicappers.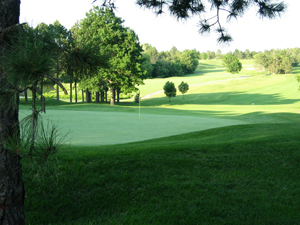 The 15th Hole at Woodland Hills
This thinking is not new. Many golf architects - buoyed by deep, pocketed financing and a lust to build courses that won awards rather than a loyal following - just lost their way for a while.

But courses can be both, and a pair of prime examples - Woodland Hills Golf Course and Highlands GC in or near Lincoln, Neb. - provides the most bang for the buck while offering true tests. Both courses were fashioned by Arlington, Texas-based Jeffrey D. Brauer, the former president of the American Society of Golf Course Architects and a designer known for getting the most out of the land with whatever budget he's been given.

"Woodland Hills and Highlands GC are affordable and fun, which seems to be what golf really needs right now, and for most of us, always did," Brauer said. "I took my public golf days as a kid and tried hard to give a reasonable facsimile of a country club experience at the two courses."
Woodland Hills opened in 1991 at a time when higher-end public courses were becoming the norm despite a push by Golf Digest and the ASGCA to build more affordable "million-dollar golf courses."

"Woodland Hills is an exemplar of that movement," Brauer said. "It really cost $1.2 million to build, but we came really close to the target and produced a memorable course."

Teeing it up at Woodland Hills - located in Eagle, Neb., about 15 minutes east of Lincoln - and city-owned Highlands GC in Lincoln's northwest corner by the airport provides proof of public golf done great, an area where Brauer continues to excel and from which other designers could take a lesson or two.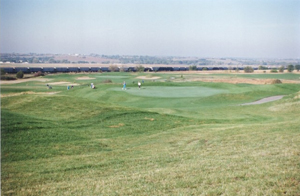 The 2nd Green at Highlands
Highlands Golf Course

Opened in 1993, Highlands spreads across sweeping, rolling terrain that makes the course both a pleasure and a challenge. Varying wind conditions add to the test, which plays to a par of 72 and at 7,021 from the tips. The links-style layout is great for beginners as well for the low-handicapper, as its large greens and forgiving terrain encourages an enjoyable outing.

Carrying a rating of 73.8 and a slope of 128 from the tips, Highlands has fairways that are open but lined with a cut of rough and tall, native grasses. The putting surfaces are large, undulating and amply guarded by traps. In addition, a lake affects play on Nos. 9 and 18, and the 326-yard par-4 seventh features the largest bunker in Nebraska.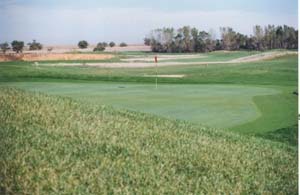 Highlands' 15th Green
Because Highlands was built on rolling hills, you can expect some uneven lies. "Highlands has a lot of my favorite hole concepts, from the similar water carries on nine and 18 to the drivable par-4 on hole seven," Brauer said. "I also think Nos. 1 and 10 are both great starters and love the dogleg-left fifth hole with its big church-pew bunker on the outside of the dogleg."

The best stretch at Highlands is found on the inward nine, starting with the short (367-yard) par-4 13th and ending with the ultra-demanding 476-yard par-4 16th. In between are found the often wind-swept 240-yard par-3 14th and uphill 414-yard 15th.

Rated by Golf Digest as the fourth-best public course in Nebraska in 1996, Highlands is an excellent municipal venue that has garnered awards for water conservation, being ahead of its time by using native grasses to reduce turf. Regional tournaments on the course have been very well received by better "sticks."

For more details, visit www.highlandsgolfcourse.net.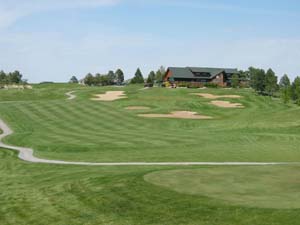 The Ninth Hole at Woodland Hills
Woodland Hills: A Piece of Carolina amid the Cornfields

There is nothing flat and wide open about Brauer's work at Woodland Hills, which has been recognized as one of the Nebraska's most scenic and toughest layouts. It's a championship routing in a setting that is reminiscent of the Carolinas. It's also a course that can be both friendly and punishing, requiring players to think their way around and putt well.

Length is not a consideration at Woodland Hills as the par-71 course stretches 6,592 yards from the tips, where it's rated 72.9 and sloped at 132.

In addition to 37 well-placed bunkers, it contains five holes requiring extensive water carries from the tee and on approach shots. Sporting wall-to-wall bentgrass, Woodland Hills was built on a former tree farm, meaning you'll find a wide assortment of full-grown arboreal species and plenty of undergrowth. More than 10 acres of wildflowers and grasses enhance the track's beauty.

The fairways are contoured and rolling, while the greens are sloped and lightning-quick, especially when putting from above the cup. Three of the two-shot holes at Woodland Hills (the 392-yard uphill opener, 378-yard downhill fifth, and 435-yard eighth) have been listed among Nebraska's best. On No. 8, after carrying the water off the tee, players face a long, uphill second shot to a target guarded by bunkers along the right.

The ninth provides the opportunity to knock off a stroke if you can find reach the green and stop close to the pin. A wonderful risk/reward par-4 of only 266 yards, you can drive the green, but any error will put you in a world of hurt thanks to five bunkers and ball-careening mounds around the putting surface.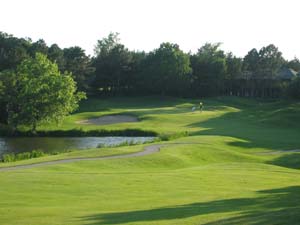 Woodland Hills GC in Eagle, Nebraska
At just 370 yards, the 13th is a short but treacherous par-4. Make sure to check the yardage to the end of the fairway before teeing off as drives that go too far will end up in a hazard. With trees along both sides of this fairway, the hole forces you to play prudently and take your chances on the Woodland Hills' most radical green.

Next up is the demanding, 437-yard, par-4 14th. There's water to be carried with the drive, and the narrow fairway runs between the lake and pines on the right to a green guarded left by a bunker. It's even tougher when played into a facing wind.

Woodland Hills will be the site of the Nebraska Golf Association's Senior Amateur Championship in 2011. Since 1994, it has been the host course for the Nebraska Section's PGA Tournament.

As Nebraska's only five-star rated course by Golf Digest, Woodland Hills guides players through native pines, wetlands and offers a great deal of variety. That's what I call great golf design.

For more information or a tee time, visit www.woodlandhillsgolf.com.
Steve Habel is one of Cybergolf's national correspondents, contributing news stories, features, equipment and book reviews and personality profiles from his base in Central Texas. He is also the managing editor for Texas CEO Magazine and works as a contributing editor for Horns Illustrated magazine, a publication focusing on University of Texas sports. He also writes a blog (www.shotoverthegreen.blogspot.com), which features news on golf and the Longhorns, and another (www.checkinginandplayingthrough.blogspot.com) on his many travels, which took him across the nation and to 105 different golf course in 2009. Habel is a member of the Golf Writers Association of America and the Texas Golf Writers Association.