Neighboring Courses in Bay Harbor Make Petoskey a Must-Play in Michigan
By: Steve Habel
Two neighboring courses with distinctively different personalities have set the table for memorable golf in Petoskey, a city of less than 6,000 in Emmet County, the northernmost county in Michigan's Lower Peninsula.

Lake Michigan is Always a Striking Factor at Bay Harbor
One of the layouts, the "must-play-to-believe" Bay Harbor Golf Club fashioned by golf architect Arthur Hills, has been compared to Pebble Beach because of its proximity to Lake Michigan and Little Traverse Bay on a handful of holes on the Links nine.

The other course - Crooked Tree Golf Club - is forested and has been greatly improved thanks to a recent remodel of its closing stretch by Hills. Both courses are members of the Boyne family of resorts, which offers splendid, varied golf experiences on 11 courses on three separate facilities.

Bay Harbor is Incomparable

Bay Harbor Golf Club showcases three distinct nines. The Links stretches along the rocky coastline for more than a mile, with six of its holes perched 140 feet above the Lake Michigan shoreline. The Quarry is situated atop an old abandoned shale-mining site and is considered by some to be one of the most visually stunning layouts in Michigan and perhaps the entire Midwest. And the Preserve is more like other northern Michigan courses, winding through hardwoods, containing topographic variety and boasting a dramatic finish alongside Lake Michigan.

In the late 19th century, a limestone quarry was opened on property that is now Bay Harbor. Around 1917, Petoskey Portland Cement incorporated with the purpose of manufacturing cement and, for more than 80 years, Petoskey Portland and its later holding-company owner, Penn Dixie, provided jobs for hundreds of local workers.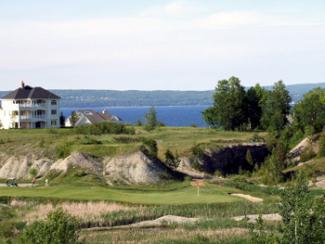 The Quarry Course at Bay Harbor GC
Mining operations and a massive cement plant operated on over 1,200 acres and five miles of Lake Michigan shoreline at Little Traverse Bay. The plant ceased operations in the 1980s and was eventually abandoned, leaving a brownfield landscape of chromium brick, asbestos, coal and 2.5 million cubic yards of kiln dust.

In 1993, several groups joined together to undertake what would become the largest reclamation project in North America. In 1994, simultaneous explosions demolished the cement plant smokestacks. Eight months later, the barrier between Bay Harbor and Little Traverse Bay was removed and water rushed in to form Bay Harbor Lake.

Arthur Hills arrayed the 27 holes along the lake's bluffs, through a rock quarry and, finally, within a forest. When it opened in 1998, Bay Harbor GC was touted as one of America's top layouts and the best course ever designed by the prolific and talented Hills.

The Links plays 3,432 yards from the tips and mostly hugs the coastline to provide players dramatic views of the bay and lake. Its fairways are very generous, but they're also lined with long, native grasses and the bunkers can be penal.

The water views hit players right in the face on the elevated second tee, the start of a downhill, 437-yard par-4. Risk for reward is on tap at the 380-yard par-4 third, which demands a 225-yard carry or a lay-up to a top fairway shelf for a longer and more difficult approach over a huge bunker to a raised green.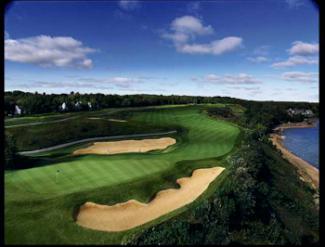 Bay Harbor's Links Course
The 178-yard par-3 fourth drops 50 feet and occupies a point above the lake, just below the elegant Inn at Bay Harbor. Play returns to the coastline at the 500-yard par-5 seventh, where the fairway meanders right and then left along cliffs 150 feet above the water. The 225-yard, downhill par-3 eighth is just as thrilling, and the Links nine ends with the difficult 518-yard ninth, which has wetlands running the length of the right flank and a hidden greens complex beyond one of the mounds Hills employs so well.

As good as the Links nine is the Quarry might be even better. Despite playing at just 3,395 yards, Quarry is the toughest of the three sides, with 40-foot-high rock walls bordering its lush fairways. Eight tee shots and six of the nine approaches involve forced carries, with some of considerable distance.

Quarry's real challenge begins at the 561-yard third, which brings the rock field into play for the first time. A large waste area along the left will catch feeble lay-ups, and the approach must be arced over a quarry to find the putting surface below.

Hills' Work at Bay Harbor's Quarry Course is Stunning
The 495-yard par-5 fifth is every bit the test of the previous three-shotter. Prevailing winds usually make it easy to carry a pond off the tee, and many players will hit short on their second shot to avoid water guarding the green, which sits in the shadows of a 40-foot rock wall and a natural waterfall.

Don't let the wimpy yardage of the 332-yard sixth fool you. If one's drive to a skinny landing zone isn't precise, the second shot to a peninsula green surrounded by wetlands will be doubly difficult.

As if the 190-yard carry from the blue tees wasn't enough, Hills put a bunker smack dab in the middle of the fairway on the 406-yard par-4 seventh. No. 8, a 205-yard one-shotter, plays downhill to a green engirded by Lake Michigan.

The 391-yard par-4 ninth runs along the cliffs above the lake and plummets roughly some 40 feet from the fairway to the green at the 120-yard mark. It's a stunning finish to a jaw-dropping nine holes of golf.
The Preserve is a more traditional layout for this area as it is etched into woodlands. It's a great combination of long and short par-4s, and Hills used considerable mounding to add character to the flat site, keep wayward shots in play and create a few blind shots.

The seventh, which shares a double-green with No. 2, is guarded in front by a huge mound. Bay Harbor calls this fairway "one of the largest" in golf, but it's only so because it combines with a large chunk of the third hole.

The Preserve's best test might be the second, a pulse-raising 341-yard par-4 that demands two carries over a swamp. The 577-yard par-5 fourth is just plain difficult as one must choose a side of the split fairway and then play across a swamp to the green. The 186-yard par-3 ninth returns to the coast, with Lake Michigan as the backdrop.

While the Preserve doesn't get the publicity of its sister nines, its certainly up to the standards of the rest of the facility. In all, 19 of Bay Harbor's 27 holes have views of Lake Michigan, helping assure a round of golf that's memorable and visually stunning.

For more information, visit www.bayharborgolf.com.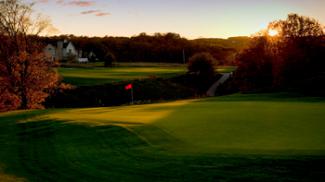 Crooked Tree GC in Petoskey
Traditional Northern Michigan Layout with Panache

Set virtually across the street from Bay Harbor and carved through stands of centuries-old hardwoods, Crooked Tree Golf Club is a more traditional northern Michigan test. Designed by Harry Bowers and opened in 1991, many of the fairways are wood-paneled corridors that demand accuracy and provide beautiful sightlines.

In the middle of the round, the forests give way to open, hilltop plateaus that offer vistas of Little Traverse Bay and Lake Michigan.

Playing 6,712 yards from its back set of five tees, Crooked Tree contains significant elevation change from tee to green. The first four holes all start at heightened tees, with the 426-yard par-4 third and 417-yard par-4 fourth involving carries over marshes to tilted fairways. There's frequently ample landing areas off tees and the greens vary in size and shape, with some double-tiered.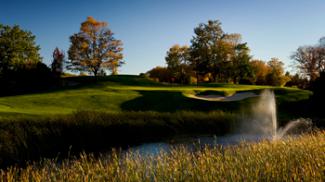 Mounding is Integral to the Design of Crooked Tree GC
The first six holes are surrounded by impressive stands of trees and wetlands, and the 478-yard par-5 ninth ends at a huge double-green. The course is highlighted by five spectacular bluff holes overlooking Lake Michigan.

Over the past year, Hills and his associates have renovated Crooked Tree's final three holes to help make them more playable. The revamped areas debuted in July 2014, and have greatly enhanced the course's overall charm.

The 16th was renovated with a new, smaller green repositioned near a pond. Two sets of tees have been added to the par-5 17th, stretching it to 585 yards, while the fairway has been reworked, a ravine filled in and the putting surface lowered and relocated.

On the par-4 closer, the fairway was shifted to the right. Several original greenside bunkers were reduced in size or taken out completely, and its new, less-undulating green offers more pin placements.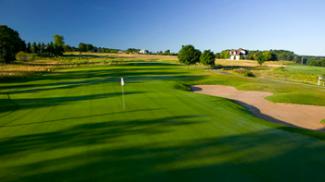 The 180-Yard 15th at Crooked Tree GC
"The reason we felt that we had to do those three holes - they were the weakest holes - was to make the experience better," said Bernie Friedrich, Boyne USA Resorts' senior vice president of golf and retail. "Being (holes) 16, 17 and 18, that left a bad taste in peoples' mouths."
Work on several front-nine holes and the driving range could begin later in 2014.

Together, Bay Harbor and Crooked Tree provide guests at the Inn at Bay Harbor a variety of challenges. Boyne also offers two- and three-bedroom cottages at Crooked Tree for extended stays.

For more information, visit www.boyne.com/bayharbor/golf/courses/crooked-tree-golf-club.
Steve Habel is a freelance writer contributing Cybergolf news stories, features, equipment and book reviews and personality profiles from his base in Austin, Texas. He also works as an associate editor for Horns Illustrated magazine, a publication focusing on University of Texas sports, and is a contributing writer for Texas Golf Insider, Golf Oklahoma magazine, Tri-State Golfer and ATX Man magazine. Habel's blog (www.shotoverthegreen.blogspot.com) features news on golf and chronicles his many travels, including playing almost 1,000 golf courses since 2008. Habel is a member of the Golf Writers Association of America and the Texas Golf Writers Association.