Nerves on Edge, Futures on Line, in Daytona Beach with LPGA Q School
By: Dave Andrews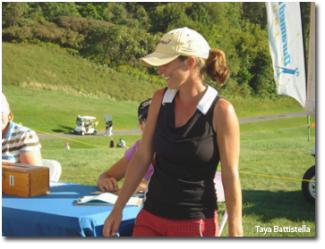 Many have called it the most nerve-wracking week of their professional careers. That pressure-filled, gut-wrenching week is about to get underway in Daytona Beach, Fla. The tension is easy to see on the players' faces as they get to work on the putting greens and the driving range at the 36-hole LPGA International golf complex.
A total of 143 women golfers from around the world will tee it up Wednesday, December 3, in the annual LPGA Q School tournament. How they finish in this five-day endurance test will determine where they will be playing golf in 2009. For some of the older players, it may be their last chance at the gold ring. It may force them to look at the numbers and give up their dream of playing on the LPGA Tour. It could be the last professional event of their lives.
This year there is an extra large contingent of media covering Q School. Michelle Wie is the reason. After years of hype, huge endorsement deals, and sponsors' invitations to play against PGA pros, the teenage phenom, now 19, has apparently decided to go "legit" by trying to earn her way onto the LPGA Tour the way everyone else does. While still a student at Stanford, Wie says she plans to play in several LPGA events in 2009 if she can earn her playing status in Daytona Beach.
This year, the top 20 finishers at the tournament will earn full playing privileges for the LPGA Tour's 2009 season. The LPGA has a new and complicated "playing status" system, with something like 20 different categories determining how players can be eligible for events on the tour's schedule. Category 11 status is what they will all be aiming for this week at LPGA International. The top 20 finishers are guaranteed to play in all of the full-field events on the LPGA schedule. The next 20 finishers will earn conditional playing status. That will get them into some, but not all, of next year's events.
Fifty-five of the players here this week are currently on the LPGA Tour and are trying to improve their playing status for next year after failing to make the top 90 on this year's money list. Wie and the other 87 in the field made it to Daytona through the Tour's two sectional qualifying events in September and October, or by virtue of their finish on the season money list on the Duramed Futures Tour, the LPGA's developmental tour.
Q School is not about making a check. Last year's winner, Jane Park, made only $6,000 with her first-place finish. This event is all about potential earnings and fulfilling a dream. Each player teeing it up this week has dreamed, many as young teenagers, of playing on the LPGA Tour and making a living as a professional golfer. Most have put in years and years of hard work and dedication to get them to this all-important tournament. Failure to get a coveted card will force many of them to re-evaluate their futures. Undoubtedly for some, it will be their last attempt to achieve their dream.
Taya Battistella has dreamed of playing on the LPGA Tour since before she was in high school. Now, the 29-year-old from Bend, Ore., is facing her second shot at Q School in the last three years. She finished far down in the field in 2006. With four years of professional golf under her belt (the last two on the Duramed Futures Tour), she has raised her game to a level where she believes she can compete with the best women golfers in the world.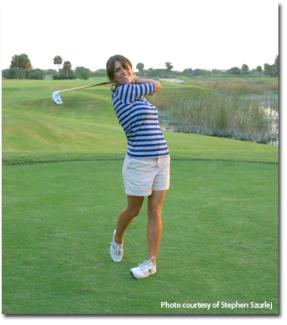 The question facing Battistella and all the players in Daytona Beach is whether they can compete this week. Can they conquer the course as well as the nerves that each of them must now be feeling?
"Yes, I have felt the pressure growing as the tournament gets closer," Battistella said. "You try not to let it get to you, but it's hard not to put pressure on yourself. There's so much riding on this week." Battistella, who now lives in Massachusetts, has spent the last six weeks in Florida working with her swing coach, former PGA Tour player Bob Menne. She played very well in the final events of the 2008 Duramed Futures Tour season, including a third-place finish in the Duramed Invitational in October. She also has four professional tournament victories under her belt. In 2004, while playing on the Orient Masters tour in Asia, she won the Beijing Open in China. She also won an event on the Canadian Women's Tour along with victories in the 2005California Women's Open in and this year's Massachusetts Women's Open.

Like many of the other Q School entrants, Battistella competed in two recent Ladies Suncoast Series tournaments held on the two LPGA International courses (Champions and Legends). The players who entered those "tune-up" events were looking for any edge they could get to save themselves a few shots over the grueling five days of golf that now lies ahead.

One shot can, and likely will, make all the difference to some of the players this week. Last year, Liz Janangelo earned her full LPGA status by sinking a birdie putt on the final hole in the final round of Q School. Her future came down to her very last shot after five days and 90 holes of golf. She knew she had to make that 15-foot putt to earn her tour card. To say she was emotionally drained when the ball dropped in the hole would be an understatement.

Unfortunately for the 25-year-old from West Hartford, Conn., she had to return to Q School again this year after a disappointing LPGA Tour rookie season where she finished 147th on the money list. If Janangelo wants to return to the tour in 2009 she will have to find a way to play as well this week as she did a year ago. If she fails to retain her LPGA card, she will likely return to the Duramed Futures Tour for the upcoming season.

Many women pros have gone up and down a few times between the Futures and LPGA tours. Making cuts and cashing checks is everything in professional golf. This week in Daytona Beach, the magic number is 20. All 143 of the players will be thinking top 20 when they tee it up Wednesday morning.

The stakes are high. The hands will be sweatier and the hearts beating faster. After all, their dreams are on the line.
Dave Andrews is a Harvard-educated former television news reporter. He's also an avid golfer who has become a fan of the Duramed Futures Tour. His home course in Concord, N.H., is annually the site of one of the tour's events. The inspiration for Dave's 2007 novel, "Pops and Sunshine," came from meeting many of the young aspiring women golfers on that tour. Each of them has a passion, dedication and determination that he finds remarkable. His novel is a fictionalization of the dream that these young women share. To order Dave's book, visit http://popsandsunshine.com.