New 36-Hole Semiprivate Club Rising on the Nebraska Prairie
When Paul Schock first laid eyes on Cleve Trimble's 2,500-acre stretch of land situated along the Snake River Canyon in the heart of Nebraska's Sandhills region, a tingle ran up and down his spine and an obsession gripped him almost immediately. Where most people would see rolling hills carpeted in prairie grass and scrub brush, dotted with enormous sand dunes, Schock saw a place where he could completely lose himself in a passion that has engulfed him since he was a young man growing up in South Dakota.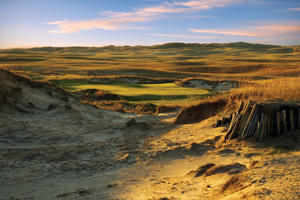 The Dunes Course at the Prairie Club
"The land seemed to be teasing and taunting me," said Schock, a venture capitalist from Sioux Falls, S.D., "daring me to pull out my golf clubs right there and then."

Originally attracted to Trimble's River Ridge Ranch for what Schock heard was some world-class trout fishing, Schock soon became entranced with Trimble's vision for his ranch. Trimble, a retired surgeon, wrestled with his legacy and the future of his land. Having rescued it from heavy grazing, which had eroded the banks along the river, and abhorring the idea of his land becoming another housing development, Trimble, inspired by conservationist Aldo Leopold, considered another low-impact, environmentally-friendly possibility: championship golf courses.

Created over thousands of years and located dead center in the annual migration flight path of the Sandhill Crane, there's a magical quality to Trimble's land that seems to cast a spell over visitors. Over time, Schock became obsessed with Trimble's vision, which matched perfectly with Schock's love for the land and passion for golf. This passion, by the way, had already led Schock to memberships in five other golf clubs and pilgrimages to many of the world's greatest courses.

But there was one more thing that burned deep inside Schock. He envisioned world-class courses that would always welcome those who have the fire to challenge their golfing skills, regardless of income or ability to afford a private membership.

Knowing his land would be in good hands, Trimble decided to sell a significant portion of his beloved ranch to Schock. With Trimble's blessing and encouragement, Schock launched a drive to allow this untouched property to fulfill its purpose and become a renowned golf destination. After purchasing the land from Trimble, Schock bought two adjacent parcels, one from the Sawyer family and the other from the Nebraska Board of Educational Lands and Funds, which brought even more variety to the "golf-ready" landscape.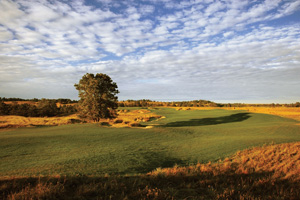 One of the Many Wonderful Holes on Pines at the Prairie Club
The result is the Prairie Club, which will open in May 2010.

Rediscovering the Game

"We want golfers who come to the Prairie Club to rediscover the game in a way that is truly soulful and authentic," said Tyler Swedberg, the general manager who is overseeing the day-to-day development of the project. "Everything the Prairie Club does will be about the golf and touching the soul of the golfer in a way that the Prairie Club can uniquely provide."
Schock and Swedberg readily believe there is a demand for truly exceptional, world-class golf experiences that few properties can provide and are readily available to discerning golfers.

Pilgrimage may be a more apt word, but Schock believes that part of the attraction for guests is the adventure of traveling to a relatively remote, quiet and pristine area. The new club is located about a five-hour drive from a number of major metropolitan areas, and commercial air flights are available through nearby Pierre, S.D., and North Platte, Neb. The nearest town, Valentine, Neb., population 2,650 and about 17 miles to the north of the Prairie Club, was recently voted by National Geographic Adventure magazine as one of the nation's best wilderness towns.

"This place offers you the silence and the stillness to truly concentrate on your game," Schock said. "It's just you, the ball and the prairie. It's as simple and as authentic as that."

When it opens, the Prairie Club will offer two championship-length 18-hole golf courses and a par-3, 10-hole layout. The three courses are situated on 1,260 acres, with room for an additional championship track, which may be built at some point in the future.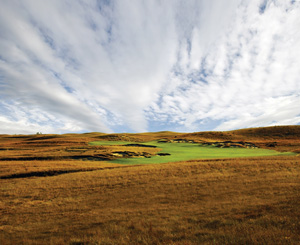 The Pines Course at the Prairie Club
While the land seemed to offer near-perfect fairways and holes, connecting the tees and greens took quite a long time, according to Schock. Even though the topography is simply big and diverse, the Prairie Club offers courses that are walkable and give a golfer a sense of energy while traversing from one hole to the next.

"The slopes are relatively gentle, which will be complemented by both caddies - for those who enjoy walking the golf courses, and golf cars, to provide full access to our golf courses. We'll have wide fairways and our roughs will be wispy, so if a golfer misses a fairway he or she can find his or her ball," said Schock.

The "Dunes" Course is an 18-hole layout designed by the PGA Tour's Tom Lehman and golf course architect Chris Brands. Its six sets of tees range in length from 5,842 to 8,073 yards. Marked by dramatic elevation changes, endless views of the Sandhills in all directions, and immense blow-out bunkers, the course invites players to discover green fairways amidst a wind-torn land and massive rolling seascape of prairie grass. Those accustomed to, or have dreamed of playing a traditional, links-style course on the order of Scotland's Carnoustie, will welcome the experience.

"It took Chris Brands and me more than a year to finalize the routing of the 18 holes that make up the 'Dunes' course," said Lehman. "It was not a matter of finding 18 great holes. There are dozens, maybe hundreds of them. The battle was to overlook that which was extremely good and hold out for those fairways and greens that would be truly epic."
The "Pines" Course, the other 18-hole track, takes advantage of the remnants of a nearby, ancient ponderosa forest along the banks of the Snake River Canyon. This course was designed by Graham Marsh, an internationally renowned touring pro who also is recognized for his 25 years of worldwide golf course design experience including, most recently, South Dakota's acclaimed Sutton Bay.

"Pines" features five sets of tees ranging from 5,329 to 7,528 yards. The prevailing prairie winds are somewhat blocked by the western wall of the canyon and the trees, making the warming sun and the canyon views stunningly beautiful and creating a silent reverie for the golfer.

"I attempted to blend my two favorite forms of golf into the 'Pines' Course," said Marsh, "meshing my love for the Old Course at St. Andrews with the classic tree-lined courses in the sand belt region near Melbourne, Australia, which I played as a young amateur.

"It is my dream that the 'Pines' Course will be viewed as having 18 distinct holes, each with its own character, that seduce and lure players into returning over and over again for the sheer joy of the challenge and the experience."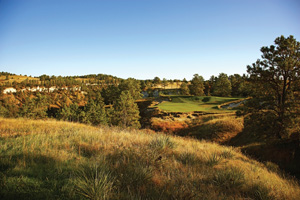 The Horse Course at the Prairie Club
Set apart from the two regulation courses is the wickedly fun "Horse" Course. Located next to the lodge, this 10-hole par-3 takes the game of basketball "Horse" to a new level. There are no tee boxes; the player with the honors calls the spot where the next shot is teed. Set on the rim of the Snake River Canyon, this layout plays from 485 to 1,125 yards, depending on where a player decides to call the tee shot, as the game of "Horse" dictates. Designed by renowned golf course architect Gil Hanse, along with his partners Geoff Shackelford and Jim Wagner, "Horse" is the perfect complement to the putting green complex named "The Himalayas" at St. Andrews.

At the heart of the golf courses is the Prairie Club Lodge, which will offer authentic and relaxed dining, lodging accommodations, a golf shop and more. A short stroll from the lodge will be several four-bedroom cabins offering views of the Snake River Canyon. The Prairie Club also will feature a Learning and Performance Center to help improve the games of members and guests.
Affordable Access to World-Class Golf

The Prairie Club is a semiprivate facility that boasts a wide-open membership philosophy. Since the club and its "prairie golf" experience is all about open spaces, endless blue sky and air so pure your golf ball fairly soars, the founders believe in unbounded spirit and the affordable access.

To that end, the Prairie Club will welcome golfers from all over the world. Each day, one course will be designated for member and public play, while the other will be reserved for members and guests only. The Prairie Club's membership philosophy is best summed up as: if you want to play it, you can; if you want to play regularly, it makes sense to become a member.

"There are plenty of barbed wire fences on the prairie - that's not us," said Schock. "We're about offering anyone the opportunity to experience world-class golf while at the same time creating an affordable membership that allows our members to come play as often as they want."

The Prairie Club
The Prairie Club is currently offering Founding Memberships to those who join the club prior to May 1, 2010. The current Founding Membership deposit is $13,500, which will increase at the discretion of the club prior to its opening next spring. The club will continue to sell memberships after its opening date, with the goal of attracting up to 1,000 total members, according to Swedberg. As of August 2009, 120 founding memberships were purchased.

Founding members will be able to choose which golf course they want to play, and are guaranteed that one of the club's two layouts will be reserved for them and their guests. In addition, founding members will receive a discount on all purchases in the golf shop and restaurant; priority reservations and discounts for lodging accommodations; discounted guest golf fees; a guaranteed position should the Prairie Club become private at some point in the future; and reduced membership fees in future clubs developed by the club's parent company, Destination Golf Ventures. In addition to golf, members will enjoy many other recreational opportunities, including fishing, big-game and bird hunting, and water sports activities.

"Our mission is to touch the soul of the golfer by creating unforgettable memories through a world-class golf experience," Schock said. "This is a place where men and women have always chased their dreams. Buffalo, antelope, summering ponies, vast herds of beef cattle, and now, a little white ball.

"And," he added, "in Cleve Trimble's own words: 'the beauty of this plan [the Prairie Club] is, that if golf should ever cease to be one of man's passions, this land will revert nearly overnight to what it was and suck back into itself any hint, flagsticks included, that we were ever here.'"

Getting There

For those who prefer to travel via private or charter flights, there are two nearby airfields: Miller Field, Valentine's municipal airport, or the municipal airport near Ainsworth, Neb., about 45 miles southeast of Valentine. The runway at Miller Field is 4,700 feet long and 75 feet wide; the runway at Ainsworth is 6,800 feet by 110 feet.

A number of commercial flights are available through Pierre, S.D., which is located 130 miles by ground from Valentine and North Platte, Neb., which is about 130 miles by car from Valentine, Neb. Commercials carriers flying to Pierre include Northwest Airlines (Delta), Frontier and United. Airlines flying into North Platte include Northwest Airlines (Delta), Frontier, United and Midwest Airlines. Some may wish to fly into Sioux Falls, S.D., Rapid City, Omaha or Denver and drive to the Prairie Club.
For motorists, the Prairie Club is 195 miles from Kearney, Neb.; 213 miles from Rapid City, S.D.; 261 miles from Sioux Falls, S.D.; 298 miles from Omaha; 397 miles from Denver; 410 miles from Des Moines, 497 miles from Kansas City; and 515 miles from Minneapolis.

For additional information, visit www.theprairieclub.com or call 888/402-1101.