New Airport Terminal, Roadway Ease Travel to Vietnam Resort
While it remains apart in terms of heritage, beauty and character, Dalat Palace Golf Club has improved its connections with Vietnam's major cities thanks to a new airport terminal and better access roads linking airport and resort.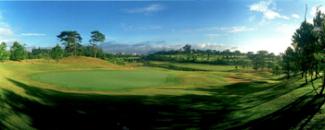 Dalat Palace Golf Club
The storied layout, originally laid out in the 1920s for Bao Dai, the last emperor of Vietnam, and renovated/expanded to 18 holes in 1995, after years of disuse, has long been one of the jewels in the country's golfing crown.

Despite its reputation within Vietnam and regionally, however, the course's location, in splendid isolation amidst rolling pine-clad hills in the former French hill station of Dalat in the Central Highlands, has often counted against it. It wasn't so long ago that flights to the formerly outmoded Lien Khuong Airport were sporadic, while transfer times between the airport and town were adversely affected by the poor condition of the single carriageway road.

With train links nonexistent and bus journey times to the nearest major conurbation, Ho Chi Minh City, clocking in at anything between 6 to 10 hours depending on weather and traffic, visiting Dalat was not an undertaking to be treated lightly.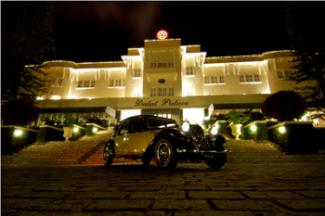 Dalat Palace Hotel
However, the airport underwent major reconstruction in 2009, enabling it to receive international flights. Lien Khuong now boasts numerous daily connections between Vietnam's commercial hub, Ho Chi Minh City, its capital, Hanoi, and its third most-populous city of Danang.

There are five flights per day between Ho Chi Minh City and Dalat (four on national carrier Vietnam Airlines and one on well-respected newcomer Air Mekong) with a flight time of 50 minutes each way. Between Hanoi and Dalat there are two flights a day (one on Vietnam Airlines and one on Air Mekong) with flights taking an hour and 45 minutes. Meanwhile, Danang (home to a pair of first-class golf resorts, Danang Golf Club and The Montgomerie Links) is linked by one Vietnam Airlines flight taking one hour and 20 minutes.

"Getting in and out for a game has never been easier. Gone are the days when Dalat was seen as a bit of a novelty, an outpost," says Lan Duong, Dalat Palace Golf Club's general manager. "That's no longer the case. You can take your clubs to the airport on Friday, enjoy two days of golf at the course and then make it back for work on Monday.
"Not only are the improved links great for those who live in Vietnam, they are also heaven-sent for those enjoying a golf vacation in-country. Golfers can get here easily from the main international gateways of Hanoi and Ho Chi Minh City. What's more, they can move easily between here and other golf destinations.

"Danang, which is a must visit for its two courses, is a short flight away, while the two courses at Mui Ne [the Nick Faldo-designed Ocean Dunes GC layout and the scenic Sea Links G&CC] are just four hours down the hill by road."

Not only do golfers benefit from the increased frequency of flights, they reap the rewards of an improved infrastructure at the Dalat end.

The manageable size of the airport terminal means that baggage claims rarely take much time. Meanwhile, the road between Dalat and the airport has been resurfaced and is now dual carriageway most of the way, meaning that transfers rarely take more than 30 minutes.
Visitors taking advantage of one of the stay-and-play packages run by Dalat Palace Golf Club and its partner hotels the four-star Hotel Dalat Du Parc and the five-star Dalat Palace Hotel are also entitled to free transfers to and from the airport and from their chosen hotel to the golf course.

"If we're not careful Dalat will get a reputation as a destination for lazy golfers," jokes Lan Duong. "Seriously though, the improved links are a God-send for Dalat and it is our responsibility to ensure that things are equally easy for our guests when they get here."
For more information, visit www.dalatpalacegolf.vn.