New Clubhouse at The Duke at Rancho El Dorado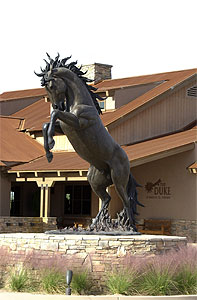 The Duke at Rancho El Dorado opened its new ranch-style clubhouse on September 12, 2003. Consistent with the facility's Western theme, the 6,000-square-foot clubhouse is reminiscent of an Arizona territorial lodge with its warm, comfortable ambiance.
Patrons may first notice the prominent steel roof designed to appear worn and rustic, or maybe they'll note the magnificent stallion sculpture at the front entry. Either way, the clubhouse – designed by DFD CornoyerHedrick – makes a bold first impression.
The interior of the clubhouse is decorated with Western-inspired paintings, horseshoes, branding irons and spurs. "The clubhouse stands as the centerpiece of the wholesome Western feel that is The Duke," said Phil Green, president of OB Sports, the course's operator. "We've created a place that is upscale without being pretentious, and cozy without creating a cramped feel."
The clubhouse contains the Silver Spur Grill, which serves up breakfast, lunch and dinner. An expansive patio overlooks the 18th green to give diners an al fresco option. With the clubhouse, The Duke is ideal for entertaining group golf outings, holiday parties and banquets.
For more information about The Duke at Rancho El Dorado, call 480/844-1100 or visit www.thedukegolf.com.