New Course Opens in Empire State
Seneca Hickory Stick Golf Course in Lewiston, N.Y., opened July 2nd. The course is a development of the Seneca Nation of Indians and Seneca Gaming Corporation. The par-72, which occupies 257 acres, was designed by Robert Trent Jones, Jr.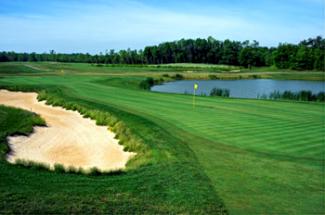 9th Hole at Seneca Hickory Stick
"Today is the dawning of a new era in golf in Western New York and the start of an exciting new venture for Seneca Gaming Corporation," said Kevin W. Seneca, chairman of the Seneca Gaming Corporation. "Seneca Hickory Stick Golf Course will certainly add to the world-class environment that visitors to our Four Diamond-rated Seneca Niagara Casino & Hotel resort currently enjoy and provide travelers another reason to visit Lewiston, the Greater Niagara Region and Western New York."
The track contains various water features and five sets of tees per hole. The bunkers are ringed by tall heather and a double-green is used at the 9th and 18th holes.
"This is truly a people's golf course," said Bruce Charlton, president and chief design officer of RTJ2 Golf Course Architects. "From its public nature to its fair yet challenging layout, Seneca Hickory Stick presents what every golfer is looking for - a memorable golf experience that you will appreciate and want to enjoy more than once."
The project marks the Seneca Nation of Indians' first off-territory development. "The influence of the Seneca Nation of Indians can be seen throughout Western New York, far beyond the borders of our current territories," said Seneca Nation president Barry E. Snyder, Sr.
"Our businesses employ thousands of people from across the region and we do business with many local companies. Our casinos and resorts attract millions of visitors every year. Today, we celebrate the next step in our Nation's journey and look forward to a long and successful endeavor here in Lewiston."
For more information or a tee time, call 716/754-2424 or visit www.senecahickorystick.com.
Since opening Seneca Niagara Casino in 2002, Seneca Gaming Corporation now employs more than 3,500 people at three casinos. Its facilities offer more than 6,500 slot machines, 140 table games, 800 hotel rooms and related amenities. For more information, visit www.senecagamingcorporation.com.