New Energy & New Pizzazz at Carmel Valley Ranch
By: George Fuller
It's got to be a daunting task to stand out as a golf resort when you're a few Bubba Watson drivers away from Pebble Beach and the glories of 17 Mile Drive. But Carmel Valley Ranch does just that. It stands out like a bright yellow sunflower stretching its neck above the green fields, horse farms and rolling hills along Carmel Valley Road, a few miles inland.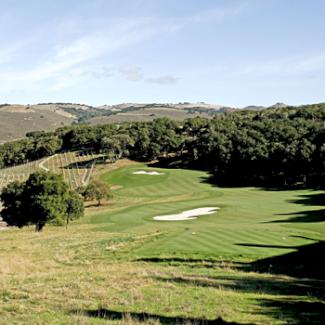 The 11th Hole at Carmel Valley Ranch
The most recent incarnation of the resort - two hours south of San Francisco - doesn't even try to compete with its classic neighbor in fact, but offers a completely different brand of chic family fun (including the pooch!) in a climate frequently much more appealing than on the often-foggy coast.

Originally opened in 1987, the 500-acre resort was "reinvented" in 2010 with a $35 million renovation project under a new ownership group led by John Pritzger (whose family created and still controls Hyatt Hotels) and a new management company, Joie de Vivre Hotels, in which Pritzger is a majority shareholder. The energy and imagination brought by Pritzger and Joie de Vivre has reinvigorated the property and introduced several key components that are sure to make this a coveted destination for years to come.

For starters, the 18-hole, Pete Dye-designed golf course was restored to its original routing, which had been altered - much to Dye's consternation-more than once over the years. Greens were enlarged, tee boxes were augmented and T1 bentgrass was planted throughout. Nowadays, the course is in pristine condition.
Though not the longest nor most difficult layout in the region at par 70 and 6,117 yards (70.1/131 ratings) from the tips, it certainly ranks as one of the most scenic. Looping through the foothills of the unspoiled Santa Lucia Mountains, the course is bordered by rolling, oak-studded land and offers one fun hole after another. Though short, it does require well-placed shots to achieve a favorable scorecard.

Hole 11 is everyone's favorite. A 426-yard par-4 that bends to the left, the back tee box is elevated high enough to give a sweeping view of the hole and a broad stretch of the Carmel Valley. A strong tee shot is required, preferably down the right side, to give access to a narrowish green which runs uphill from the fairway. A newly planted vineyard - one of several around the Ranch that will eventually produce signature wines - is found left of the hole.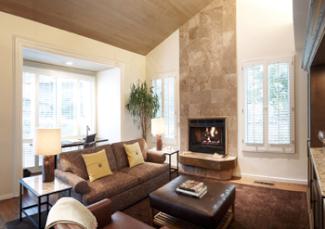 A Suite at Carmel Valley Ranch
Hiking trails can be seen leading into the 4,400-acre Garland Ranch Regional Park from several holes - guided hikes are offered daily, and deer roam freely over the course, oblivious to the golfers. Several rafters of wild turkeys make the Ranch their home and it's common to encounter them on the golf course, too.

Other activities, such as beekeeping, fitness classes, tennis and bocce ball courts and a kids' splash zone are all designed to make a stay at Carmel Valley Ranch playful and engaging.

Accommodations at Carmel Valley Ranch are comprised of 139 spacious, comfortable suites, every one completely renovated in 2010. Quality woods and fabrics in muted hues make the rooms warm and relaxed, yet perfectly refined. Spread out in single-story buildings, every suite has a deck (great spot for sunset wine-sipping) and at least one fireplace (the nights do get chilly in the Carmel Valley). Most have a separate living room and work desk where you can spread out and hunker down if necessary.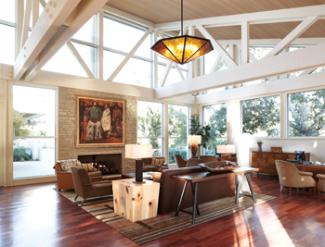 Carmel Valley Ranch Lobby
In the main lobby you'll find the Lodge Dining Room, where Chef Tim Wood blends classic California Cuisine with local ingredients - including many from a two-acre organic garden he planted on the resort grounds - to create memorable dinners. A small but enticing wine selection highlights local and Northern California vineyards and feels just right for the location.

In the new Spa Aiyana, a "spa sommelier" will prepare a custom massage blend, matching oils to your preference. With so many fields of lavender planted around the Ranch, it's only fitting to try the signature Sweet Lavender Poultice Massage (60 minutes/$145; 90 minutes/$215), a warm, steam-infused lavender poultice that coaxes muscles into relaxation through a combination of hot presses and stretches. The treatment is enhanced by a luxurious full-body massage using your personal oil blend.

Sure, Pebble Beach is a few miles away. And if you've never been, by all means, go. But the truth is, once you're ensconced in the sunny comforts of Carmel Valley Ranch, you don't really want to leave at all.

For more information, visit www.carmelvalleyranch.com.
Award-winning publisher, editor, writer and photographer George Fuller has been covering golf travel and lifestyle for more than 30 years. From 1992 to 1997 he was editor of LINKS-The Best of Golf, based in Hilton Head, S.C. In 2005, after having spent several years in the Pacific starting two magazines for Continental Micronesia Airlines and writing two books, Fuller launched GOLF LIVING Magazine for the Los Angeles Times, a "super-regional" magazine of travel, real estate and the lifestyle surrounding the game of golf. In 2009, he helped redesign and re-launch TEXAS GOLFER, a magazine with 25 years of history in the Lone Star State. Most recently, Fuller partnered with Troon Golf to launch TROON GOLF & TRAVEL, a monthly eMagazine with an annual print component. In addition, Fuller's newspapers and magazines credits include TIME, Wall Street Journal, San Francisco Chronicle, The Los Angeles Times, Robb Report, Coastal Living, Palm Springs Life, Estates West, GOLF Magazine, Golf Digest, Travel & Leisure Golf, LINKS, Successful Meetings, Honolulu and many others. He has reported for Reuters, United Press International (UPI), written for Copley News Service and is a regular on-line travel correspondent for Cybergolf. Based in Pacific Palisades, Calif., he can be contacted at gfuller@earthlink.net or 310/245-9550.