New Firekeeper Course in Kansas to Debut in Next Summer
Despite an ongoing battle with Mother Nature, Firekeeper Golf Course in Mayetta, Kans., has been completed in a six-month construction schedule by Landscapes Unlimited, Inc. The course should be ready for play in late-summer 2010.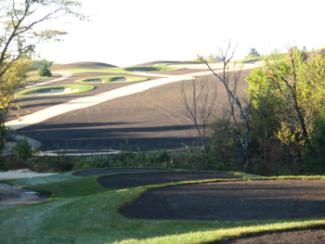 Firekeeper Under Construction
The 240-acre course is under development by the Prairie Band Potawatomi Nation as an amenity to their Prairie Band Casino & Resort. The new golf course sits across the street from the hotel and resort.

This is the first signature course designed by four-time PGA Tour winner Notah Begay III, the only full-blooded Native American on tour. He has designed it in partnership with Jeffrey D. Brauer, ASGCA.
Firekeeper will be a traditional golf course in both a playability and aesthetics. There is no surrounding housing along the walk-able layout, a low-profile design that will look like it has been there for years, not months, when it opens next year. From the tips, the course measures 7,400 yards, but five sets of tees - with the shortest playing only 4,500 yards, a place that will encourage play from women and local youth.

Before work began, the design team went through numerous routings to find the best possible 18-hole layout with minimal disturbance. "Keeping with Potawatomi traditions, we worked above and beyond to retain all of the land's natural elements with minimal disruption," said Prairie Band Potawatomi Nation tribal council chairman Steve Ortiz.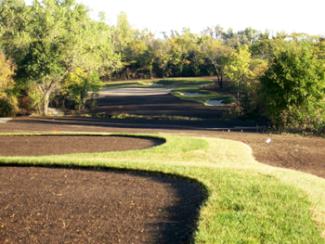 First Stage of Grassing at Firekeeper
"We put a lot of time in walking the land, which is so important in golf course architecture and particularly in the Native American community," Brauer said. The process started from the moment the potential project was announced. "Chairman Ortiz said, 'You are the only ones who really knew our land. Everybody else talked about the best courses they had ever done. You spoke to how you would use our land.' "

The hard work in routing paid off. "We moved very little earth," Brauer said. "We also used the surrounding land forms as guides when we formed our own shaping, trying to match the rolling hills of Kansas.
"Modern architects as a group have gotten away from working with the land," Brauer added. "[Renowned course designer] Donald Ross couldn't move much earth 100 years ago, and this is just a great opportunity to build an old-fashioned golf course. The course looks great and respects the land and tribal traditions of environmental sensitivity."

The land has three distinctive zones of prairie, heavy woods and scattered trees. The early holes at Firekeeper are mostly on the prairie, while the back nine offers more elevation changes and a wide variety of trees.

While all holes fit the topography, the designers occasionally communicated in "shorthand" by referencing famous holes they were both familiar with; both thought the ninth should be modeled after No. 18 at Augusta National. The fourth hole allowed creation of a very deep fairway bunker not dissimilar to the famous trap on the fourth at Royal St. Georges off the tee, and a green similar to the putting surface as No. 11 at Los Angeles Country Club.
While Begay is relatively new on the design scene, with Brauer on the team, Kansas golfers know they will get a quality course. Brauer already has designed three of the top courses in Kansas: Sand Creek Station in Newton, Eagle Bend in Lawrence and Colbert Hills in Manhattan. Brauer says golfers can expect some twists unique here, but the overall quality will match or exceed the others.

The first shovel hit the ground for construction of the Firekeeper Golf Course on May 20 with shaping completed in the late summer, despite 35% more rain than normal. "The early catch is good, but Mother Nature will be in charge now," Brauer said. During the winter months, work will continue on the clubhouse and other structures, and workers will continue to clear brush, detail the course, and get it ready for spring.
About Jeffrey D. Brauer and GolfScapes, Inc.

Brauer, a frequent contributor to Cybergolf, knows golf and the courses which make the game great. Now in his 25th year of private practice, and with 32 years in the business overall, Brauer's work - from his 36-hole masterpiece at the Giants Ridge Golf Club in Minnesota to the Avocet Course at Wild Wing Plantation in South Carolina to the sublime Cowboys Golf Club in Grapevine - speaks to his knowledge of expert design and ability to use of the land to make each of his creations distinct.

Brauer began his career in the Chicago area; his first project was Kemper Lakes Golf Course, site of the 1989 PGA Championship. In 1984, he formed his own company - GolfScapes, Inc. - and moved to Arlington, Texas, where he has developed a national portfolio of both new course and renovation projects. Brauer has been commended for his work in such publications as Golf Magazine, Golf World and Golf Digest.

A member of the American Society of Golf Course Architects since 1980, Brauer served as president of that organization during its milestone 50th anniversary year in 1995-96. In that role, he spearheaded the development of the USGA's "Environmental Principals of Golf." The book, "Golf Has Never Failed Me by Donald Ross," is a result of Brauer's efforts to produce a commemorative work for the 50th anniversary of the ASGCA. For more information about his firm, visit www.jeffreydbrauer.com.