New Jersey's Crystal Springs Resort has Bases Covered for Golf
By: Steve Habel
When it comes to great golf and plenty of it, northern New Jersey's Crystal Springs Resort - which features seven golf courses on 4,000 acres in the Kittatinny Mountains - is really tough to beat.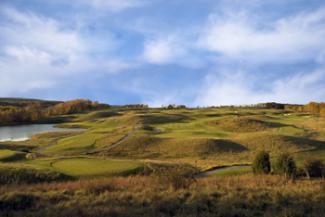 Ballyowen GC
As remote as that description makes Crystal Springs sound, it's actually very accessible and only about an hour's drive from Manhattan and Newark. The resort boasts tracks fashioned by some of the game's top golf architects: Robert von Hagge, Robert Trent Jones, George Fazio and Roger Rulewich, as well as three distinct lodging options and one of the East Coast's most extensive wine cellars (you really have to see it to believe it).

Crystal Springs built its reputation as a golf destination on the bones of three great courses: the Rulewich-designed Ballyowen; the tough-as-nails, eponymous von Hagge track; and Great Gorge, the 27-hole Fazio layout that had a former life as a place to play during the day (say what?) at a Playboy Club.

In the past decade, the resort has expanded its amenities and golf options and now - thanks to two nine-holers designed by Robert Trent Jones. Jr. and Rulewich and many kid-friendly options off the course - has become one of the go-to places for families to enjoy the game together.

There's a little bit of everything here; as the golf goes, Crystal Springs Resort has all the based covered. During a recent trip to the resort we played four of the seven courses and came away impressed with the variety and overall challenge.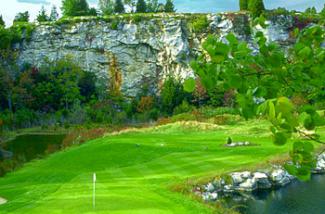 View from Green to Tee at Par-3 11th
at Crystal Springs GC
Ballyowen is the Bomb, Crystal Springs GC is the Beast

Rulewich (the Trent Jones, Sr. associate who designed all the courses along the RTJ Golf Trail in Alabama) brings a little bit of links-style golf to northern New Jersey at Ballyowen. The big-shouldered course is situated on 250 acres that wind across and up and down a huge, virtually treeless plateau overlooking the Wallkill River. These carefully groomed fairways are often surrounded by honey-colored tall grasses dancing in the breeze.

Par-72 Ballyowen stretches 7,094 yards from the back set of five tees; the tips carry a healthy rating of 73.6 and a Slope of 131. Water enters play on five holes and 71 bunkers keep your attention.

It is imperative to stop occasionally during your round to savor the 360-degree panoramas that unfold here. Enjoy the contrasting white-sand bunkers and the tall grassy mounds and verdant fairways.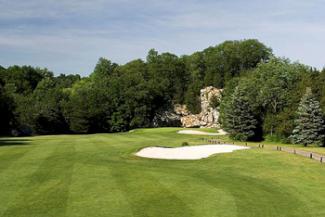 Lakeside Nine at Great Gorge has Greens on Rocky Ridges
Ballyowen has received critical acclaim since opening in June 1998, when it was rated the No. 1 Public Golf Course in New Jersey by Golfweek magazine. Last year, it was named as one of the Top 50 Public Courses in the U.S. by Golfweek.

While the lion's share of Crystal Springs' golf accolades go to Ballyowen it might not even be the best course of the seven at the facility. The nod here for that honor goes to Crystal Springs GC, as relentless a resort course as golfers are likely to encounter.

Built in 1991 and featuring plenty of elevation changes as well as several water hazards (including the Crystal Springs from which the resort and the course are named) and 58 bunkers of virtually every size and configuration. The par-72 venue measures 6,808 yards from the tips, where it's rated 74.1 and has a Slope of 137, the highest of any of the resort's seven layouts.
One of the hallmarks of a von Hagge course is the use of sculpted mounds to frame fairways and greens and provide definition. Those mounds work to keep shots in play but also create uneven lies in fairways, forcing the golfer think on virtually every shot. Crystal Springs GC is a shot-makers track, but golfers who can control the ball can score here. It's also tight, with housing beyond the out-of-bounds markers.

Golfers have their hands full on the 180-yard, downhill par-3 11th, which drops 90 feet from tee to green. The putting surface is segmented into halves; to the middle and right are trees and a rock outcropping - it's one of the craziest all-or-nothing one-shotters around.

Crystal Springs was ranked as one of the top new courses in American by Golf Digest when it opened and has since been recognized as the "most challenging course in New Jersey;" it says so right on the scorecard. Year after year, it's on Golf Digest's top-10 list for public golf courses in the Garden State.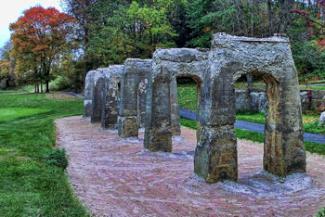 Remains of Old Railway by 3rd Green
at Railside Nine at Great Gorge
Great Gorge Cashes in on Heritage

When players arrive at the 27-hole Great Gorge complex, they are greeted by personnel in colorful 1970s' golf togs more apropos for a disco and black light than fairways and greens. That's just one way the facility - initially an amenity of Hugh Hefner's Great Gorge Playboy Club, which lasted less than two decades - embraces its past and pays homage to its origins.

Fazio's work on the three nine-hole layouts, which occupy rolling terrain and involve lakes, in the bottom of an old quarry and along a defunct rail line stand on its own as the courses continue to be lauded by golfers for their playability and difficulty.

The golfer can take on as much as he or she thinks they can handle at Great Gorge. Of the three nines, the Quarryside is the toughest as it plays through rocky crags, across water hazards on six holes, and involves an old grain solo on the short par-5 second.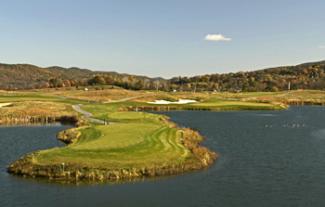 The par-3 6th at Ballyowen GC at Crystal Springs Resort
The Railside nine has the best vistas at Great Gorge. Its greens and surrounds are occasionally perched on ledges and coves. The par-3 third is bordered by the remnants of a railway bridge; in fact, some of the pillars are in play for shots that miss the green to the left.

Great Gorge's Lakeside nine was designed by Fazio to be fair and playable for all skill sets. The routing moves through tall trees and past lakes and has the most dramatic elevation changes, including a 65-foot drop from tee to fairway on the par-4 first.

Spend the day here and have lunch among the fluorescent posters and wild colors in the clubhouse. Great Gorge GC is a fun place to play and well worth the assault on the senses, and the dredged-up memories from the wild and crazy '70s.

Golfers who can focus on the courses may be able to see a different kind of 70 (as in a score below 80) on their scorecards by the end of the trip.

The Uphill & Right-to-Left 13th at Black Bear GC
Black Bear Deserves Respect

Perhaps the most underrated course at Crystal Springs Resort is Black Bear, where at 6,673 yards from its back set of four tees earns respectable rating of 72.2 and 130 Slope. It's often relegated to second-tier status here because it does not have the designer pedigree of the neighboring courses.

Black Bear was fashioned by Jack Kurlander and David Glenz, the 1998 PGA National Teacher of the Year, and opened in 1996. The course has a nice variety of tough and not-so-tough holes, an aspect that pushes it to the forefront among locals looking for good golf at prices cheaper than the resort's other venues.

While the course may not have the "wow factor" of its three above-listed siblings, Black Bear boasts an inviting diversity of terrain and scenery and demands well-executed golf shots. Created to challenge golfers of all levels, it fits that bill.
As for the Rest . . .

We didn't get to sample the other 18-hole course at Crystal Springs Resort (the Rulewich-designed Wild Turkey) or the two nine-hole, family-oriented tracks (the Cascades, built by Rulewich, and Minerals GC, the Jones-designed executive course), but we heard a lot of good things about them from golfers.

Wild Turkey GC is considered by many as among the best public venues in New Jersey, while Minerals was recently named as one of the Top 12 Short Courses in America by Golf Range magazine.

Oh, and about that wine cellar. Oenophiles will appreciate the immense underground bunker that houses more than 7,000 labels and more than 100,000 bottles. Half-hour tours provide a fascinating look at the collection of resort owner Gene Mulvihill, who began gathering fine wines more than 50 years ago. One highlight: more than 100 vintages of Chateau Latour dating back to 1863.

I'm more of a pop-the-cork-and-pour kind of guy and not much of a wine connoisseur, but even I was floored by the cellar and its contents.

For more info on Crystal Springs Resort, go to www.crystalgolfresort.com.
Steve Habel is a freelance writer contributing Cybergolf news stories, features, equipment and book reviews and personality profiles from his base in Central Texas. He also works as a contributing editor for Horns Illustrated magazine, a publication focusing on University of Texas sports, and is a contributing writer for Golfers' Guide and Golf Oklahoma magazine, Texas Links magazines and Golfers Guide. Habel's main blog (www.shotoverthegreen.blogspot.com) features news on golf and the Longhorns, and another (www.checkinginandplayingthrough.blogspot.com) chronicles his many travels, including playing more than 600 golf courses since 2008. Habel is a member of the Golf Writers Association of America and the Texas Golf Writers Association.