New Mexico Golf on the Upswing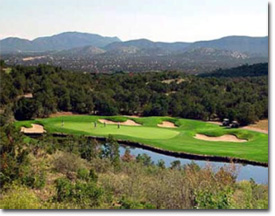 When John Klauk sunk his final put on the 18th green at the picturesque Inn of The Mountain Gods course recently, he became the inaugural winner of the first leg of the New Mexico Challenge. The three-event tournament is a collaboration between the New Mexico Tourism Department (NMTD) and the Tight Lies Tour to help promote the state as a premier destination for golfers.

New Mexico is rapidly putting itself on the golfing map, confirms Dan Vukelich, who runs the statewide newspaper Sun Country Golf. "The rest of the nation is finally discovering the golf that we've had here for the last six years."

Vukelich attributes much of this new interest to the creation of several top-shelf courses following the opening of the Paa-Ko Ridge Golf Club in 2000. Located in the mountains outside Albuquerque and designed by Ken Dye, Paa-Ko Ridge was recently awarded the prestigious 5-star rating by Golf Digest magazine, an accolade afforded to only 17 courses in the country and reserved for such esteemed venues as Pebble Beach.
"Over time, it just ended up all these golf courses matured and hit the national golf radar," adds Vukelich, who recently launched www.golftoursnewmexico.com, which offers full motion video of many of the state's courses – "so you can see the course before you play it."
A visit to New Mexico will quickly show why golf has become a billion-dollar industry for the state. "Golf in New Mexico blends history, landscape and legend. Cultural flavor is everywhere," says NMTD secretary Michael Cerletti. "Throw in extraordinary mountain vistas, amazing Southwestern terrain, moderate temperatures and clean, invigorating air and you realize why golfers will travel hundreds of miles to play golf in New Mexico."
Following the first stop at Inn Of The Mountain Gods, the New Mexico Challenge moves to the Santa Teresa Country Club (August 31 -September 1) for the Currey-Adkins El Paso Open before the final leg, the Cities Of Gold Casino Golf Classic at Towa Resort Course (September 14 -17).
The New Mexico Challenge offers an opportunity for emerging professionals like Klauk to establish themselves. With total prize money of more than $350,000, and with a fourth stop at Farmington being added in 2007, the New Mexico Challenge is set to become increasingly popular, according to Vukelich. "It's only in its first year so I think it's going to have an impact on New Mexico's reputation with the high-caliber players."
Before it can officially arrive on golf's national stage, New Mexico needs to host one of the sport's big tournaments. It's something Vukelich feels is only a matter of time. "I think eventually there will have to be an event here. Albuquerque and Santa Fe are growing in leaps and bounds and golf is improving exponentially and it's just a matter of getting on the radar of the makers and shakers back in New York. But we're getting there!"
When asked if he could ever envision a time when the U.S. Open would be staged in New Mexico, Vukelich says, "I think so."
New Mexico courses provides golfers with excellent value for money. "For the last six years New Mexico has been a secret destination for the average golf tourist who got tired of Myrtle Beach or Alabama or southern Colorado," explains Vukelich. "So when they look at it now, they see a five-star golf course that costs less than a $100 when all the others are $250 to $450, and they say maybe we should try New Mexico. So we're finding people who come here as a foursome are coming back with eight and 16 and 32 golfers at a time."

In addition to its golf courses, other wonders await. Dubbed the Land Of Enchantment, the state offers a rich history of ancient cultures dating back to the Indian cave dwellers and Spanish Conquistadors. The famous Carlsbad Caverns are among New Mexico's many natural wonders, while cities like Santa Fe offer the best of contemporary culture with fine museums, dining and opera.

Now golf has emerged front and center. "New Mexico is a golf-lover's paradise," confirms Secretary Cerletti. "From Las Cruces to Santa Fe, Truth or Consequences to Los Alamos, Taos to Apache Mesa and White Sands – somewhere in New Mexico there's a course with your name on it."