New Pete Dye Course at French Lick Resort Slated for Spring Opening
French Lick Resort in southern Indiana is nearing completion of its continued golf renaissance. An all-new Pete Dye-designed course is should be completed this fall and is slated to open to the public in April 2009.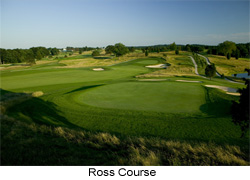 Similar to many of his other top designs, like Kiawah and Whistling Straits, or his stern tests at TPC Sawgrass and TPC West venues, Dye's course at French Lick will provide a memorable experience. Located on a hilltop behind the historic French Lick Springs Hotel - one of the highest points in Indiana - Dye's newest track will feature panoramic views that stretch over 30 miles.
"There is nothing more dramatic then playing golf while observing spectacular views," said Dye, one of the most revered architects in the game and a native Indianan. "Until now, my signature courses with spectacular views have involved water. This new project will allow golfers panoramic views that extend for over 30 miles of countryside in all directions. I have spent the past five decades designing golf courses all over the world, including courses on great coastal sites. This new project, however, brings great excitement to [wife] Alice and me because the course is on arguably the best inland site I have ever worked on."
The layout will feature some of the rugged bunkers and fescue areas like those at Whistling Straits, along with large green complexes and narrow fairways. In addition, the first cut of rough will feature a new hybrid grass that allows the ball to sit up better when cut to 1", making it easier for amateurs to hit from.
When the Dye course is complete, the French Lick Resort will boast 45 holes of golf with three unique designs. In addition to the Dye course, the resort also features a classic Donald Ross design, which recently underwent a $4.6-million remodel. That project returned the course to Ross's vision, including restoring greens and bunkers to their original shapes and creating native grass areas that emulate the conditions found on Scottish links.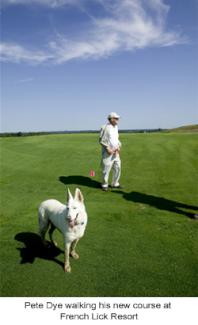 The recently rebuilt Valley Links learning center is a great place to learn and practice the game. Originally designed by "Old" Tom Bendelow, the nine-hole layout was redesigned yet still maintains the classic parkland feel created by Bendelow.
In all, the French Lick Resort Casino has undergone a $500 million renovation and casino development program. The facility now includes the French Lick Springs Hotel, the new French Lick Casino and the West Baden Springs Hotel. In addition, the destination features more than 100,000 square feet of meeting space; 689 guest rooms and a 42,000-square foot, single-level casino; two full-service spas with a combined 36 treatment rooms totaling 41,000 square feet and several dining and entertainment options.
For more information, call 888/936-9360 or visit http://www.frenchlick.com).