New Pete Dye Course Coming to Virginia's Hunt Country
By: David Wood
Pete Dye has reached a point in his storied career where he plies his considerable skills on only the finest properties. His new course at Keswick Hall in Central Virginia's "Hunt Country," set to open in late summer, is no exception.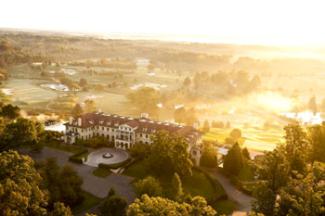 Aerial View of Keswick Hall
Thomas Jefferson chose this serene setting for his beloved Monticello, calling the area "the Eden of the United States." Once Dye applies his magical touch, it should prove to be the ideal paring of Mother Nature and the ancient Scottish game of golf.

Keswick Hall - a 600-acre resort highlighted by a 48-room inn - epitomizes Southern hospitality and charm. The inn has attained Condé Nast Traveler "gold" status, and is one of Travel + Leisure's 500 "World's Best Hotels."

Dye was brought in to create a world-class 18 to match the resort's splendid amenities. Michigan-based Albanese & Lutkze is overseeing construction management of the course.

The revamped Keswick Hall layout is routed atop the original 1948 Fred Findlay design, which was later renovated by Arnold Palmer in 1992. "It will appear as a new course," said Dye. "By building all-new tee boxes, installing a new irrigation and drainage system, and adding new sand, the course will play entirely different than in the past."
The course, which will play between 5,000 and 7,000 yards, traverses rolling terrain native to the area, and is easily accessible from the inn. "It will be a good challenge from the back tees and a fair test from both the middle and forward tees," said Dye.

For those who enjoy playing golf the old-fashioned way, Dye added, "It is an imminently walkable golf course, offering a big variation of playing experiences under the new design."
One of the most influential golf course architects of the modern era, Dye credits include the Ocean Course at Kiawah Island Resort and Harbour Town Golf Links at Sea Pines Resort, all sister properties of Keswick Hall.

Keswick Hall is a property of Richmond, Va.-based Riverstone Group under its Historic Hotels of Albemarle division. The company also owns and manages The Sanctuary at Kiawah Island Resort (S.C.), Sea Pines (S.C.), The Jefferson Hotel (Va.) and The Hermitage Hotel (Tenn.).
For more information, visit www.keswick.com, or call 434/979.3440.