New Public Course Replaces former Private Track in Minnesota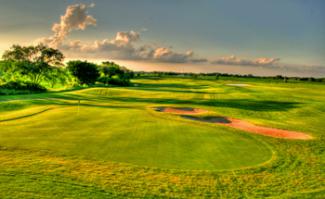 MN-Wedgewood Cove
Every once in awhile a private club's failure is a public golfer's good fortune. Alberta Lea, a small, thriving Minnesota town of 20,000 located 90 miles south of the Twin Cities near the Iowa state line, was home to a private club known as Albert Lea Country Club. After the club, founded in 1912, went bankrupt in 2006, it was purchased by a local land developer who ripped up the course in hopes of building a housing community on-site. But he himself declared bankruptcy after banks foreclosed on the property.
"The community was left without a golf course," said Judd Duininck, a principal in Duininck Golf. "As a way to give something back to the community, a group of local businessmen bought a 245-acre parcel of land on the outskirts of town with the idea of creating a new daily-fee, public-access golf course for the growing region. It's a classic example of opportunity in adversity. The new course, known as Wedgewood Cove Golf Club & Estates, is on a totally different site from the original," mostly gently rolling, nearly treeless former corn fields.
"Most of the mass earthmoving occurred in spring of 2008, and we finished our construction work in fall of that year," Duininck continued. The golf course, which features five sets of tee placements ranging from 7,009 yards from the black tees to 5,202 yards from the red markers, debuted nine holes in June, with the second nine slated to open in August 2009.
Donnie Teeter, superintendent at Wedgewood Cove, joined the facility in May, 2008, shortly after construction of the new course started. "I was thoroughly impressed with Duininck Golf, both their work ethic and the quality of the work they produced. This was true from the supervisor on down the line. Starting with the erosion-control issues, Duininck Golf was thorough and organized. They didn't miss any steps. And they always made quality work the highest priority."
Teeter, noting that the state of Minnesota is known to have some of the nation's most stringent environmental regulations, added that an official with the Minnesota Pollution Control Agency, charged with the prevention of water contamination from construction site runoff, was appointed to oversee the construction phase of Wedgewood Cove.
"We had to comply with the agency's guidelines, and they were strict," Teeter stated. "Not a speck of soil could be moved without permission. Duininck Golf was very familiar with the agency's mandates and objectives. They even have someone on staff who focuses exclusively on erosion-control issues. On the golf course side, they covered all our bases, but they also covered the residential side of the development from an environmental perspective." (Wedgewood Cove has 164 home sites, most of them set on horseshoe-shaped coves with views of the course and Pickerel Lake.)
Paul Field, one of the owners of Wedgewood Cove, joined with partner Jerry Vogt to build the course shortly after Albert Lea Country Club was razed. "The community was badly in need of a golf course," Field said. "This is the first course I've ever built, and Duininck Golf did an excellent job for us. They were very professional, very easy to work with and completed the job on time."
Garrett Gill, the golf architect hired to design Wedgewood Cove, said the site's stormwater and soil erosion concerns needed to be addressed immediately due to Pickerel Lake, a large natural body of water located due south of the new course. This was especially true at a highly visible project situated near the intersection of two major interstate highways, I-90 and I-35.
"Duininck Golf was diligent and active in handling all comments and inquiries posed by the regulatory authorities," Gill said. In addition to the Minnesota Pollution Control Agency, oversight was provided by the state Department of Natural Resources, Natural Resources Conservation Service, Army Corps of Engineers and a wetlands commission. "Everybody gets in trouble if proper procedures aren't followed during course construction," Gill mused, "but Duininck Golf kept everything on track."
For more information about Wedgewood Cove Golf Club & Estates, visit http://www.wedgewoodcove.com. For more information about Duininck Golf, visit www.duininckgolf.com.