New Security Measures at Frenchman's Creek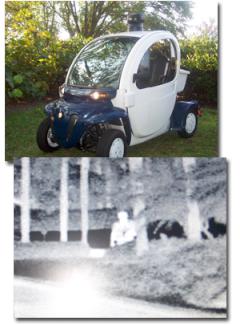 Frenchman's Creek in Palm Beach Gardens, Fla., has deployed the first in a proposed fleet of customized golf cars modified with infra-red Thermal Imaging and GPS Tracking Systems. These latest designs in high-tech security systems, used by U.S. troops in the field, are now part of nightly patrols at the residential golf and country club.

"We've always been known for our state-of-the-art security at Frenchman's Creek and we believe this is the first time that a country club has ever integrated mobile 'night vision' technology into tactical operations and perimeter security," said Frenchman's Creek Executive Director Achal Goswami.

In addition to a GPS tracking system programmed with directions to the more than 600 homes on the property, the custom-built golf car is equipped with a Thermal-Eye 4000M infrared camera that can detect activity in the dark, up to 1,500 feet away.

"This unique investment underlines our commitment to the security of our members and their homes. Indeed, while these devices are typically used by the military and law enforcement agencies, they are proving invaluable for patrolling our community and the surrounding waterways," Goswami added.
Security and service at the residential community are paramount. Patrols that include a paramedic team roam the grounds 24-hours-a-day, and marine patrols also equipped with night vision systems cruise the intracoastal waterways that run through Frenchman's Creek. At night, black-garbed tactical security teams, equipped with the latest mobile GPS technology and infra-red vision, patrol Frenchman's Creek and its perimeter.
Taking its name from the romance novel by English author Daphne du Maurier, Frenchman's Creek is situated along Florida's east coast, near the Intracoastal Waterway. The 800-acre development contains golf courses, custom estates, villas, patio homes and town homes. For more details, visit www.FrenchmansCreek.com.