New Strategy Emerges for LPGA Finale - Will it Work?
By: Nancy Berkley
Do you know who the women are in the photo below? They're the six women from five different countries who will be competing in the final LPGA Tour event of the season - the LPGA Tour Championship - at the Grand Cypress Golf Club in Orlando, Fla. The tournament begins Thursday, December 2, and ends next Sunday.

Left to Right: Suzann Pettersen (Norway), Na Yeon Choi (South Korea),
Ai Miyazata (Japan), Christie Kerr (United States),
Jiyai Shin (South Korea) and Yani Tseng (Taiwan)
One of them will play better than the others and earn the title as Rolex Player of the Year. (I will be there for the press conference on Wednesday reporting for Cybergolf.)

If you didn't know who these women are, what the Rolex Player of the Year is, what the Vare Trophy and the Louise Suggs Rolex Rookie awards are (both will also be announced at the event), when the tournament will be televised, or why this final tournament with a $1.5 million purse occurs so late in the year and has to compete with both football and Christmas, you are not alone. (For a good fact sheet about the Rolex Rankings, see http://www.lpga.com/content_1.aspx?pid=5785&mid=4).

The lack of public awareness may end up not really mattering. The final rounds of this LPGA tournament will be televised on the Golf Channel Saturday and Sunday evenings from 7:30 to 9:30 p.m. EST. That's hardly prime time for golf in the U.S. The real story of this tournament is why it is barely making news.

The event will be played on the North and South nines of the Jack Nicklaus-designed Grand Cypress Resort, which features three regulation nines, a short par-3 and a variety of hotel and villa accommodations. The tournament will utilize a modified course that will stretch 6,518 yards for the best women golfers in the world.
With all due respect to Michael Whan - who has now completed his first year as commissioner of the LPGA Tour, I'm sure he is troubled by the lack of awareness and interest that continues to shadow the LPGA. And yet commissioner Whan has made some significant advances that lead me to cut him some slack. (See my previous cybergolf article from a year ago: "Whan for the LPGA Is a Winner" - http://www.cybergolf.com/golf_news/whan_for_the_lpga_is_a_winner).

On the financial side, the commissioner has probably (and correctly) spent most of his energy lining up sponsors for next season. At the end of the LPGA Tour Championship, he will announce next year's schedule. Hopefully, it will be welcome news for the players.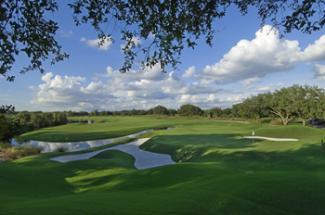 Grand Cypress - Host of the LPGA Tour Championship
On another front, and based on the look of the LPGA website, there are more corporate marketing alliances than ever. As a former executive with Prudential Financial, I am pleased to see that corporation stepping to the tee. After all, women make most of the financial decisions for themselves as well as their families.

And, the LPGA website looks better than ever. There's a whole new look. The photos on the site show the players' personalities. Take a second look at the photo above, which is from the website. I give Whan an "A" for putting the right person in charge of this all-important marketing tool.

Steps are being taken to build a fan base from the bottom up. A new offering is a weekly e-newsletter entitled "The LPGA Tour and Entertainment Report." It's great. Within a couple of minutes I am up to date on what's happening, and the graphics, photos and articles are top-notch. (To subscribe go to http://www.lpga.com/our_fans_index.aspx.)
But what really excites me about Whan's leadership is that I see a strategy emerging. I had a sneak peek at a draft pdf of the tournament's brochure and read Whan's welcome message. Here's a key section: "Golf truly is a global game, and the diversity of the LPGA Tour is one of our most compelling attributes. We welcome players from all corners of the world, boasting players this season from 29 different countries. Anywhere in the world, when a young girl dreams about making it to the LPGA, she yearns to play against the best players in the world at the best courses in the world."

So, it's settled: the LPGA stands for "youth," "globalization" and "talent." I like the clarity of that mission.

Fretting about why more American girls or women are not competing or winning is a job for those of us in the U.S. We need better funding for our young girls who cannot afford the cost of teachers, trainers and traveling. An "adopt a rising golf star" program is what these girls need.
But now commissioner Whan needs to take his mission to the "tactic" step. How will he promote the vision? How will he develop the talent to make LPGA tournament golf entertaining and worth watching? And as a result of those measures, will more women play more golf?

I'm hoping I get a chance to talk with the commissioner when I'm at Grand Cypress this week. My marketing intuition tells me that men's golf and women's golf cannot be solo brands. (Men's golf has its challenges, too.)

The overarching brand is simply "golf." It's a great game and no longer can the major women's and men's tours - for both old and young players - think about carving up the "pie" and competing with each other. They have to grow the pie. No one really wins when the final event on the LPGA calendar is televised at 7:30 p.m. on a football weekend.

I want to know more about commissioner Whan's tactics in bringing the LPGA's great women golfers - from all over the world - back into the media spotlight. It's not an easy job!
I am old enough to have watched bowling championships on television. (Yes, I really remember those!) TV technology with movable cameras had not caught up with baseball or football. But put one TV camera on a bowling alley and, bingo, competition and excitement provide a distraction on a cold weekend in Minnesota.

What saddens me is that I fear televised golf may be heading in the same direction: a historic sport with diminishing consumer interest. But every now and then, I catch a glimpse of optimism.

There is a brand-new restaurant and bar that opened this summer in Vail, Colo. And what do you think is part of the bar scene? It's a dozen bowling lanes with super hi-tech graphics for scoring and a fabulous sound system. The bar/restaurant/bowling alley is called "Bol" and is sure to become a hot spot. And Vail is not the only place where bowling is "hot" again.

There are cycles in sports and entertainment. I hope that the LPGA and women's golf in general know where the next big waves are and that they ride them with flair and success. In fact, at the Grand Cypress Golf Resort this week, I hope to be seeing the LPGA and its commissioner catch a really big wave.
Nancy Berkley, President of Berkley Golf Consulting, is an expert on women's golf and junior-girls golf. She is a frequent contributor to www.cybergolf.com/womensgolf. Her book, "Women Welcome Here! A Guide to Growing Women's Golf," published by the National Golf Foundation, is an industry reference on marketing golf to women and spotting trends within the industry. She offers information and advice about the golf industry on www.berkleygolfconsulting.com and is often quoted in national publications. She offers information and advice about the golf industry on www.berkleygolfconsulting.com and is often quoted in national publications. She was a contributing editor of "Golf for Women" magazine and a founding advisor of "Golfer Girl Magazine." Her interviews with women in the golf industry now appear on www.golfergirlcareers.com. Nancy lives in Palm Beach Gardens, Fla., and is a graduate of the University of Minnesota, Harvard University and Rutgers Law School. After a business and legal career, she decided to write about the game she learned and loved as a teenager. She describes herself as a good bogey golfer with permanent potential.