New Technology for Golf Course Erosion Stabilizes Green At LPGA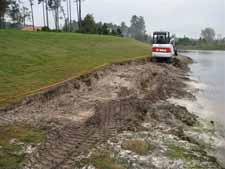 May 14, 2008. Advanced Coastal Technologies, LLC, of Dothan, Ala., recently completed the installation of their Golf Course Shore Restore System on the 16th hole of the Legends Course at the LPGA in Daytona, Fla.
The system consists of two to three independent tubes made of porous vinyl that is extremely durable. All the seams are heat-welded in the factory with three independent but internally connected tubes that are pumped with a slurry mixture of sand and water. The water runs out of the porous material and the sand remains in the tubes. Each section and tube is filled separately.
Shore Restore is tapered, with the highest cell against the embankment and the lowest or toe cell on the down slope. The system can be custom-made in any size for a specific application and even accommodate curves. A standard 12-inch-high by 30-foot-long unit offers a 36-inch-wide footprint and an 18-inch-high by 30-foot-long offers a 72-inch footprint.
The LPGA Shore Restore incorporated two 30-foot sections with a center-connecting apron. Once filled with sand, the LPGA Shore Restore was sand-covered and a 60-foot vinyl shroud laid out for further erosion protection. The shroud was then covered with soil and sod.
What makes the Golf Course Shore Restore System unique is that it holds the sand completely in place and stabilizes the area covered. Furthermore, it is an enclosed, welded system and allows for grass-root growth directly into the bag for added erosion control. In the case of the LPGA, it gave a natural look and brought the eroded area back into play.
John Lammrish, the LPGA's Golf Course superintendent, said, "We are very happy with the results of the Shore Restore and many of the players have commented on how great it looks and that it now allows the ball to be in play in an area that was totally out of play."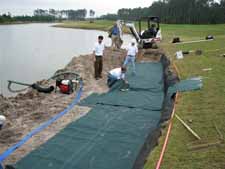 For more information on Advanced Coastal Technologies and their products, visit www.advancedcoastaltechnologies.com, or contact George Hammond, Sales & Marketing, PO Box 5566, Dothan, AL 36302, Phone: 877/439-4228.